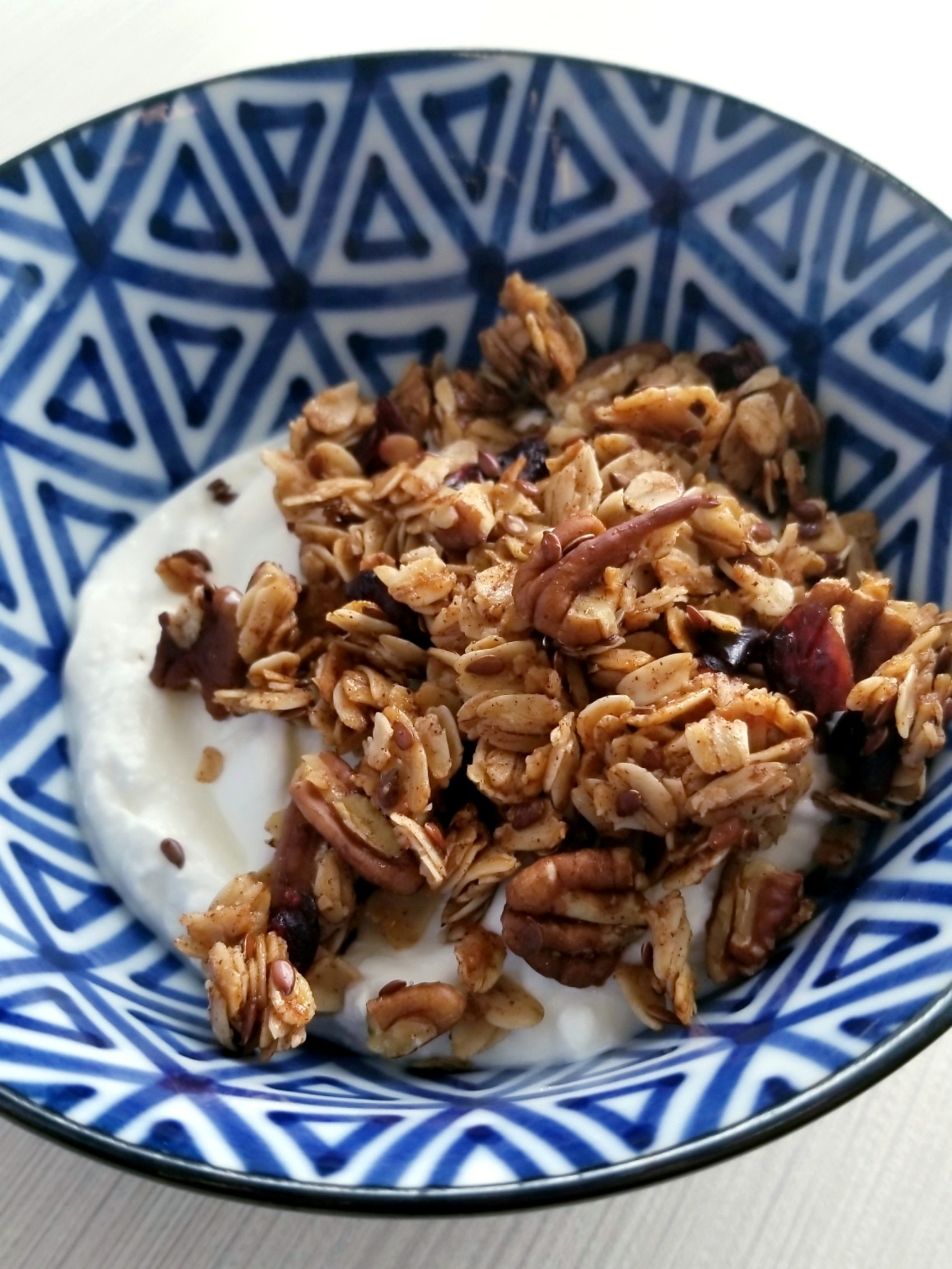 To tell you the truth – the first time I made granola I did so because I kinda just wanted to be one of those people who makes their own granola. Homemade granola gives me old lady vibes. It's so warm and welcoming, like in the TV shows when unexpected guests come over and the grandma says with excitement that she just baked fresh cookies and proceeds to serve them on a pretty crystal platter. Even better – granola keeps fresh and travels anywhere in a sealed jar so I can get that little "How adorable am I? I just made this!" feeling any time, any place. Since I've started making my own, I've enjoyed granola atop a cup of yogurt for breakfast, by the handful for a mid-day snack, on a hike, while strolling about town, and even as the cutest host gift ever for a casual party. I'm obsessed.
Better than obsessed – I'm now a granola connoisseur. And through a few experiments I've figured out how to make granola exactly how I like it.
I will pause here and point out that that granola is an extremely flexible dish. All you need are oats, an oil, a sweetener, and whatever you decide to put in there. Like pecans and cranberries? Make this recipe and don't change a thing. Want to replicate the taste of a peanut butter and jelly sandwich? Swap in peanuts and raisins and you have something that tastes just like childhood. Use maple syrup in place of the honey and make it taste like blueberry pancakes. Raspberries, cherries, apple, banana…almond, pumpkin seed, walnut, chocolate nib. Regardless of how you want it to taste, there are a few simple guidelines that you can use to make your granola exactly how you like it.
How to customize your perfect granola:
For every 2 cups of oats, use between 1 and 1 1/2 cups total of nuts and berries. Any more than that and it starts to get overpowering. Nut vs. berry ratio is a choice.
Whisk the spices into the liquid ingredients so they will be evenly distributed throughout the granola. Using spices is also a choice. (But no spices is a missed opportunity, TBH.)
Use a silicon mat or parchment paper on your baking pan. It helps with clean-up, preventing the sweetener from baking into your pan, and once the granola has cooled it makes it easy to lift the whole batch and pour it into a jar.
Wait until mid-way through the cooking time to add any dried fruit. Dried cranberries, raisins, apricots etc. have already spent hours cooking at low temperatures to pull out all of the moisture, without which, and especially so covered in oil and honey, they will burn. With half of the cooking time they will turn plump but not blacken or leave any burnt taste to permeate each bite.
Choose when and how to stir (or not) based on how big you want the clusters to be.
Small crumble barely bigger than the individual oats – stir the granola soon after it's come out of the oven and a few more times as it cools.
Medium clusters – let the granola cool, undisturbed for 10-15 minutes before stirring. Leave it clustered to finish cooling to room temperature.
Large bars – Let it cool completely to room temperature before breaking it up. If you're not adding dried fruit, consider also skipping the mid-bake stir.
Store it in a tightly sealed container to preserve freshness. A tight lid also helps you give it a shake before you serve if it has started to clump.
Ok, now that you know how to make your perfect granola, I'll tell you how I like mine: Medium clusters, chock full of spices, and tasting like an oatmeal-cranberry-nut cookie with a bit less sweetness. That's exactly what you'll get if you make this recipe without any changes. It's perfect for all of the reasons I told you before and I LOVE it on 2% fat Greek yogurt with a little bit of extra honey. This is my key to a healthy breakfast that's easy to prep and no effort to clean up after. I'm obsessed.
Cranberry Pecan Granola
Prep time:
Cook time:
Total time:
Ingredients
2 cups Oats
3 tablespoons Flax seeds (optional)
⅔ cup Pecans (or walnuts)
¼ cup (scant) Coconut oil (or butter)
⅓ cup Honey (or maple syrup)
1 tsp Vanilla
1 tsp Cinnamon
¼ tsp Nutmeg
¼ tsp Salt
½ cup Dried sweetened cranberries (or other dried fruit)
Instructions
Preheat oven to 325° and line a 11x17" pan with a silicon mat or parchment paper. In a large bowl, mix oats, flax seeds and pecans. Separately, whisk together honey, vanilla, cinnamon, nutmeg and salt. Fold wet ingredients into dry and stir to mix evenly. Spread mixture evenly over lined baking pan to about ¼" thickness.
Bake granola for 10 minutes. Remove from oven, stir in cranberries, and spread evenly on the pan again. Return to oven and bake for another 10 minutes. Remove from oven to cool. For medium-sized clusters of granola, stir after 10 minutes. Cool completely before sealing in an air-tight container to store. Granola will keep fresh for 2-3 weeks.
I believe the right tools can make cooking easier and more enjoyable so I've linked to some of my favorite products. If you buy via my link, I may earn an affiliate commission. Thank you for your support!