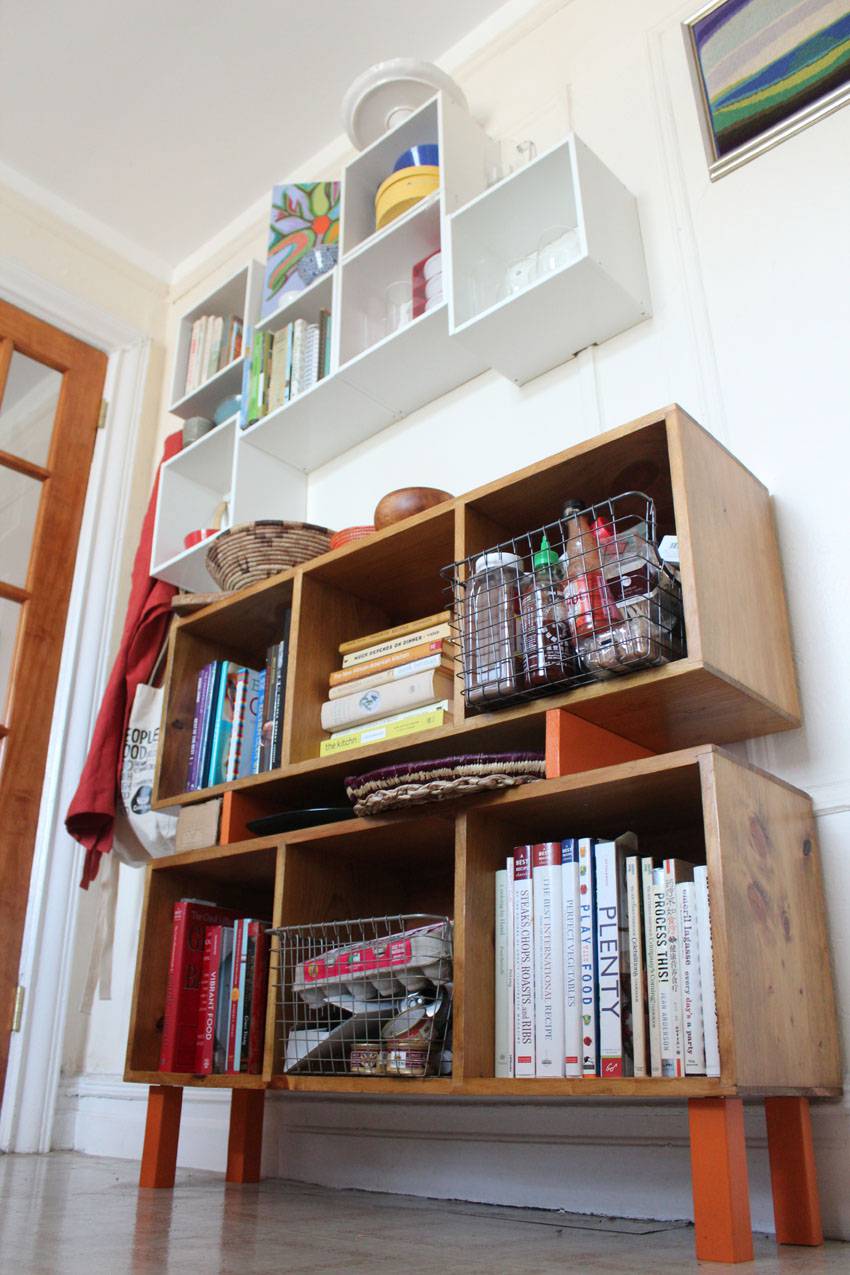 As much I love Pinterest, online recipes and my Kindle, I live for cookbooks in print. It's been that way for more than ten years, since I started my cookbook collection in high school which now counts more than 70 volumes. I once stored these books atop my kitchen cabinets, but years of grease on the dust jackets convinced me to make a new home. I'd rather build my world than buy it – so now I have a fully custom piece of furniture that serves as a bookshelf, bar, and staging area for dinner parties. I love it so much I have to share how it came together!
First things first, it took WEEKS of internet scouring- and measuring a billion times – to figure out what to do with the awkward space my kitchen allowed for a new piece of furniture. My stove, counters and sink are all along a single wall with the fridge jammed into the corner. The fridge is so close to the perpendicular wall that the door has to swing into the kitchen, requiring me to swivel my body around the door to get in and out of the fridge – the new shelf could be no more than 48″ wide. Opposite the fridge is a French door that swings into the same perpendicular wall with only about 7″ of clearance. To allow the door to open properly the shelf could be no more than 12″ deep.
Then, there were style requirements. I really wanted real wood with pops of color to coordinate with the rest of the orange and purple kitchen. I also like the clean lines of mid-century modern design, which would tie in nicely with my credenza-as-t.v. stand in the next room. Muuto designs kept capturing my attention but their grandiose price tag and minimalist design begs imitation. Boosted with confidence from step-by-step videos on YouTube, I had resolved to DIY the simple stacked boxes and proceeded to create a 2D mock-up to get comfortable with the layout. As I botched the mockup on my first try with paper and tape, I started to second-guess how would I create an even, level, and secure unit with wood and screws.
Just when I realized my limits as a carpenter, I passed the most perfectly simple wooden shelves outside of a housewares shop. The dimensions were perfect for two stacked rows of shelves and 8″ legs attached with simple t-nuts. Two 1×4″ boards were screwed in to create a gap between the shelving rows to take advantage of another horizontal surface for trays, platters and chargers. That last-minute idea was the kind of cheap and simple upgrade that makes DIY and semi-homemade furnishing so much better than picking something off of the shelf!
To finish the wood, before screwing the unit together, I used a single coat of Puritan Pine Minwax stain, wiping the excess with a clean rag as quickly as possible. The shelves turned out a little darker than my table finished with the same product as the wood soaked up the stain rapidly. (Next time I'll heed advice and condition the pine first!) Two coats of polyurethane finished the project, sanding between applications. The bar top got extra protection for spills from an extra coat of polyurethane.
A few books have been lost in moves or stolen by relatives but from now on my growing collection of cookbooks will have a safe, grease-free home in my kitchen. A home on a perfect piece of furniture I'll be proud to say I built!
Let me know if you like this post and if you'd like to see more inspiration and instructions for DIY projects in the kitchen and around the home!
I believe the right tools can make cooking easier and more enjoyable so I've linked to some of my favorite products. If you buy via my link, I may earn an affiliate commission. Thank you for your support!