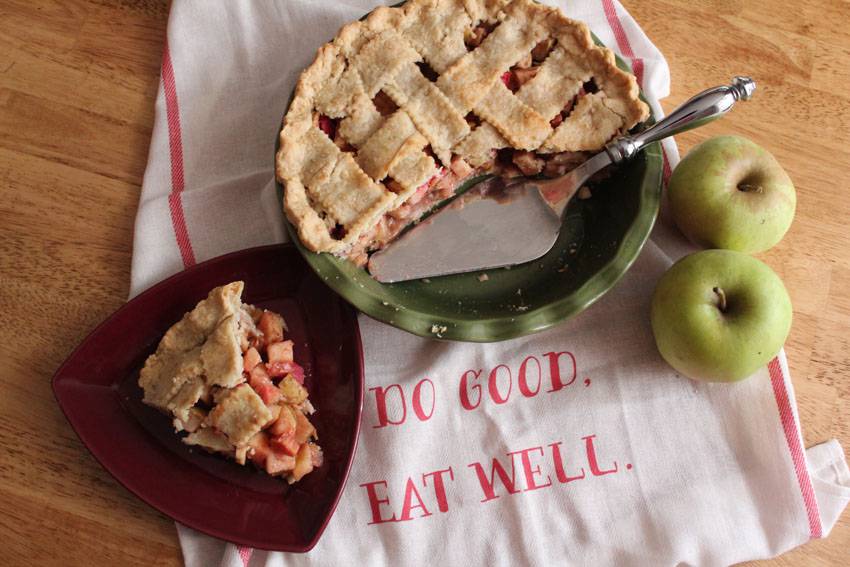 This pie is delicious! Though, when I started out, I had no intention of developing a new recipe. I had only desired to make use of the "best deal at the market," a five-pound bag of delicious late-season apples sold for $3, with some early season rhubarb, sold at the grocer for nearly $7 per pound and wastefully suffering from too long a stay in my fridge. I try to always make recipes with ingredients that share a harvest season but, because apples store well through long and cold New York winters, they bridge the gap to rhubarb's late spring harvest. Thus, these two unlikely stars can deliciously coexist in the market and in this pie.
I am tempted to re-title this post, "How to Make an Apple Pie without a Recipe," as is a common headline trick for food bloggers. Any post that attempts to teach you how to break from recipes focuses on balancing flavors and textures. In most apple pie recipes, the balance is between the tartness of the apples and the quantity of added sugar. Because the sugars in apples break down more as they cook, making the finished product sweeter than a taste test while raw, tart Granny Smith apples are commonly chosen for baking. Granny Smiths, however, are way too tart to pair with super tart rhubarb, so sweet apples such as Crispin, Honeycrisp or Gala are preferred here. The apple's natural sweetness also allows for the reduction of added sugar to 1-1.5 teaspoons per serving. I'm not claiming this is a healthy recipe, but that's probably less than your morning coffee! (In other words, I ate this for breakfast once or twice – no guilt.)
This pie also encouraged me to try out a few new tricks. Namely, this is the first time I have ever attempted to make a lattice crust! With the aide of a ruler, it's easy to trace 1-inch widths with a ravioli or pizza cutter. I chose to weave the lattice directly on the pie starting with the middle and working my way to the sides all around. A wash of egg plus milk and a dusting of coarse sugar makes it look professional and photo ready. Though, the real pro tip was to dust the inside of the crust with flour before adding the filling to keep it from becoming soggy as the fruit juices are released. I learned that last tip from Christina Tosi of Momofuku Milk Bar – binge-watching Mind of a Chef on Netflix has already paid off.
Find yourself with many sweet apples and a bit of rhubarb and make this pie. I promise it will please your palate and all who are lucky enough to have a slice.
Gingered Apple and Rhubarb Pie
Ingredients
1 recipe for double crust pie
3-4 crisp and sweet apples, such as Crispin, Honeycrisp or Gala
3 stalks rhubarb
¼ cup sugar
2 tablespoons flour, plus more for sprinkling
1 teaspoon ground cinnamon
¾ teaspoon ground ginger
½ teaspoon salt
2 teaspoons lemon juice
1 egg
2 tablespoons milk
Coarse sugar
Instructions
Prepare pie crust dough and refrigerate. After chilling for 30 minutes to 1 hour, divide dough in half and roll out to the shape of the pie plate. Line pie plate and do not remove the overhang. Return to refrigerator to keep everything cold.
Core apples and cut into ½" cubes and chop rhubarb into ½" pieces. In a large bowl, mix apples and rhubarb with sugar, flour, cinnamon, ginger, salt and lemon juice.
Roll out remaining half of dough. Using a rule as a guide and a ravioli or pasta cutter, cut dough into 1-inch strips.
Preheat oven to 350 degrees F.
Pull bottom crust from the refrigerator and lightly dust with flour. Add filling to mound in plate. Starting from the center, criss-cross and weave the strips of remaining pie dough to form a loose lattice. Fold the edges of the lower crust over the top and neatly crimp both layers into a wave using your knuckles.
Whisk together egg and milk. Brush entire pie with egg wash then sprinkle with coarse sugar. Bake for 60 minutes until the crust is golden brown. Allow to cool and set for at least 20 minutes before serving to allow the juices to set. Enjoy warm or seal tightly to enjoy for days to come.
I believe the right tools can make cooking easier and more enjoyable so I've linked to some of my favorite products. If you buy via my link, I may earn an affiliate commission. Thank you for your support!