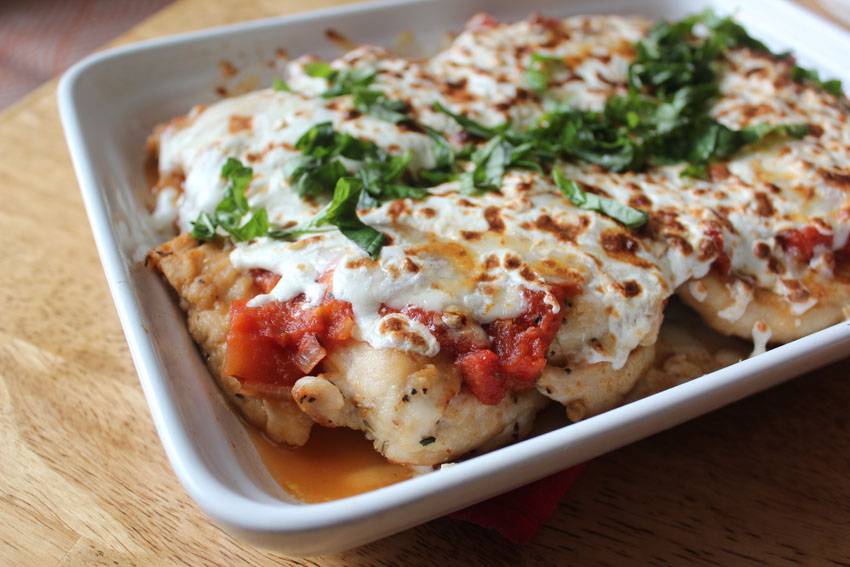 WOW! It has been a wonderful few days with the incredible honor of being named Yahoo Food's Blogger of the Week. I was so excited when the interview went live that I couldn't stop fidgeting. And then I read it over and over again reminiscing about the roots of Runaway Apricot from my time in high school. I wasn't just baking to sell to classmates back then; I did a lot of cooking for my family. And when there was a special occasion, like my mother's birthday this Wednesday, I would make a dish like this to celebrate.
Don't get me wrong – this dish isn't so expensive or difficult to prep that it needs to be saved for a special day. It's actually pretty affordable and super easy. But the flavor is absolutely restaurant quality. Because we didn't have a lot of money back then, I would always cook a family dinner for my mother's birthday. Then, four days later, we would go out to a restaurant to celebrate my birthday. To repay my mother for voluntarily taking the short end of the stick each year, I always strove to make something truly delicious.
This dish is all about combining really flavorful, simple elements. On top there's melty smoked mozzarella. That lingering smokiness, balanced with really bright go-to tomato sauce, is rapturous. The light flour coating for the pan-fried chicken breast soaks in the sauce, helping the whole dish meld more. I like to cut ginormous grocery store chicken breasts into smaller pieces to allow modest reaches for seconds and thirds. Basil on top adds the perfect Italian trifecta of red, white and green and freshness.
So celebrate! Seize the day! Make something delicious any day of the week. Some quick sides like roasted potatoes and sauteed spinach and you have a meal for a happy family in 45 minutes or less.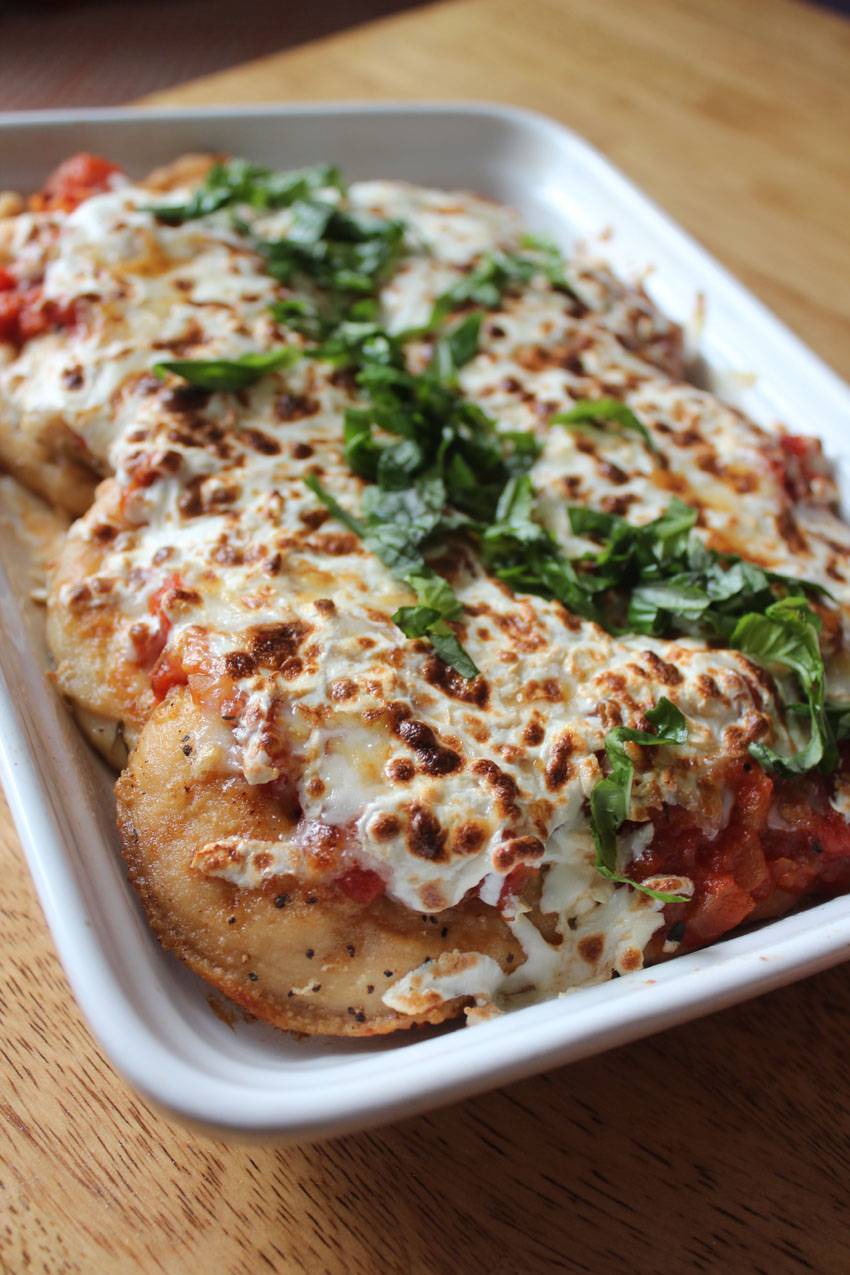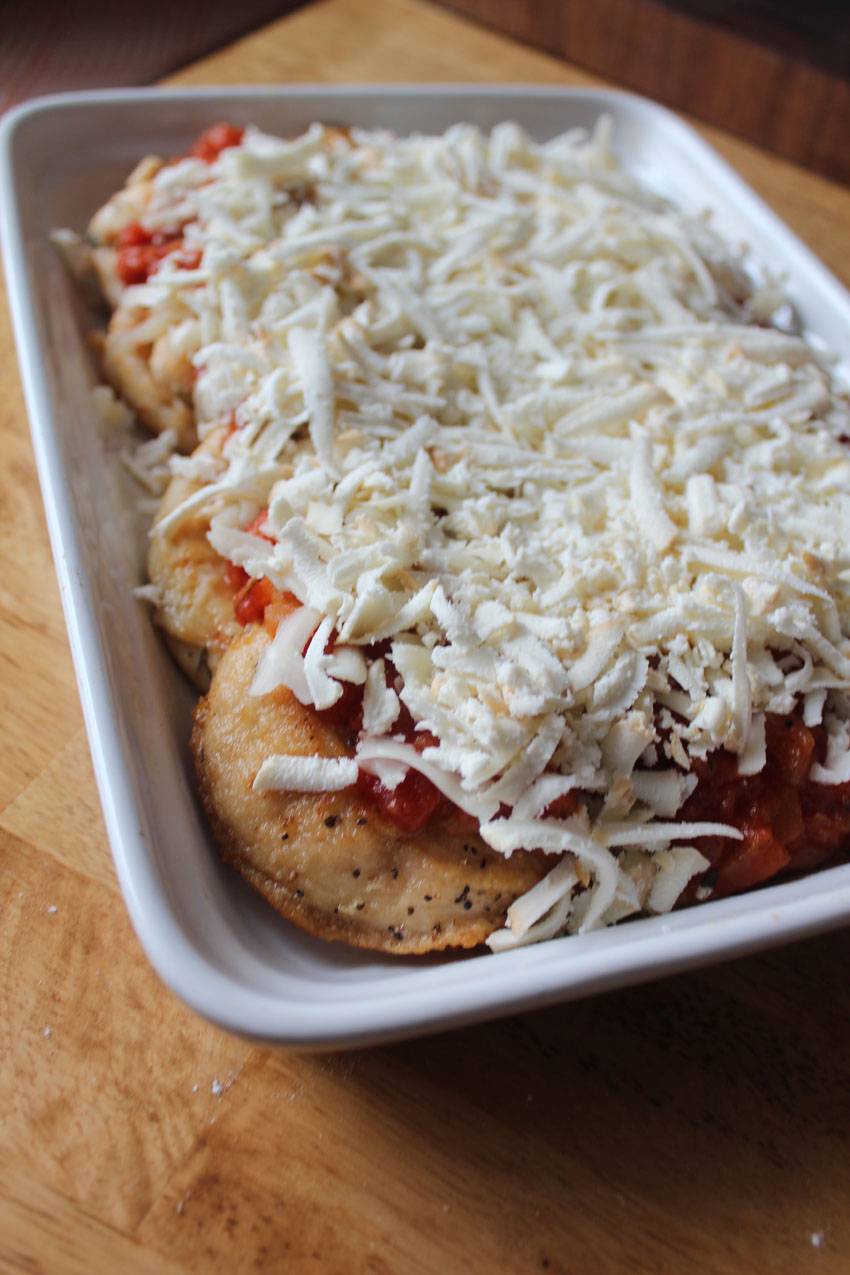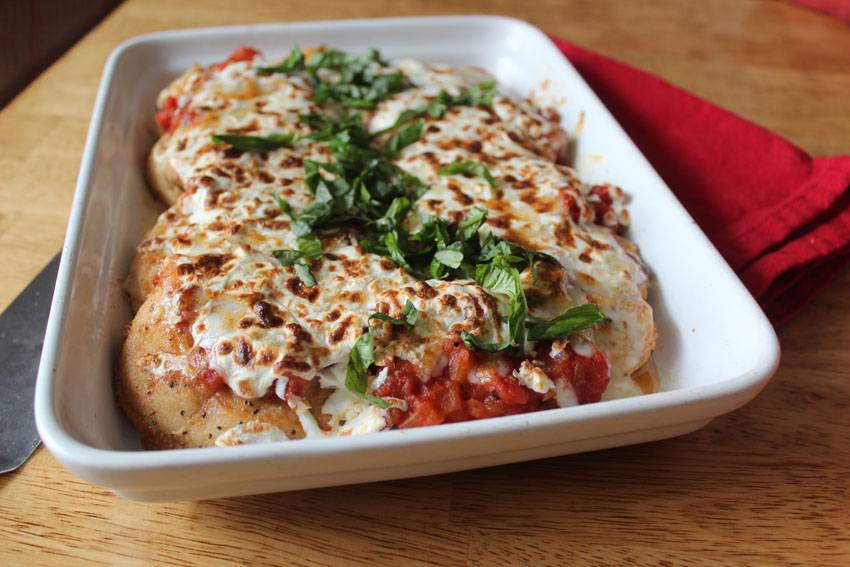 Pan-Fried Chicken Breast with Tomato Sauce and Smoked Mozzarella
Ingredients
2 tablespoons olive oil
1 small onion, diced
3 cloves garlic, sliced
1 teaspoon crushed red pepper
1 28 ounce can crushed tomatoes
1 teaspoon dried oregano
¾ teaspoon thyme
¾ teaspoon rosemary
--
1½ pounds boneless skinless chicken breast
4 Tablespoons olive oil
1 cup all-purpose flour
1 teaspoon oregano
1 teaspoon thyme
1 teaspoon rosemary
1 teaspoon garlic powder
--
½ cup smoked mozzarella, grated
½ cup fontina, grated
Fresh basil, to garnish
Instructions
Heat oil in a medium sauce pan over medium heat. Add onion, garlic, and crushed red pepper and cook until onion is translucent, about 3 minutes. Add crushed tomatoes with ½ cup water swirled in tomato can. Season with oregano, thyme, rosemary, salt and pepper, to taste. Lower heat and simmer for 25-30 minutes, stirring occasionally. Adjust spices to taste.
Cut chicken breasts into flat rounds. Pound to flatten each between plastic wrap to ¼" thick. Season chicken on both sides with salt and pepper.
Preheat broiler.
Heat olive oil to medium-high in a large skillet. Mix together flour, oregano, thyme, rosemary and garlic powder on a plate. Dredge each piece of chicken in flour and shake off excess. Without crowding the pan, work in batches to fry chicken 3-4 minutes per side until golden brown.
Arrange chicken in a layer in shallow casserole dish. Top evenly with about half of the tomato sauce then spread evenly with smoked mozzarella and fontina cheeses. Broil on high until cheese is melted and starting to brown. Sprinkle fresh basil leaves to garnish and serve with remaining tomato sauce.
I believe the right tools can make cooking easier and more enjoyable so I've linked to some of my favorite products. If you buy via my link, I may earn an affiliate commission. Thank you for your support!