I'm often reluctant to introduce myself with the once and future title of "private chef." Afterall, I am self-taught and home-trained. But, I am reminded of Sarah Moulton who said at an event this fall, "home cooks are like chefs how they make things over and over again." Even the most humble of foods can be elevated with practice and continued tweaks to provide the consistent results we demand from restaurants. My father and I experimented with these roasted potatoes for years and now I can say that we make them perfectly, every time. Though the dish is exceedingly simple, once you master the simple steps, you'll be able to perfect practically any roasted vegetable.
Potatoes were a breakfast staple in our home, within the Sunday spread of eggs, bacon or sausage, and pancakes. The potatoes were started first and everything was timed for a quick family meal before the 9am church service. My father made them on the stovetop with a bit of oil and handful of diced onions. Slowly we tested shifting the pan to the oven, which not only freed stove space, it also required less attention. From there, we stuck to basic rules of roasting:
Cut everything evenly. Evenly sized food all requires the same amount of time to cook. Try to keep it small to reduce the cooking time and you won't end up with half a pan gross of undercooked potatoes because you were rushing to serve the meal.
Don't crowd the pan. Crowding traps the moisture that is released from food during cooking and causes everything to steam and become soggy. Use a large enough baking pan to give your potatoes room to breathe.
Use high heat. Just like the perfect french fry, you want the outside of your roasted pototoes to crisp while the inside stays soft. High heat will help you get umami-giving browning on the outside of the potatoes in a short amount of time.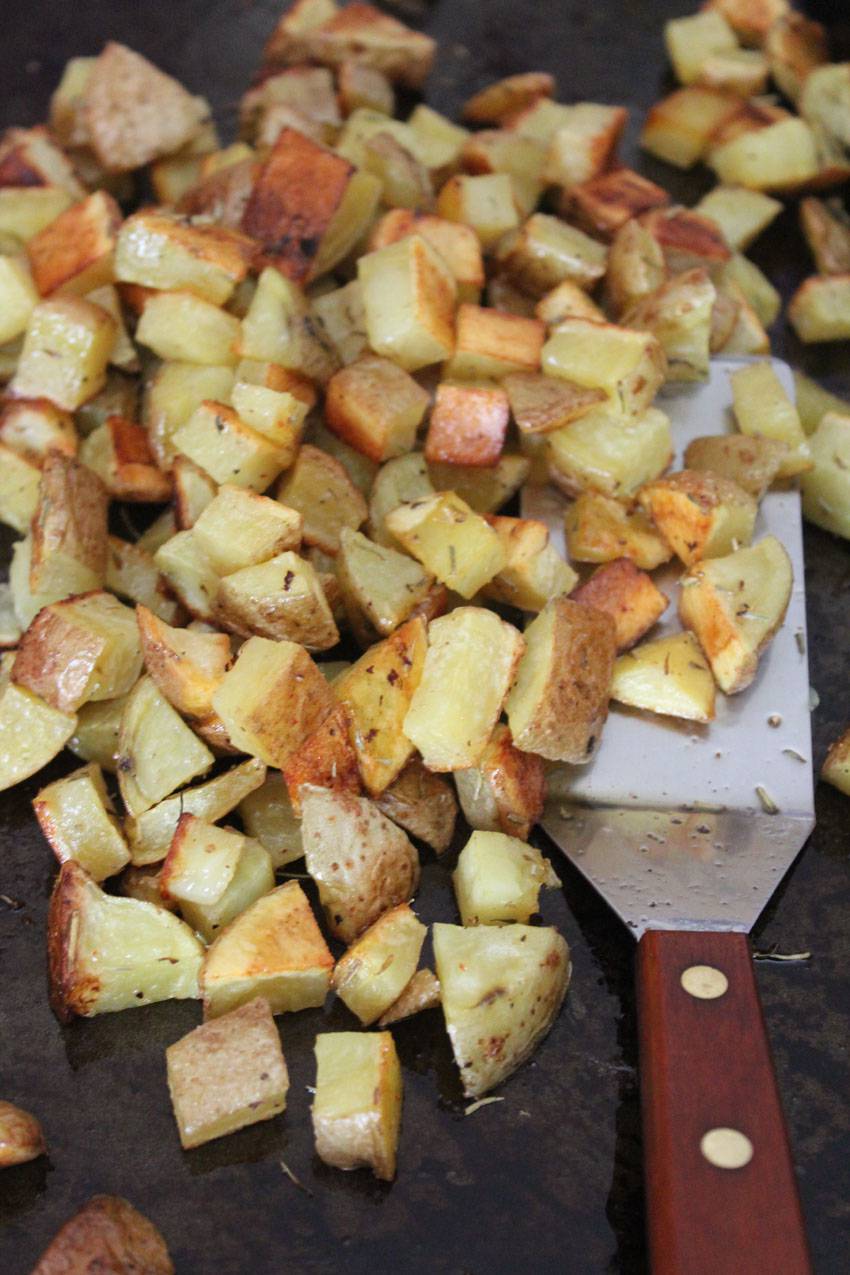 Spread olive oil everywhere. Properly coating your vegetables with olive oil helps to keep some of the moisture that would be lost at high heat inside. That means no shriveled potatoes and nothing that is dry to the touch.
Taste test. All of your senses are needed when cooking, not just your ability to work a stopwatch. Close to when you think the potatoes will be done check on them with a fork to see if they feel smooth inside, look at the browning to find a caramel color and taste to see if it's just right.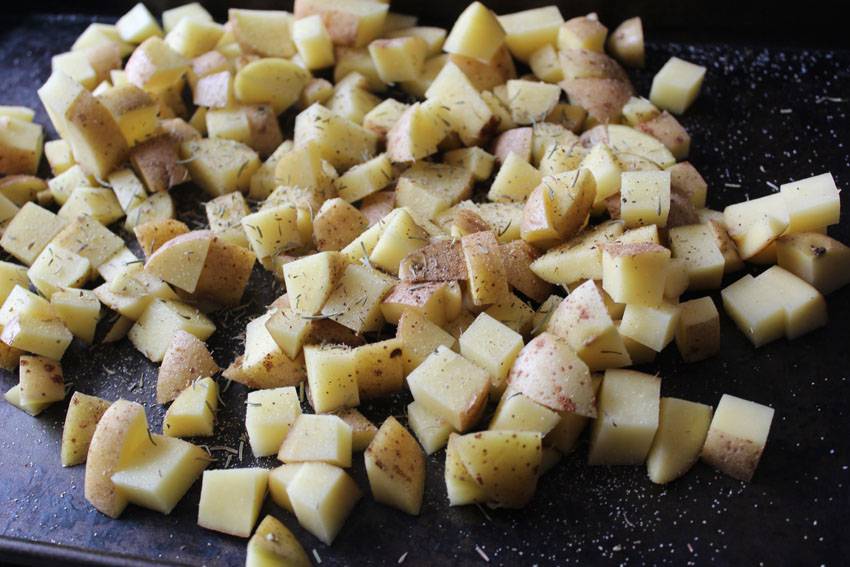 Those rules, easy enough to remember, will lead you to excellent results for any vegetable. For these potatoes I have picked up a few more preferences along the years. I always leave the healthy skin on so white or Yukon gold potatoes are my top choice because the skin isn't too thick. I stopped adding onions because they caramelized at a different speed and didn't fit on the fork how I liked. I like to see the thyme and rosemary on the potato surface but I always crush the rosemary a bit in the palm of my hand so the leaves aren't too big – they crisp up in roasting and it can feel a bit like you're eating pine needles if they're huge. And lastly, I have recently adopted a preference for a dark crisp on only one side of my potato cubes – so I don't stir or flip during cooking. That said, if I cut the potatoes any larger I would flip to avoid burning.
So there you have all of the secrets from years and years of testing little suggestions. I still love these potatoes at breakfast and the same recipe carries well to the dinner table. Make these a few times and you'll have a side that's as good as any steakhouse.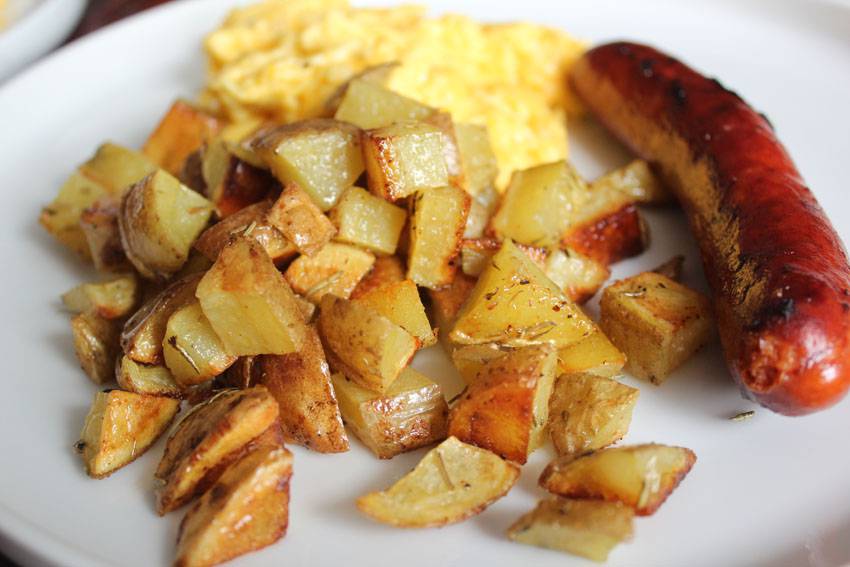 Crispy Roasted Potatoes
Prep time:
Cook time:
Total time:
Ingredients
2 pounds White or Yukon Gold Potatoes
1 teaspoon Rosemary
1 teaspoon Thyme
1 teaspoon Garlic Powder
Salt
Pepper
3 tablespoons Olive Oil
Instructions
Preheat oven to 425°. Scrub potatoes clean and cut into even ¾" cubes. Crush rosemary between your thumb and palm and sprinkle over potatoes on a large baking pan. Sprinkle thyme and garlic powder and season to taste with salt and pepper. Pour olive oil and mix with your hands to coat evenly. Spread potatoes across baking sheet, leaving room for heat to circulate.
Roast potatoes for 20 minutes then check to test for smooth texture with a fork and browned color on underside of potatoes. Roast for another 5-10 minutes, if needed, until crisp and tasty. Serve immediately.
I believe the right tools can make cooking easier and more enjoyable so I've linked to some of my favorite products. If you buy via my link, I may earn an affiliate commission. Thank you for your support!