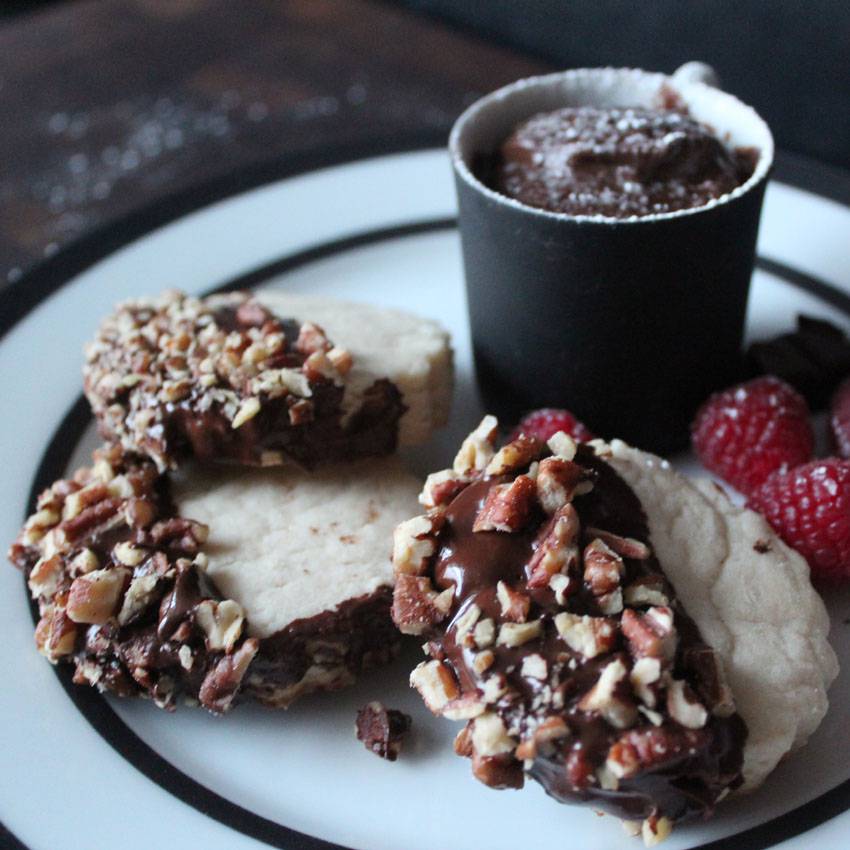 Ladies and Gentleman, for the record, there is nothing more romantic than cooking with your significant other. Standing side-by-side with some music grooving from the speakers and glasses of wine while you mix and flavor dishes – that's the perfect date. And it doesn't matter if your skills are evenly matched in the kitchen. One person can wash ingredients while another controls the flame and then you come together to set the table. Anything you make will be delightful. But, if you want to turn up the heat, finish the meal with chocolate, the final focus of the #2Ways2Percent campaign by American Express and Whole Foods.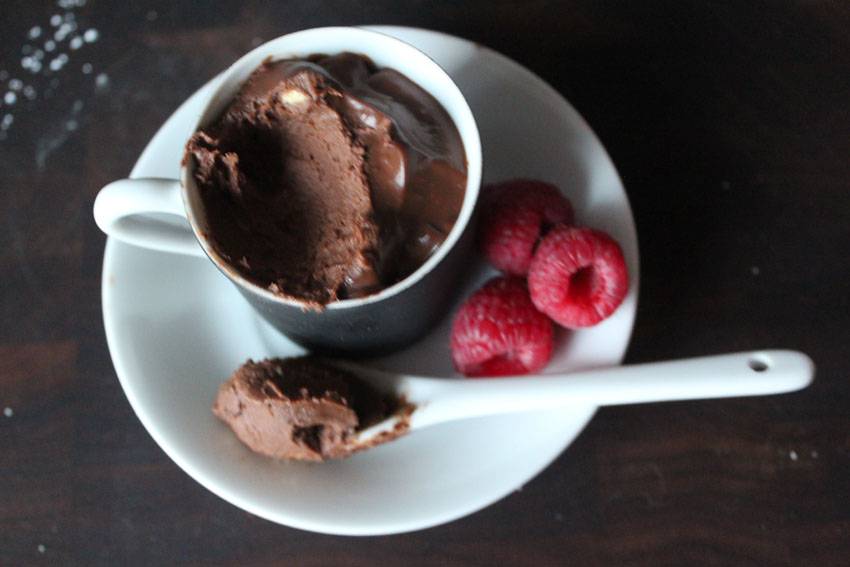 Chocolate. Swoon. When I polled friends last Valentine's Day for a sultry food ideas, chocolate was the unmatched choice for dessert. Seen as an aphrodisiac since its origins in the Americas, the first recipe pairs chocolate with another New World ingredient: avocado. The green and black combo looks strange for a few seconds in mixing, but it's a pretty ingenious way to create the perfect mousse texture without dairy or flatulence (looking at you fellow lactose intolerant people). The melt-in-your-mouth texture, strong color, and richness are not lost at all. Share making this sophisticated; yet super easy, dessert with your sweetheart.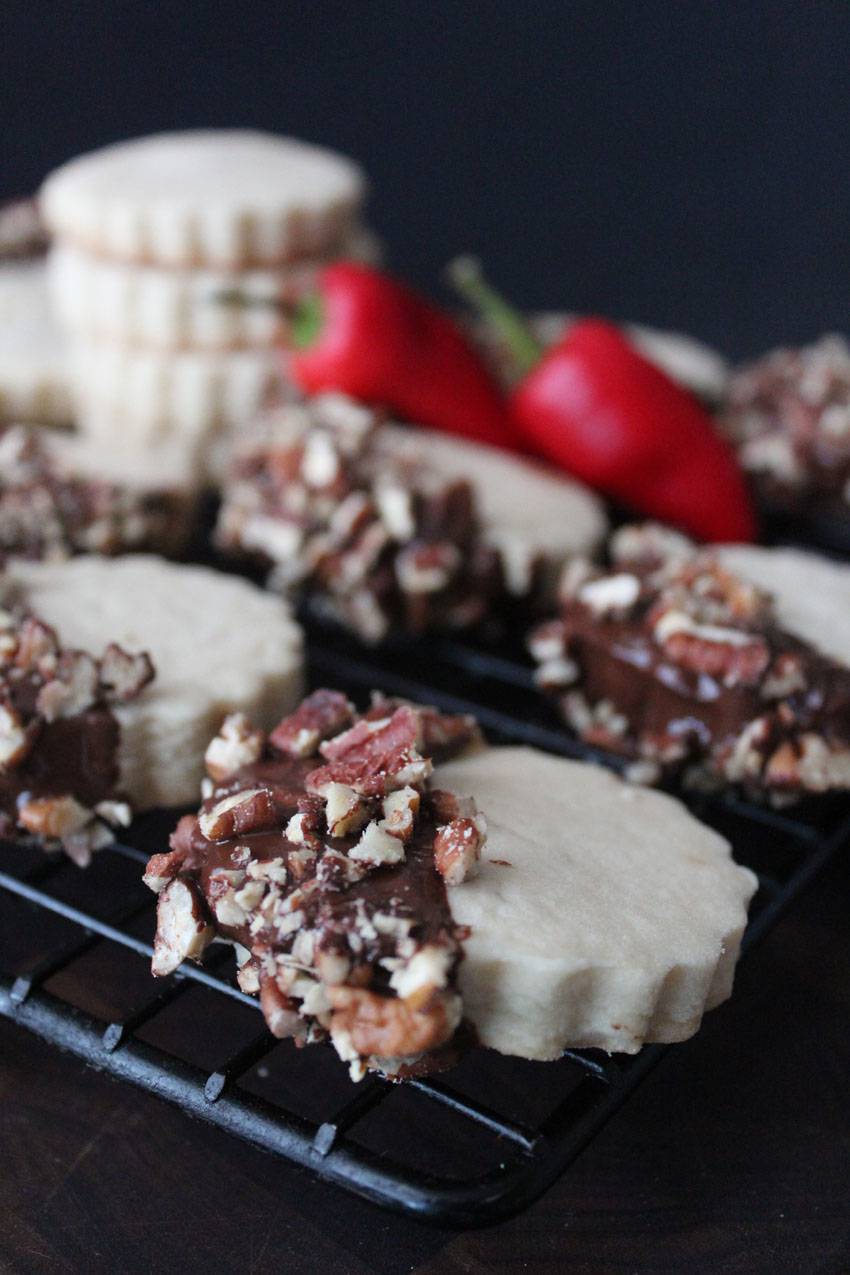 In a second dish, I was excited to mix chocolate with chilies, another sultry food. The pairing of two New World flavors again, the spiciness of cayenne pepper is delightfully surprising. In these Spicy Chocolate and Pecan Dipped Shortbread Cookies the spice comes as a subtle end to buttery sweetness. That flavor, however, can be raised by the right pairing. My neighborhood wine shop suggested a Chilean Carménère to accompany and each sip intensified the spiciness of each bite. These cookies require a few steps performed repeatedly so they're fun to do along an assembly line with your love.
Think outside the box of chocolates this February with these two luscious sweets.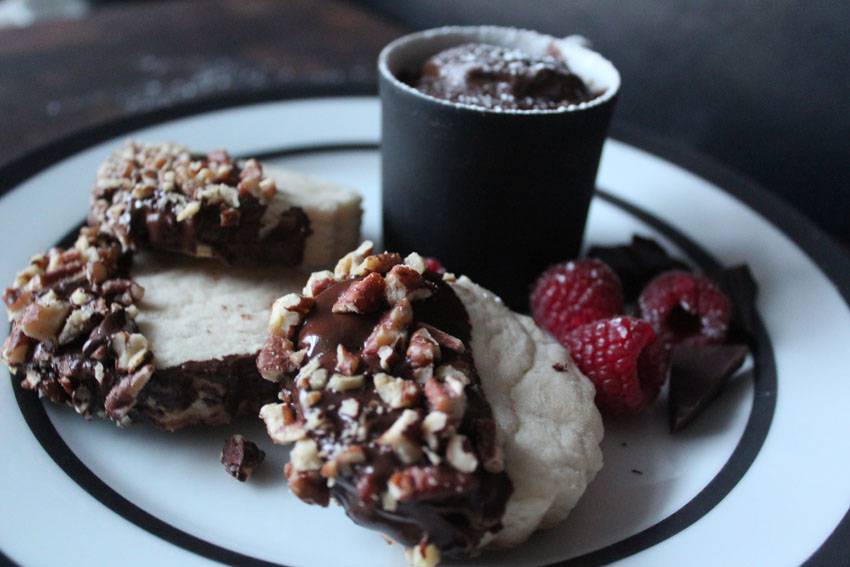 Chocolate Avocado Mousse
2 very ripe avocados
115g 70% dark chocolate, preferably Green & Black
2 tablespoons coconut oil
1 tablespoon honey
1 tablespoon espresso
Salt, to taste
Whip avocado with a food processor or mixer until very smooth and no lumps remain.
Add chocolate and coconut oil to a small bowl. Microwave for 30 seconds, stir, and microwave for another 30 seconds until fully melted. Stir in honey and espresso.
Pour chocolate mixture into avocado and mix thoroughly. Spoon into 5 espresso cups or small ramekins. Refrigerate for 2 or more hours until set.
Spicy Chocolate- and- Pecan-Dipped Shortbread Cookies
1 cup butter, softened
3/4 cup powdered sugar
1 teaspoon vanilla
2 1/2 cups all-purpose flour
1 cup pecans
1 cup semi-sweet chocolate chips
1 teaspoon olive oil
1/2 teaspoon cayenne
1/2 teaspoon coriander
1/4 teaspoon cinnamon
1/4 teaspoon sea salt
1/8 teaspoon allspice
Heat oven to 350° Fahrenheit. In a large bowl, beat butter, powdered sugar and vanilla until smooth. Stir in flour until cookie dough comes together. If the dough is too crumbly, mix in an additional 1 to 2 tablespoons of butter, softened.
On a floured surface, roll out dough to 1/2″ thick. Cut into small shapes with a cookie cutter or knife. Place cookies 1/2″ apart on ungreased cookie sheet. Bake for 14-16 minutes, or until cookies are set and bottoms are light golden brown. Remove cookies to wire rack and cool completely, about 30 minutes.
Spread pecans on a cookie sheet and toast in 350° Fahrenheit oven for 5-7 minutes. Allow to cool for a few minutes then chop finely.
Add chocolate chips and olive oil to a wide-mouthed mug or heatproof glass. Microwave for 30 seconds, stir, then microwave for another 30 seconds until fully melted. Stir in cayenne, coriander, cinnamon, sea salt and allspice.
Dip each cookie in mug of chocolate to coat half-way and wipe excess along rim back into cup. Then, dip in pecans to cover chocolate. Set on wire rack to cool completely. Store for a few days in a tightly sealed container.
—
Looking to get your ingredients at Whole Foods Market? Well, it's not too late to get extra cash back! Use your enrolled Blue Cash Card at Whole Foods Market and get an additional 2% cash back when you shop. But the offer ends February 15th—so don't wait! Enroll here.
I was selected by American Express to contribute to the Blue Cash Card #2Ways2Percent campaign. As such I was paid for my services, but all opinions in general and about American Express are my own.
I believe the right tools can make cooking easier and more enjoyable so I've linked to some of my favorite products. If you buy via my link, I may earn an affiliate commission. Thank you for your support!