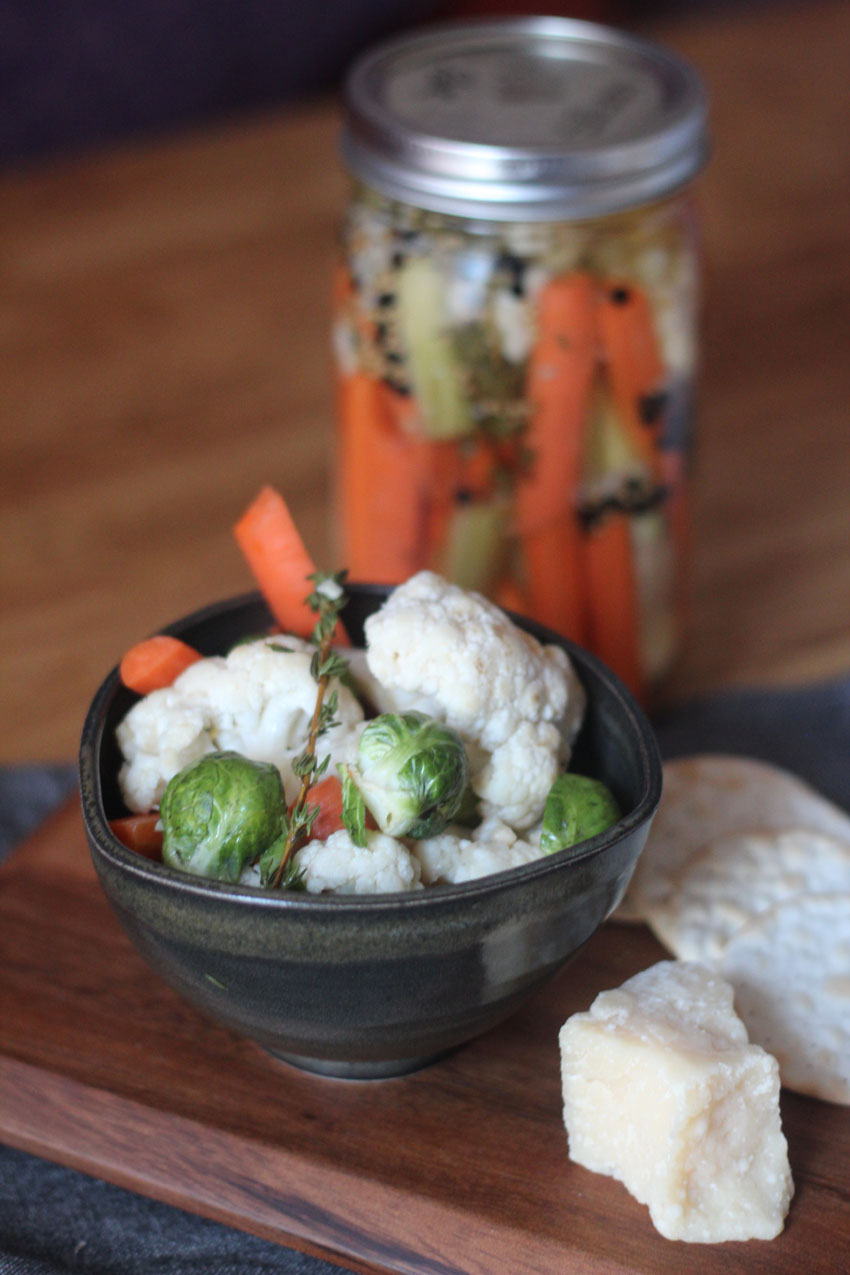 Do you know what's in your fridge? Beyond leftovers from last night's dinner, what's been sitting on your bottom shelf since last week? Reducing food waste begins with this attention to resources. I was recently invited to be the chef for a salon dinner created to shed light on what can be done with produce to avoid throwing it away. Throughout the menu I used many methods to use the whole animal or vegetable, purchase only as much as needed, and preserve remaining ingredients for days and weeks of potential leftovers. To the dinner was added another challenge – serving 16 people in a working construction site with no way to cook and only a microwave to reheat transported foods. With those requirements I created the Soul Food Picnic. Here is the menu and the ways in which each dish represented a mindfulness of resources.
Roasted Red Pepper Deviled Eggs
Use each part of the egg, the white and yolk, in a unique way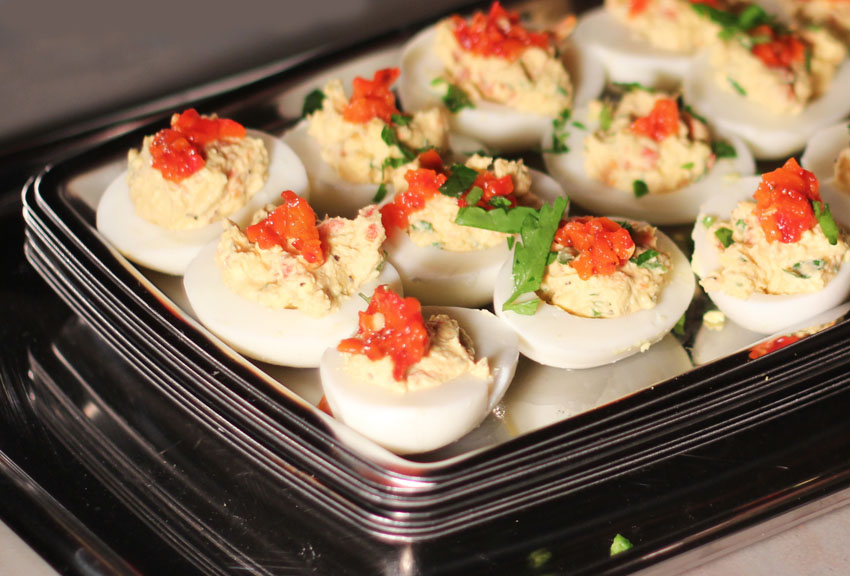 Giardiniera Pickles with Cauliflower, Carrots, Brussels Sprouts and Red Pepper
Put Up – by pickling and preserving vegetables with a salty or acidic brine we are able to preserve the fall harvest through the winter
Buttermilk Cornbread with Carrot Top and Almond Pesto Butter
Use the leftovers and the disposable parts, including carrot tops or buttermilk, which is left behind when butter is churned from milk
Extra Crispy Spicy Fried Chicken
Embrace every part of the bird by cutting up a whole chicken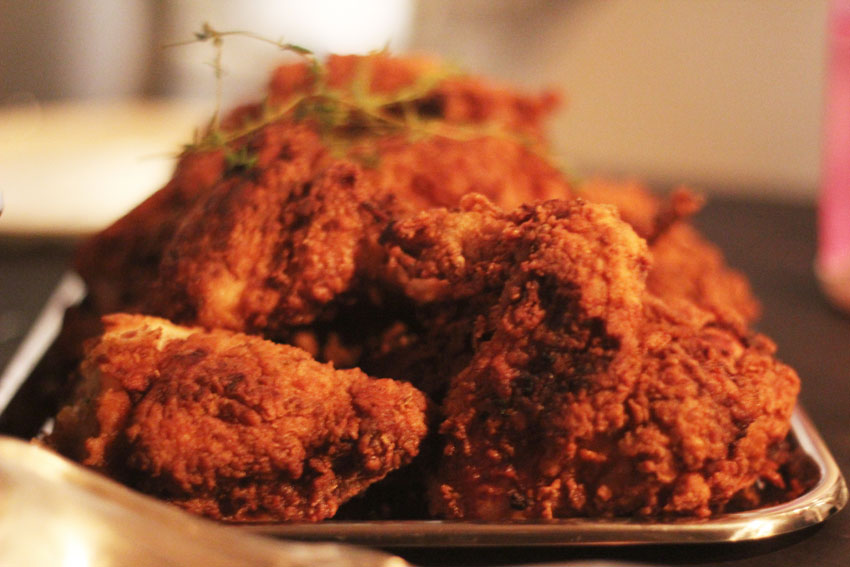 Collard Greens Salad with Apples and Toasted Pecans
By buying pecans and other dry goods from the bulk section, you can purchase only as much as you need with no waste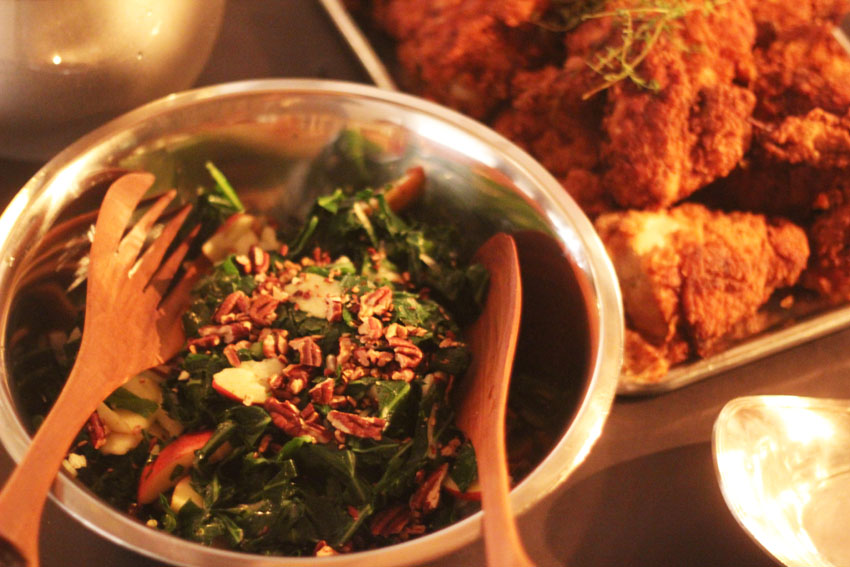 Slow-Cooked Vegetarian Black Eyed Peas
Tough collard green stems and the rind from Parmesan, leftover from other dishes, are repurposed to add texture, nutrition and flavor in place of meat
Sweet Potato Pie
Because in my family no sweet potato pie ever goes to waste!
There you have it – a picnic menu you can enjoy any time of the year. And a highlight dish which produces leftovers that empower creative interpretation and lasts weeks in the fridge are these giardiniera pickles. These vegetables are perfect for fall and winter but the spicy brine is good with a range of vegetables to make any time of the year. Enjoy!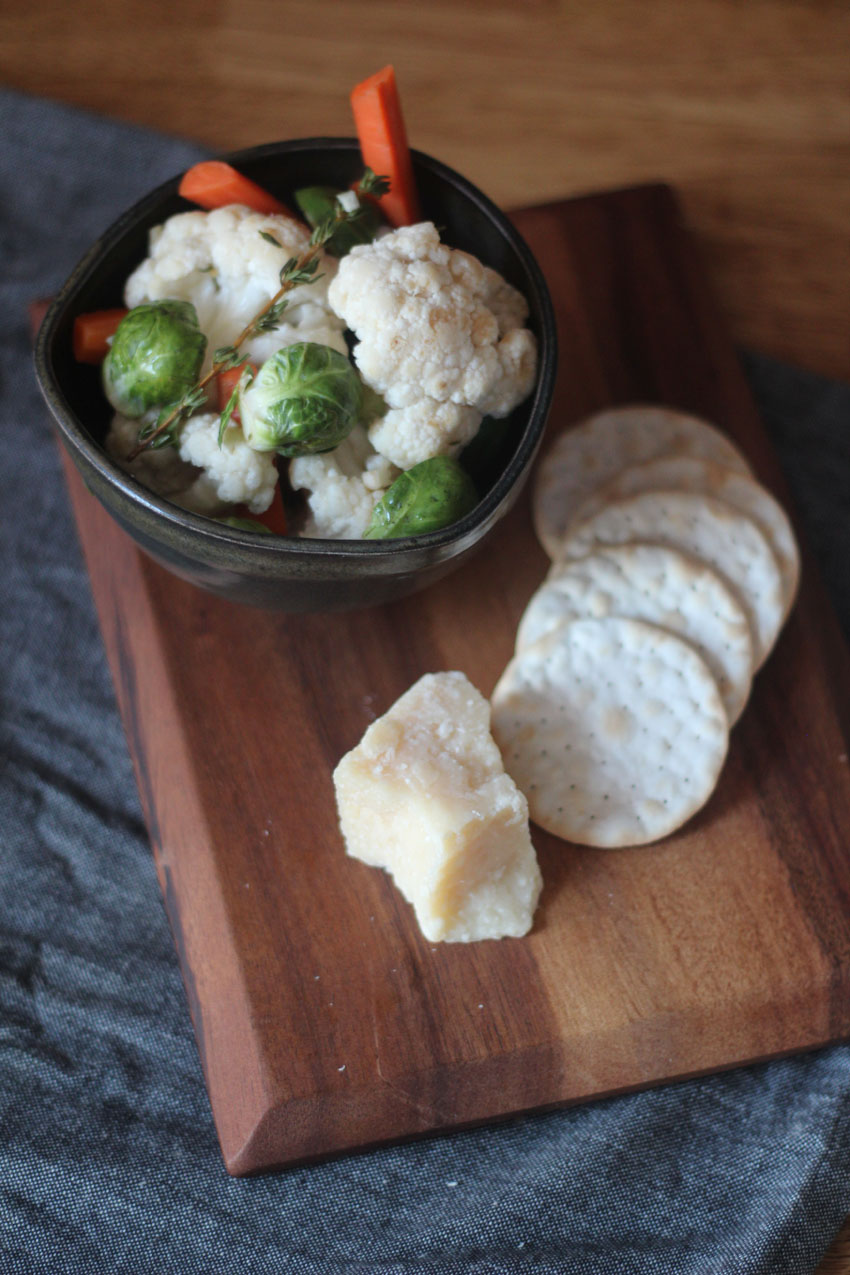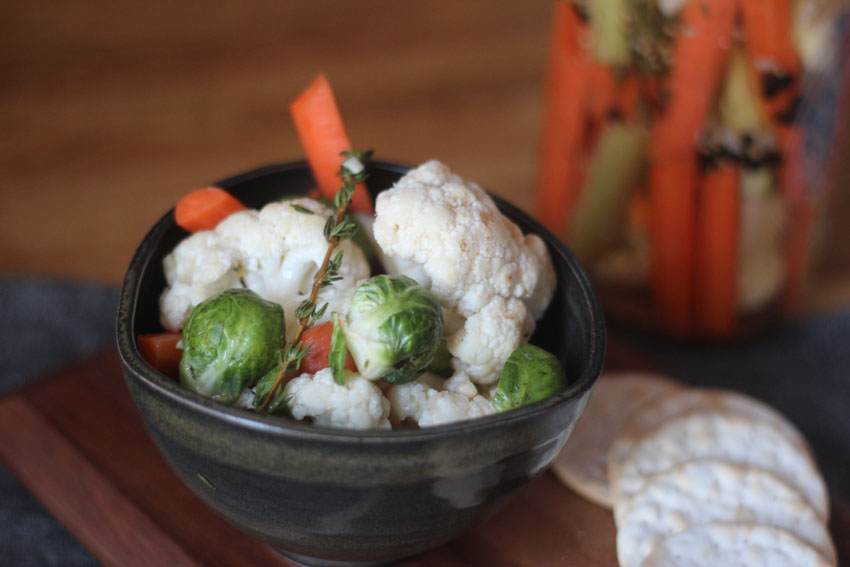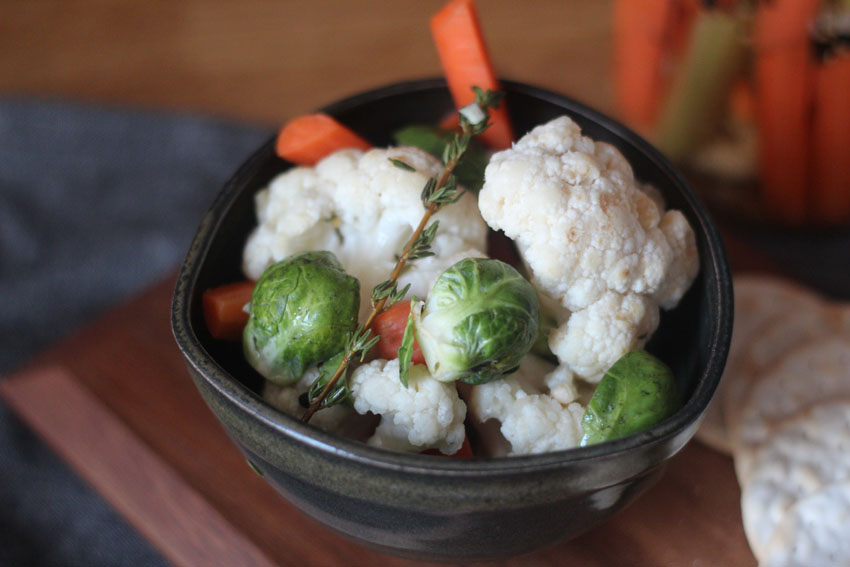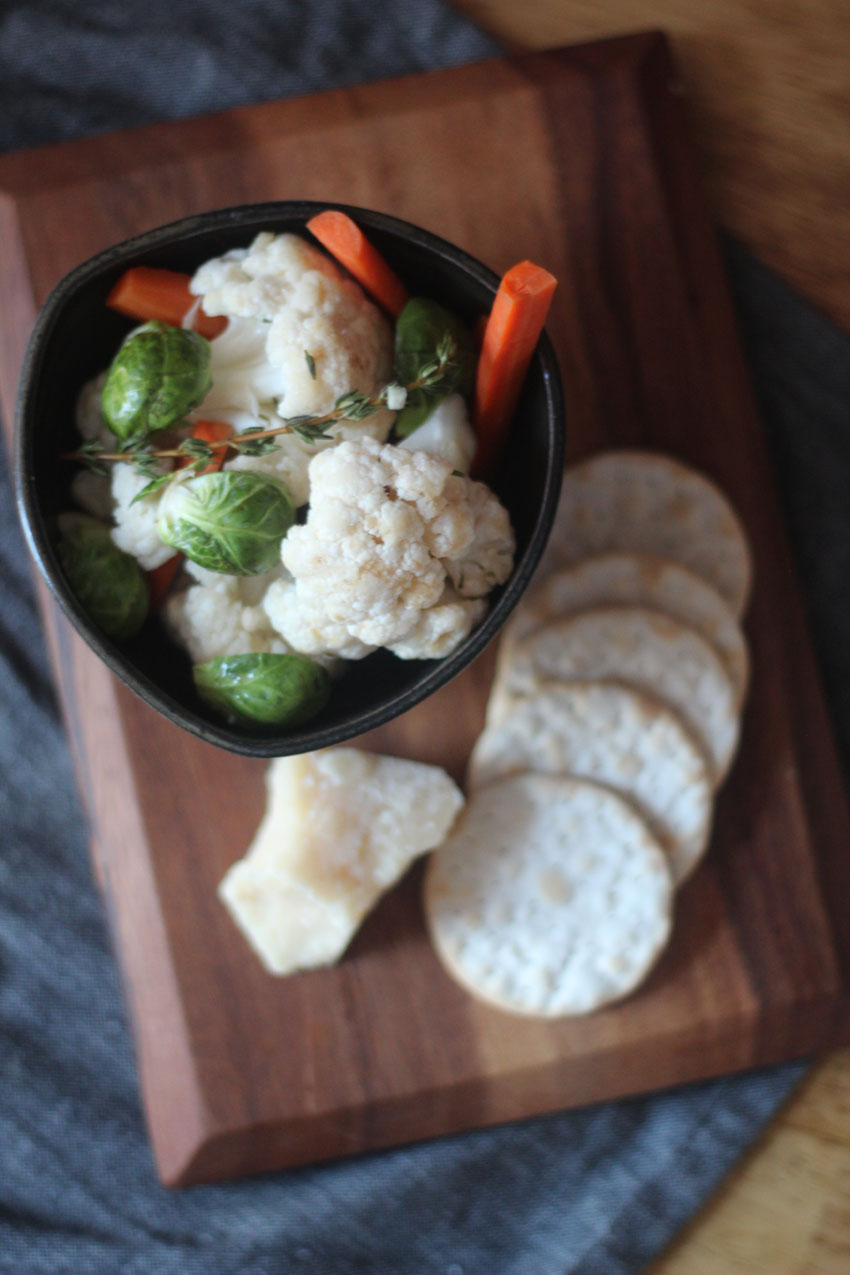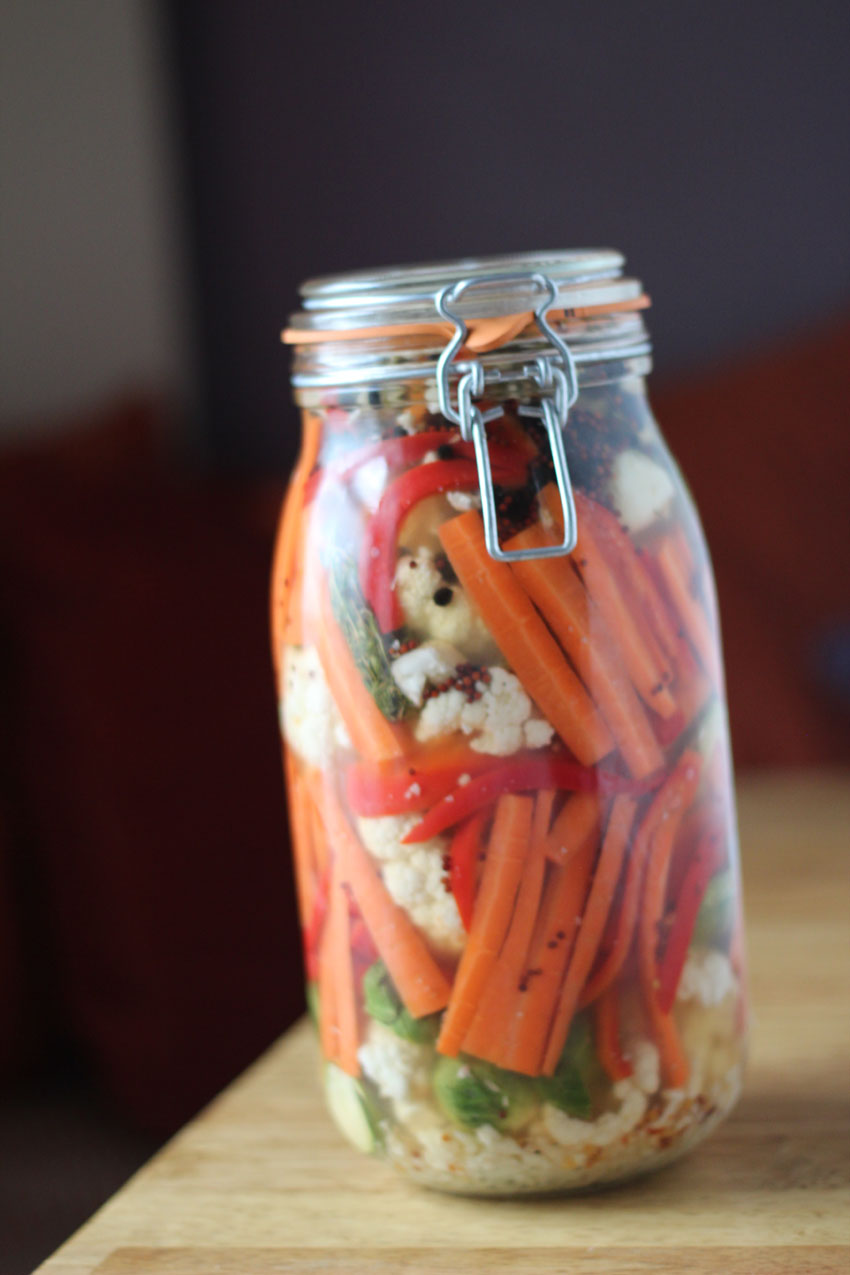 Giardiniera Pickles with Cauliflower, Carrots, Brussels Sprouts and Red Pepper
Prep time:
Cook time:
Total time:
Ingredients
Giardiniera Pickles with Cauliflower, Carrots, Brussels Sprouts and Red Pepper
1 small cauliflower, cut into even pieces
½ pound Brussels sprouts, stems removed and cut in half
½ pound carrots, cut into spears
1 red bell pepper, cut into spears
8 cloves garlic, minced
¾ tablespoon crushed red pepper flakes (less if you can't take the heat)
10 sprigs fresh thyme, more or less
--
1 tablespoon whole peppercorns
1 tablespoon whole brown mustard seeds
3 tablespoons sea salt (avoid iodized, it will discolor the pickles)
2 tablespoons granulated sugar
2 cups apple cider vinegar
2 cups water
Instructions
Wash jars, lids and bands in hot, soapy water. Keep warm in the oven at a low temperature until ready to use to avoid breakage when filling with hot brine.
Divide garlic and crushed red pepper flakes evenly among jars, if using multiple. Pack vegetables and fresh thyme tightly into jars.
In a small pot, combine peppercorns, mustard seeds, salt, sugar, vinegar, and water. Bring to a boil over medium-high heat then lower to simmer for about 3 minutes to dissolve salt and sugar. Remove from heat and cool for about 15 minutes.
Pour brine into jars, making sure to submerge the vegetables. Tap the bottom of the jar on the counter to send up air bubbles. Refrigerate for at least 1 day before sampling. Pickles will intensify in flavor each day. After vegetables are finished you can use the same brine to pack the jar once more with fresh vegetables.
I believe the right tools can make cooking easier and more enjoyable so I've linked to some of my favorite products. If you buy via my link, I may earn an affiliate commission. Thank you for your support!