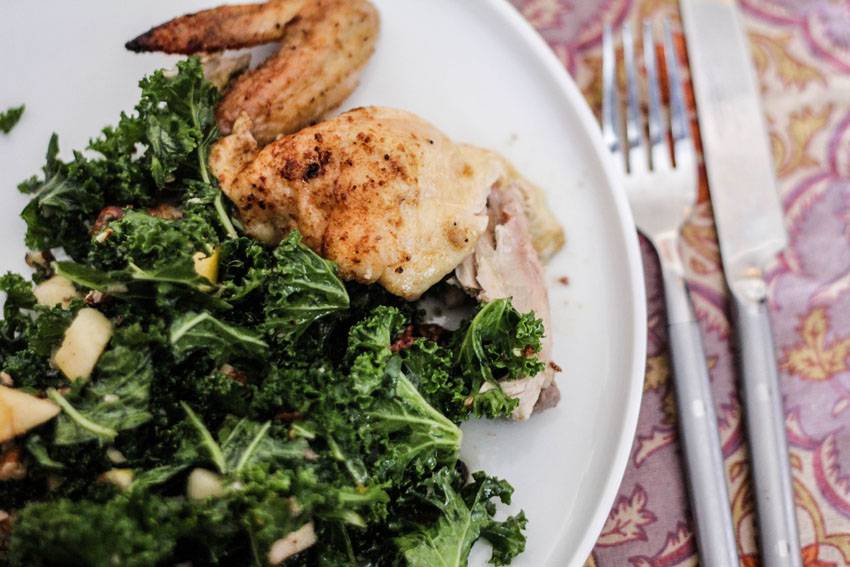 Sometimes I forget that you don't need four courses to have people over for a meal. All it takes to entertain friends or family are a couple simple dishes prepared with love, smiles, good conversation and a little music to fill the restful pauses. Try these two dishes: Lemon-Coriander Roast Chicken and Kale Salad with Apple, Dried Cherry and Pecans. Cut down on work and feed others more often.
Embrace the whole chicken! A whole chicken takes longer to cook than its parts, but it's so easy to execute well. Just season it up and pop it in the oven. Use a hot cast iron skillet, if you have one, and baste the bird with a pastry brush as it cooks to keep it moist, crisp and browning. When it's done, be sure to allow it to rest for 10-15 minutes before carving so the juices stay inside the meat. With a whole bird you can offer each guest their favorite part – there's enough to go around.
The kale salad is a great complement for the low-carb meal. Start it right after you put the chicken in the oven and it will have time to sit and become less toothsome. This combination of apple, dried cherries and toasted pecans is reminiscent of a Waldorf salad and works well year-round with pantry staples. You can also play around with the dried fruit and nuts to match what's in your cabinet. Walnuts and raisins work equally well.
So break out your everyday placemats and napkins and feed someone. Then pack up the leftovers for the best sort of doggy bag.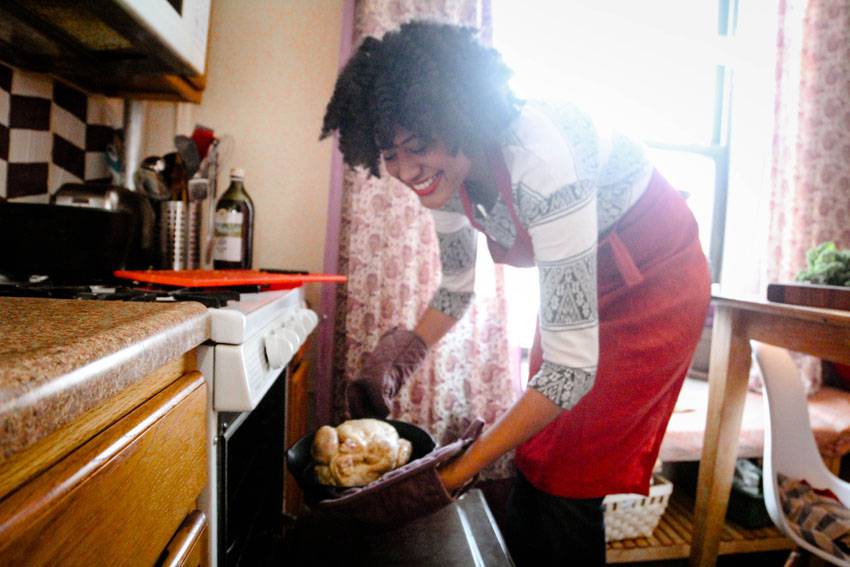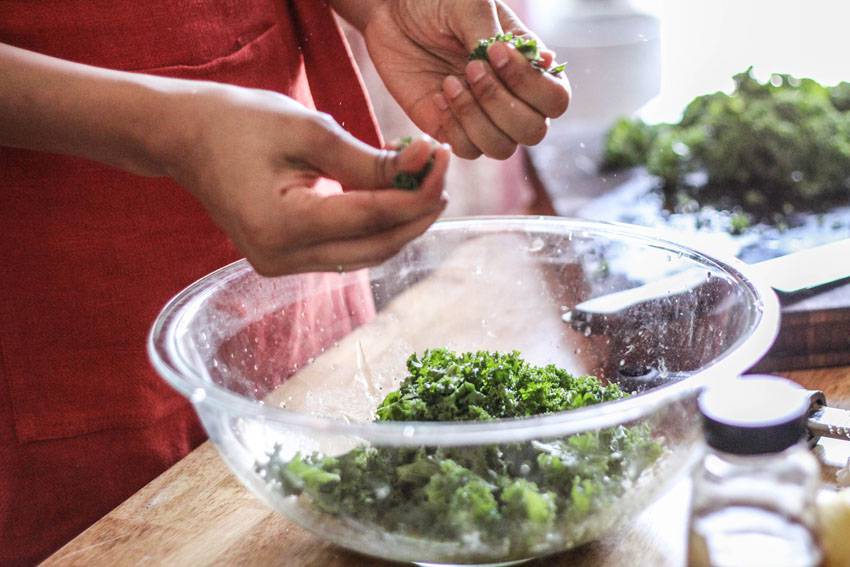 All photos by Sadé Clacken Joseph.

Lemon-Coriander Roast Chicken and Kale Salad with Apples, Dried Cherries and Pecans
Prep time:
Cook time:
Total time:
Ingredients
1 3-4 pound whole chicken
1 lemon
1 tablespoon ground coriander
2 teaspoons garlic powder
--
1 bunch of kale
1 clove garlic, minced
¼ cup parsley, fine chopped
1 apple, diced
¼ cup dried cherries
¼ cup pecans
2 tablespoons red wine vinegar
1 tablespoon honey
¼ cup olive oil
Instructions
For the chicken: Place a cast iron skillet in the oven and preheat to 400 degrees F.
Using a microplane, grate the zest of one lemon over chicken. Season bird inside and out with salt, pepper, ground coriander and garlic powder. Truss the chicken and place breast side up in cast iron pan. Roast for 45 minutes then baste every 15 minutes with pan drippings until thickest part of meat reaches 165 degrees F, another 45-60 minutes.
For the kale salad: Wash kale by submerging in a few changes of cold water. Remove tough center ribs and cut or rip into small pieces. Add kale to a large bowl with garlic, parsley, apple and dried cherries.
Toast pecans over medium heat for 5 minutes. Remove from heat and chop. Add to salad with red wine vinegar, drizzled honey and olive oil. Toss well to coat evenly with dressing. Allow to rest for 20 minutes before serving (optional).
I believe the right tools can make cooking easier and more enjoyable so I've linked to some of my favorite products. If you buy via my link, I may earn an affiliate commission. Thank you for your support!