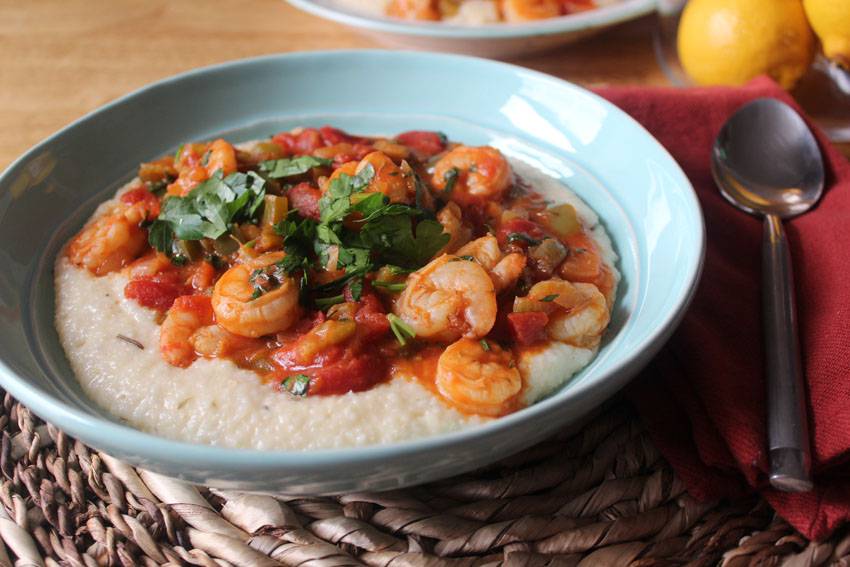 I really enjoy business trips around the country, despite the annoyance of security lines and the pain of too little leg room. That's because I take advantage of my free time in different cities to learn and love different foods. This past fall a series of trips to the south led me to explore my obsession of shrimp and grits and the myriad ways they're served. At Six Feet Under in Atlanta, GA, I enjoyed soupy grits with cajun-spiced shrimp, barbecue sauce, green beans and crispy fried onions. Northward a bit in Williamsburg, VA, Food for Thought serves a thick mound of cheesy grits with jumbo shrimp, peppers, tomatoes, and mushrooms in a cream-based sauce. My own take is based on shrimp creole from New Orleans, LA with a spicy tomato sauce that's years of travel in the making.
I'm pretty apt to order shrimp and grits at a restaurant no matter what else is included in the description. That said, there are some characteristics I really like. I like rich grits made with cream and cheese. But then I feel a bit guilty for the indulgence so I prefer no cream in the sauce. Oh yeah, sauce is definitely required – no dry-seasoned shrimp left to float about the bowl. Bacon is optional, but I like vegetables in all my food so that's another must. And it's got to be spicy. Even though it's traditionally served over rice, you can now see why all roads led to shrimp creole for my own take. I happily adapted the sauce from vintage cookbooks picked up from a thrift store in New Orleans about 5 years ago.
My Maryland driver's license just expired and with it one of my last vestiges of Southern identity. But, I still know how to make grits with self-respect. Old-fashioned grits take about 20 minutes to soak up water and soften, and only with a tight-fitting lid can they do so before drying out and burning in the pan. Thanks to the good people at OXO, I now have the perfect saucepan from their Stainless Steel Pro Cookware series. The rounded bottom of the 3.5 quart saucepan helps the whisk to hit every part of the pan as the grits are added to boiling water and the glass lid helps to cut down on incessantly checking the pot to see when it's ready.
Now that I've found my perfect take, I can move on to another dish for my next trips. I'm flying to Dallas, TX at the end of the week and I'm on the lookout for some good Tex-Mex and Barbecue. What should the next food obsession be?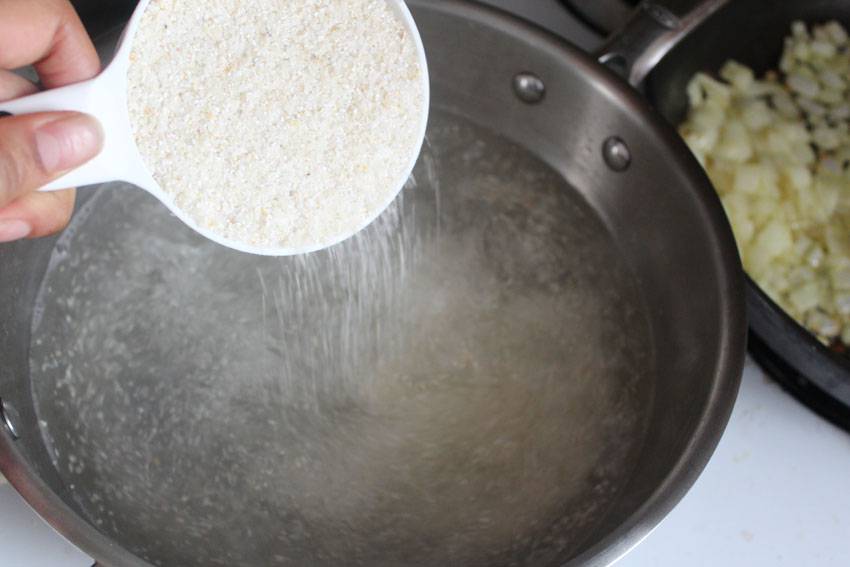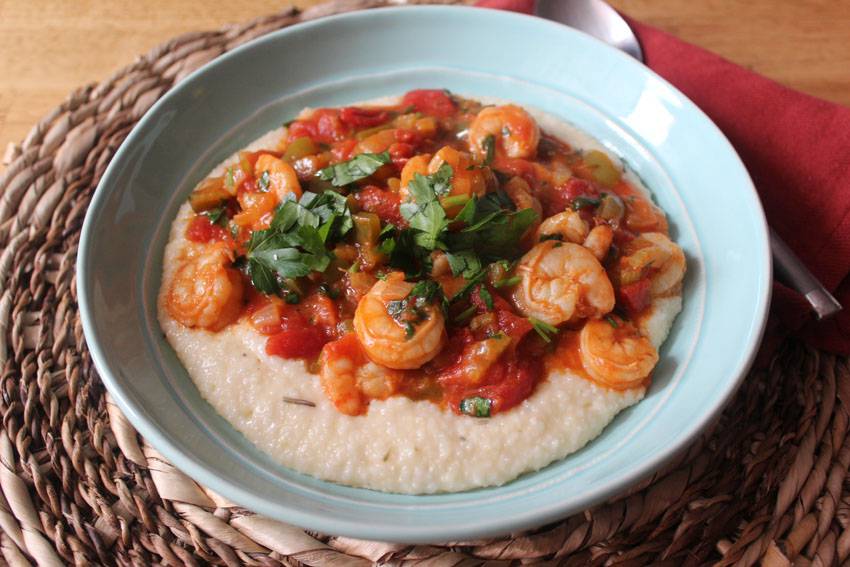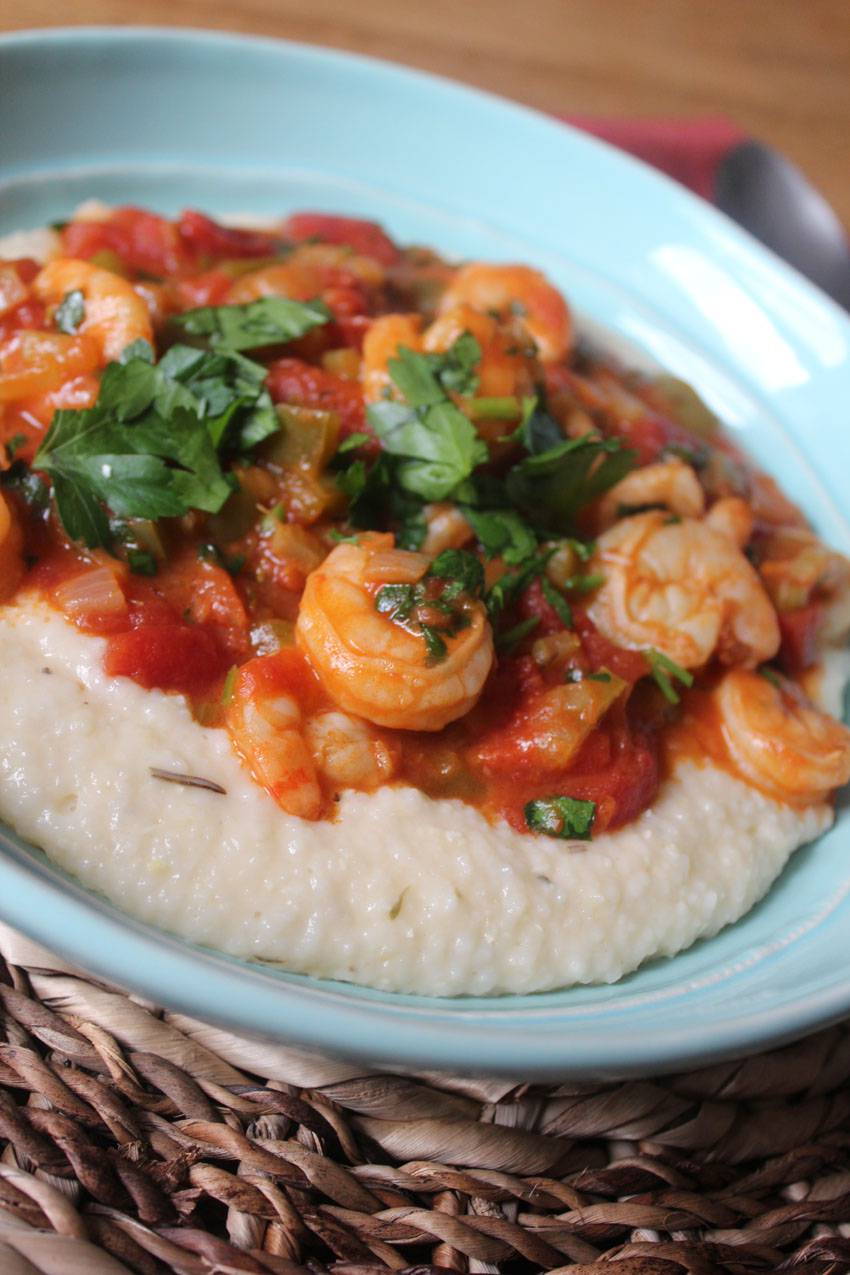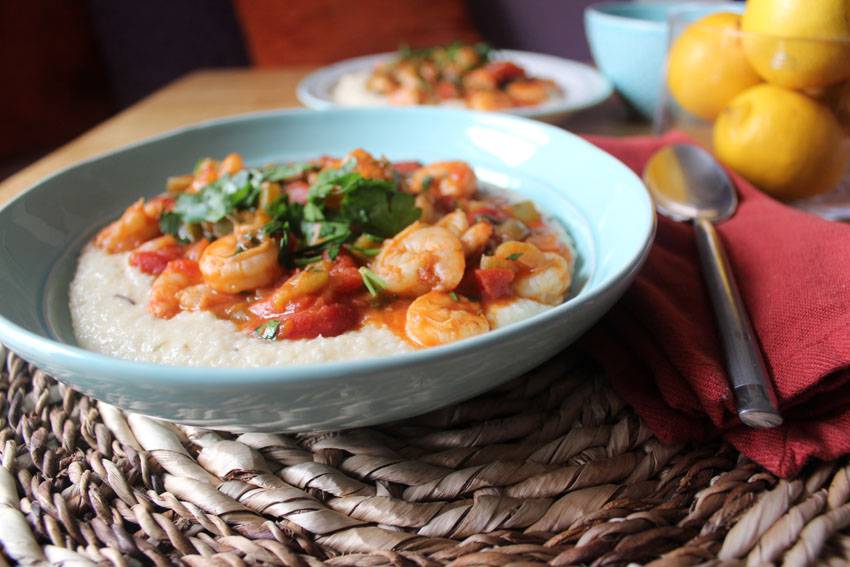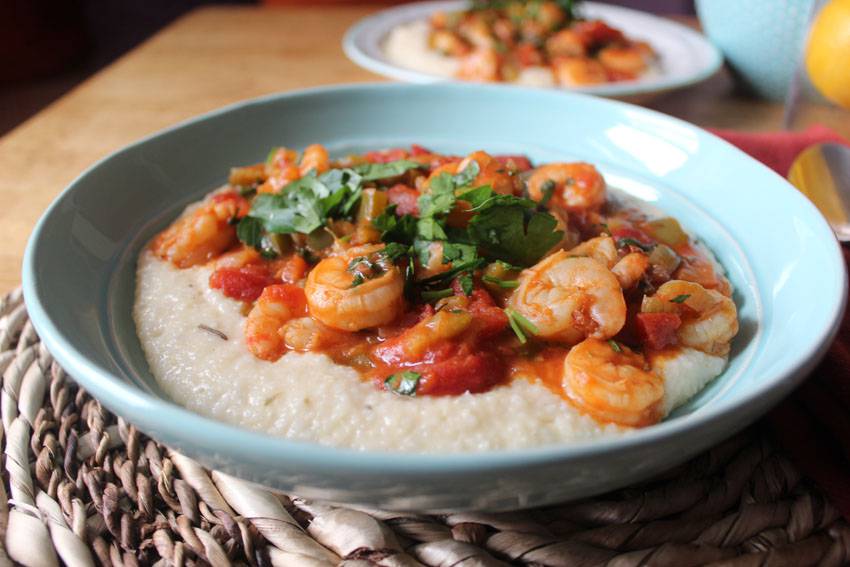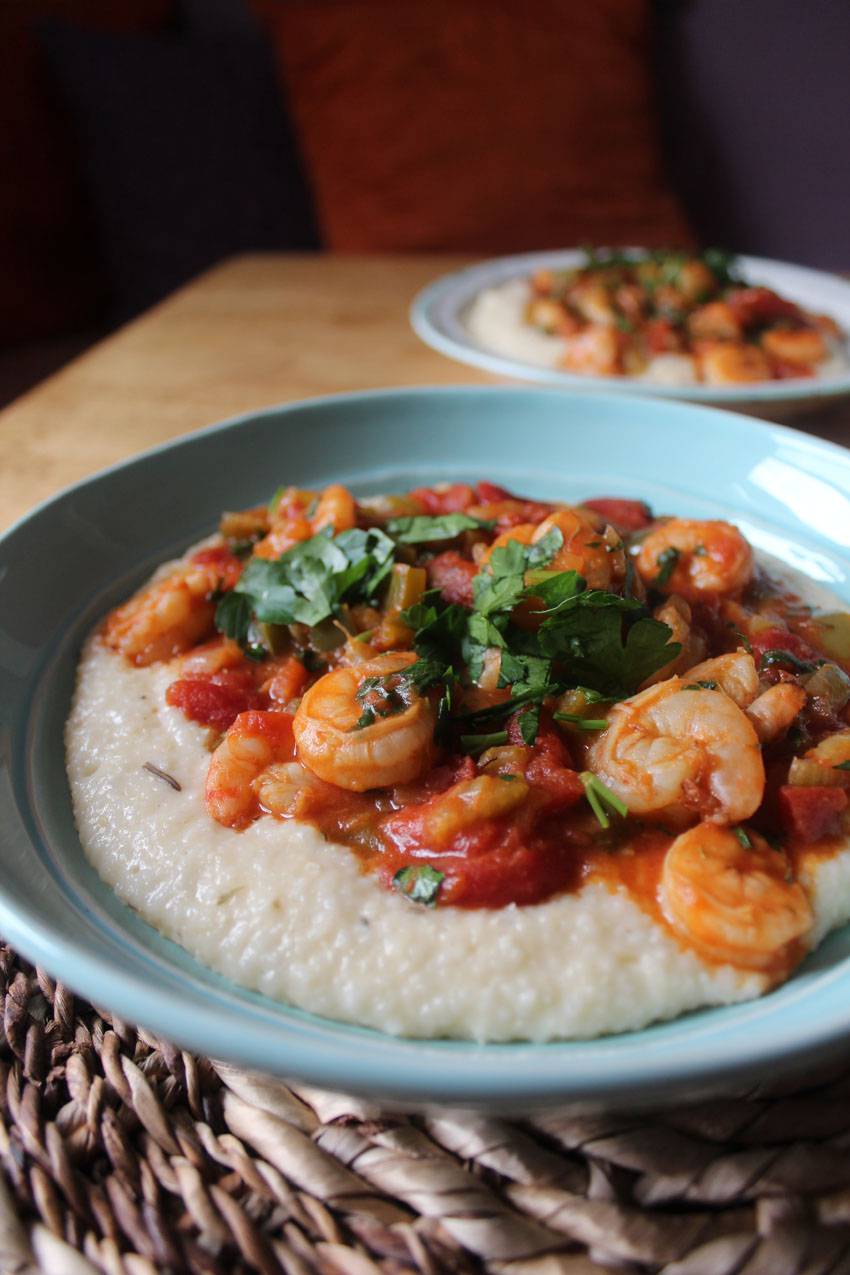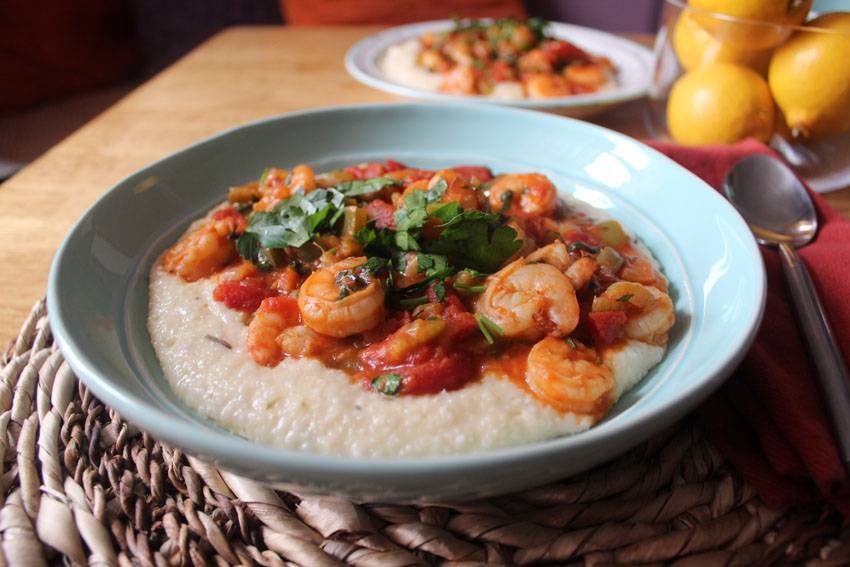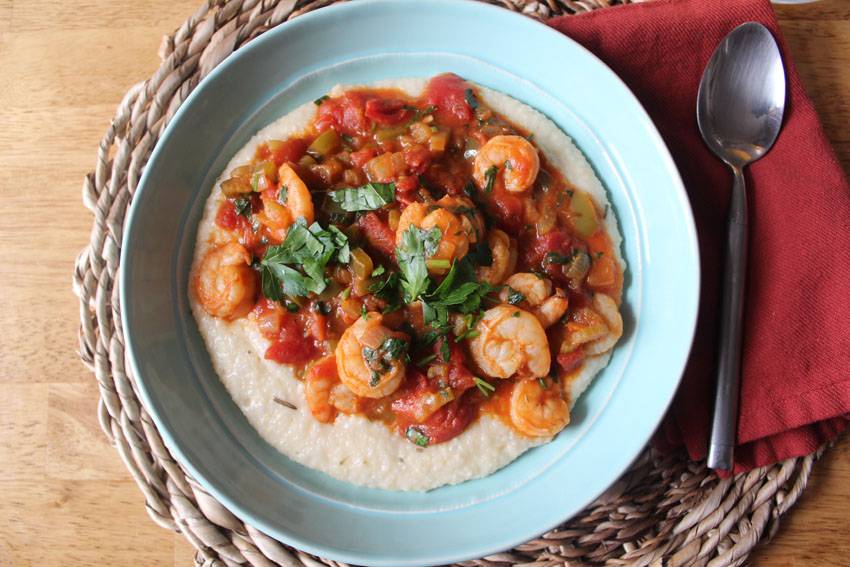 Shrimp Creole and Cheddar Grits
Prep time:
Cook time:
Total time:
Ingredients
3 tablespoons butter
1 large onion, diced
2 cloves garlic, minced
3 stalks celery, diced
1 green bell pepper, diced
1 28-ounce can diced tomatoes
2 bay leaves
½ teaspoon cayenne pepper
1 teaspoon thyme
1 tablespoon all-purpose flour
¼ cup water
1½ pounds medium shrimp, peeled and deveined
1 tablespoon Worsterschire Sauce
1 tablespoon hot sauce
Juice of half a lemon
½ cup parsley, finely chopped
--
4 cups water
1 cup old-fashioned grits
½ teaspoon thyme
½ teaspoon rosemary
¼ cup heavy cream or milk
½ cup cheddar cheese, shredded
Instructions
For Shrimp Creole: In a large saucepan, melt butter over medium heat. Add onion, garlic, celery, green pepper, and a pinch of salt and cook, stirring, until wilted, about 7 minutes.
Add tomatoes, bay leaves, cayenne and thyme and bring to a boil. Reduce heat to medium-low and simmer, uncovered, for 30 minutes.
Whisk together flour and water in a small bowl. Stir into tomato mixture and continue to cook for about 5 minutes, stirring.
Add shrimp, Worsterschire sauce, hot sauce, and lemon juice and cook for about 5 minutes until shrimp turns pink and begins to curl. Add chopped parsley and season to taste with salt, pepper, and more hot sauce, if desired. To serve, spoon over grits and garnish with freshly chopped parsley.
For Cheddar Grits: In a medium saucepan, bring water to a boil with a pinch of salt. Once boiling, whisk in grits, thyme, and rosemary and reduce heat to low. Cover and cook, stirring occasionally, for 15 minutes. Whisk in cream and cheddar cheese and season to taste with salt and pepper. Return lid to pot and continue to cook until grits are tender and liquid has evaporated.
I believe the right tools can make cooking easier and more enjoyable so I've linked to some of my favorite products. If you buy via my link, I may earn an affiliate commission. Thank you for your support!