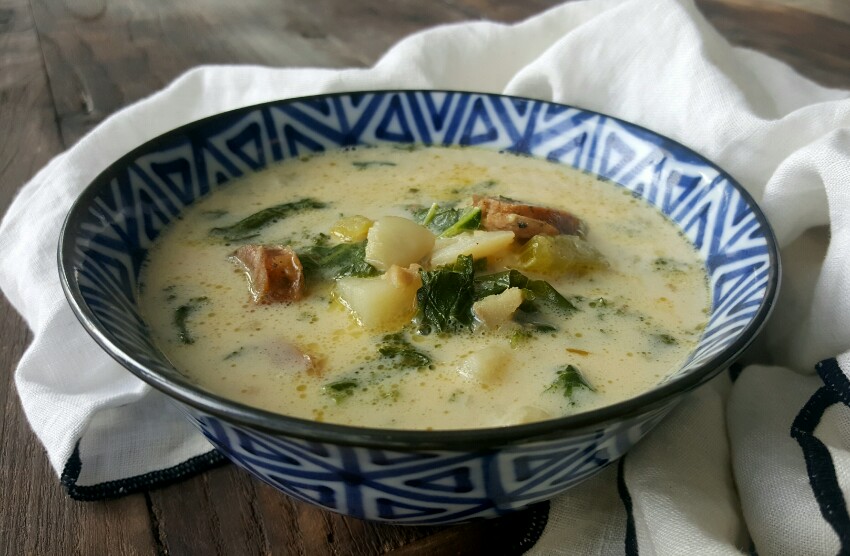 I'm at a moment in my life where I have to decide to cook. I've started a new job where there is food available at all times. Seamless/GrubHub/UberEats can deliver to my door in less time than I can watch one last episode before heading into the kitchen. And, as my schedule busies, sometimes I have to choose coming home to cook dinner over working out at the gym, enjoying trivia night with friends, or even just working late and learning a little more before the day is done.
But I still cook. I still love creating. It still brings me pride to lean over a bowl of something I discovered and tested for the first time; or something I made long ago and want to reproduce exactly as I made it.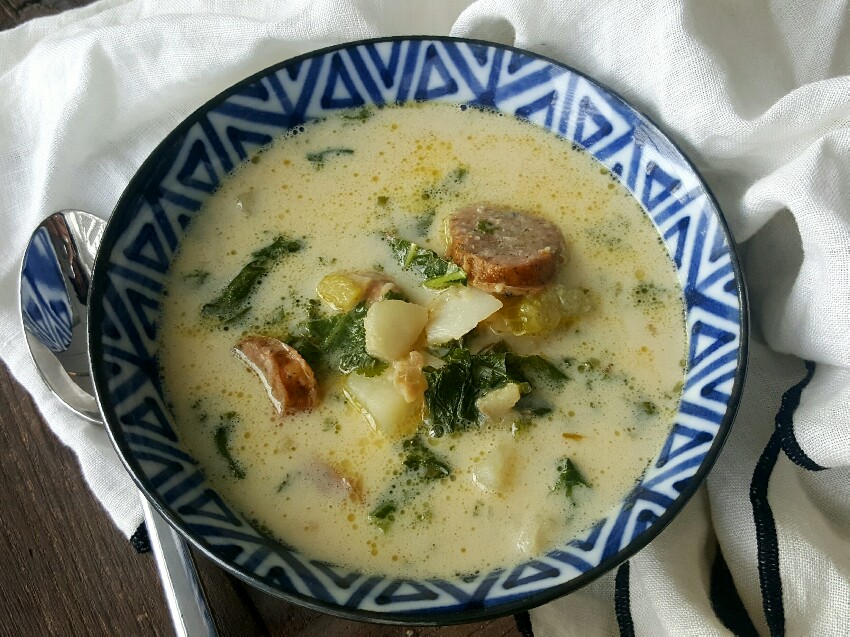 This dish is a recreation of something I first made before Halloween 2015. As I bought fresh cod and andouille sausage, I started to think about my great grandfather's journey from the Cape Verdean Islands to Quincy, Massachusetts where he became a successful chef and food distributor. Two recipes I'd seen in my grandmother's old Portuguese-American cookbook merged in my head: Bacalhau and Caldo Verde. Bacalhau are fritters made with onion, potato and dried and preserved salt cod. Caldo Verde is a simple stew with shredded greens, potatoes and sausage.
This stew has the essence of both of those dishes, with a few updates. I've use fresh cod to cut down on the time it takes to rehydrate and remove some of the saltiness from salt cod. I've also added heavy cream to round out the flavor of the broth a little more. Andouille sausage is French-Cajun, but since Emeril Lagasse introduced it to me on his show years ago, I've always assumed it had a connection to his Portuguese roots as well. I've made this stew with choriço, and you can too as a substitute, but the flavors of andouille are much better here.
Lastly, the Dijon mustard. When I first made this stew I had all of the ingredients in the pot and had gotten the salt level just right and the creaminess was perfect and it seemed like I had made all of the right choices up to that point, but I still felt like there was something missing. The flavor was watered down and hollow. The stew needed something to marry the cod to the kale and to the sausage and to the potatoes and to the broth. I first thought about vinegar or lemon juice but I didn't want anything too acidic against the cream. And then it hit me: Dijon mustard. If you've ever had Moules à la moutarde, you'll understand this flavor right away. If you haven't, please do yourself a favor and seek out those mussels in a Dijon cream sauce. Dijon works with all of the flavors here and enhances them while remaining subtle enough that others will wonder what after your secret ingredient. When they ask, send them here.
Cooking is a decision we have to make over and over again. I hope making that decision always brings you joy and discovery. And if you ever regret your decision to cook instead of doing the 50-million other things on your list, I hope you'll find some recipe at RunawayApricot.com that will re-ignite your passion anew.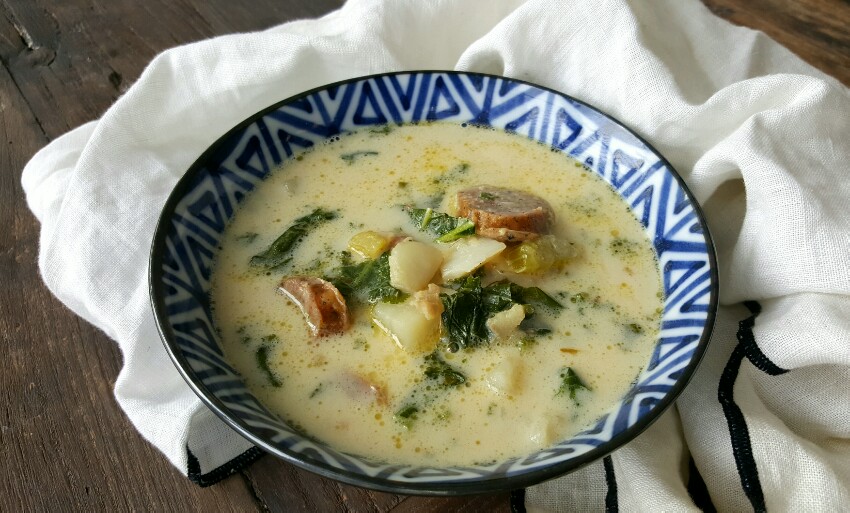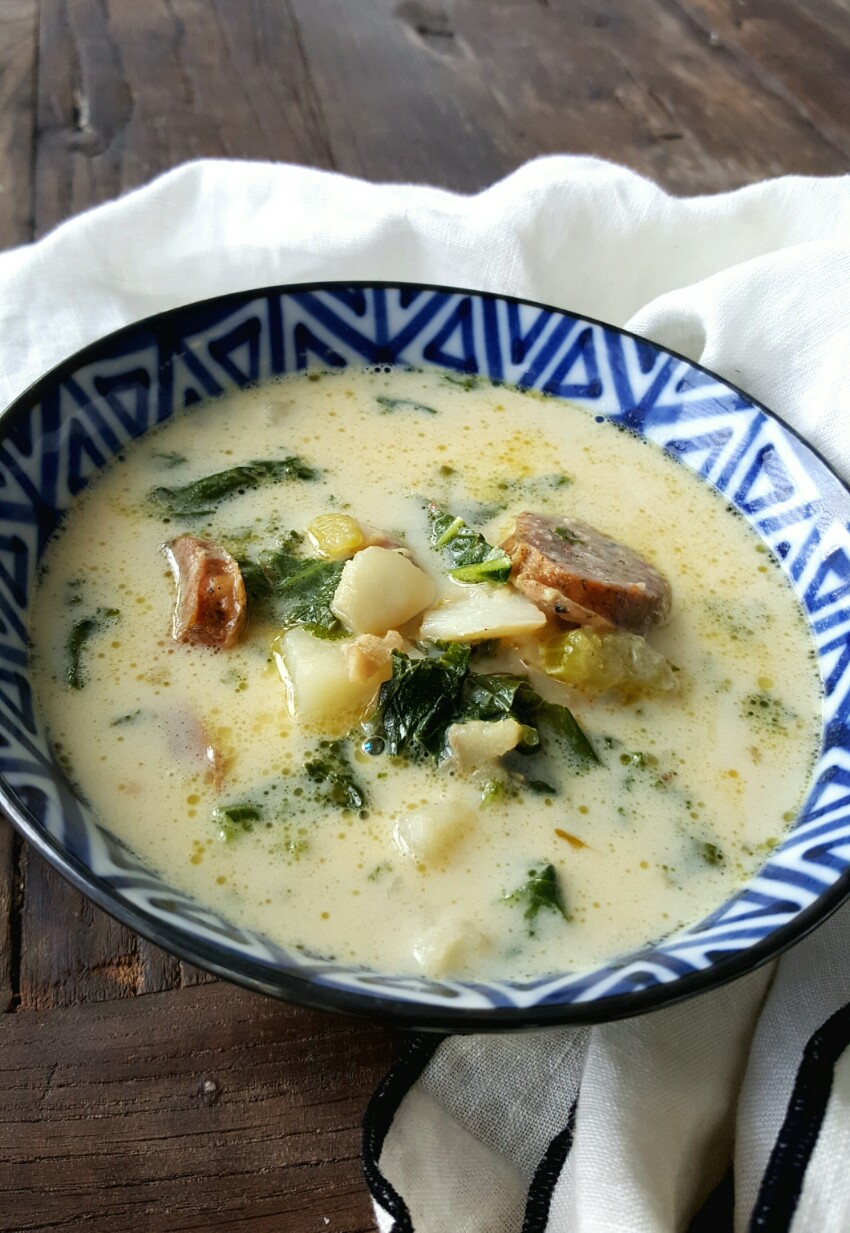 Cod and Andouille Stew with Kale and Potatoes
Prep time:
Cook time:
Total time:
Ingredients
2 Tbsp olive oil
1 medium onion, diced
2 stalks celery, roughly chopped
1 lb russet potato, peeled and diced in ½" cubes
¾ lb fully-cooked andouille sausage, thinly sliced (sub chorizo or linguica)
6 cups water
1 tsp thyme
1 lb cod, cut into 1" pieces
1 cup heavy cream
6-8 stalks kale, stalks removed and roughly chopped
3 Tbsp Dijon mustard
Instructions
Heat olive oil in a large pot over medium heat. Cook onion for 2 minutes, until softened, then stir in celery and cook for 2 more minutes.
Add potato, season dish with salt, and continue to cook, stirring, for 5 minutes.
Add sausage, water and thyme and simmer for 15 minutes, until potato is soft enough to be pierced by a fork with still some resistance.
Gently stir in cod and heavy cream and cook for 5 minutes.
Add kale and cook for about 3 minutes, until softened but retaining its color. Remove from heat. Stir in Dijon mustard and season to taste with salt and pepper. Enjoy while hot.
I believe the right tools can make cooking easier and more enjoyable so I've linked to some of my favorite products. If you buy via my link, I may earn an affiliate commission. Thank you for your support!