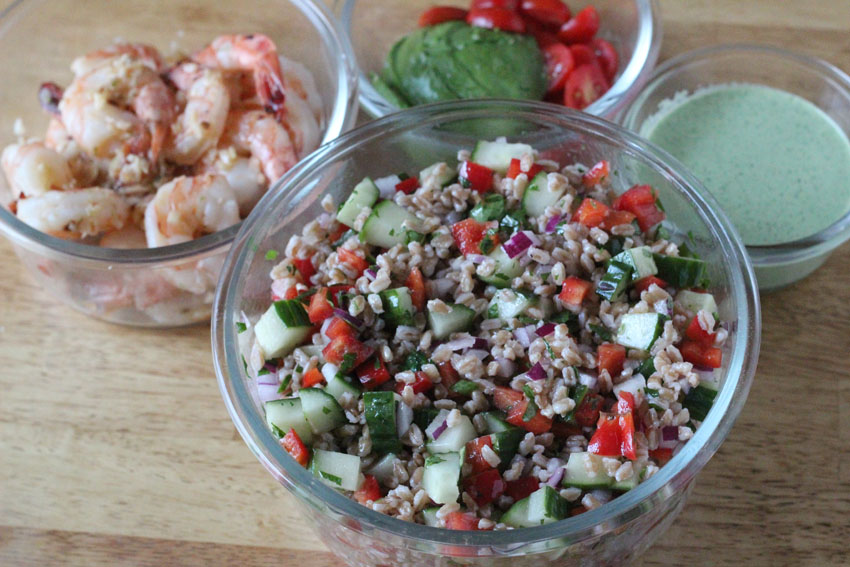 Do you ever intentionally make leftovers? Not just a large enough batch of food that will make for a second or third helping, but leftovers in the form of par-cooked or pre-prepared ingredients that can be remixed day by day to make new and exciting meals. It's a different kind of meal prep for those who get anxious about eating the same meal all week. People like me who have all the skills needed to be a devoted meal prepper, but just can't do it. This type of intentional leftovers is based on flavors and ingredients that all kinda work interchangeably. Have a theme for the week, stick with it, enjoy lifelong happiness. Or, something like that.
Here's how you do it: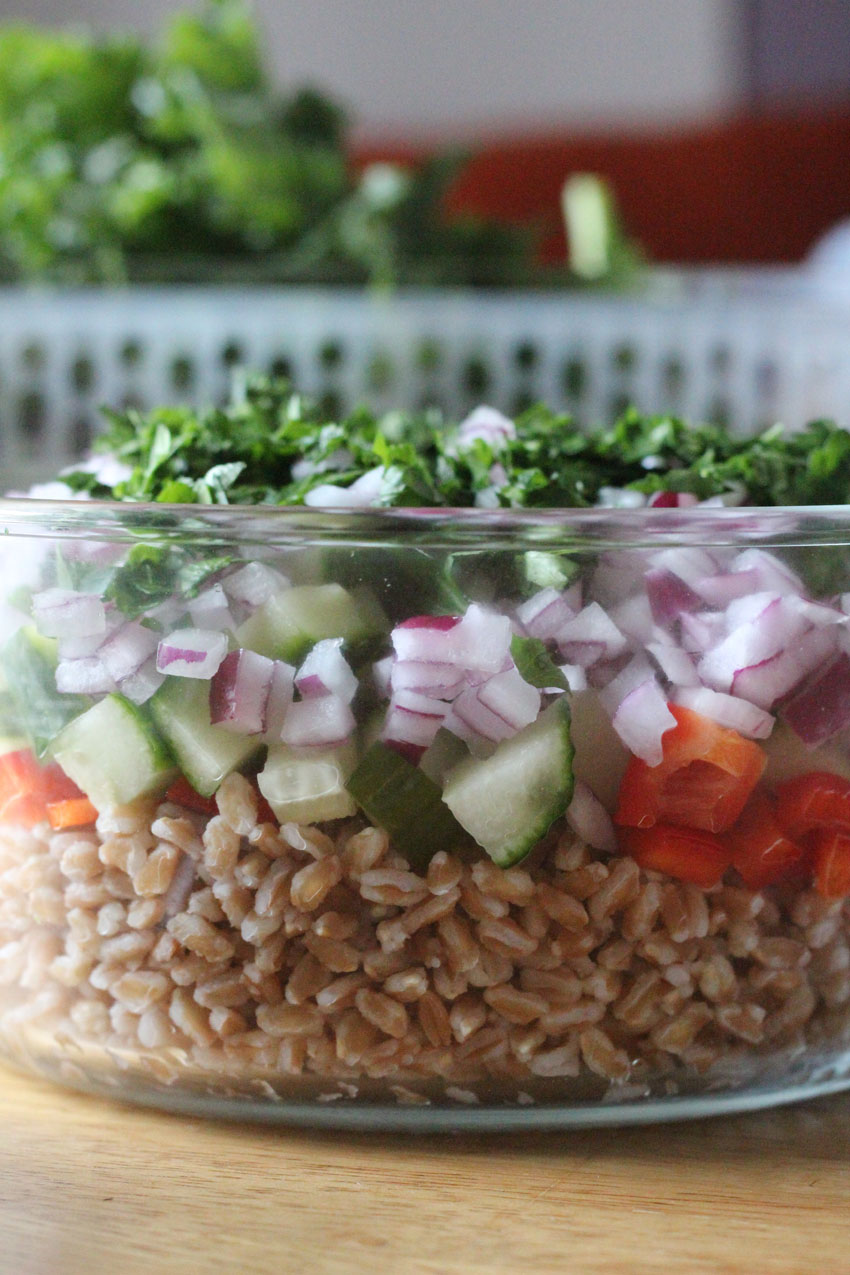 Meal 1: Do your shopping and make the base recipes
The goal is to have a well-balanced meal each day of the week: protein, whole grain, leafy green vegetable. Lots of color and lots of flavor is a must. I recommend starting with a Runaway Apricot favorite – Peruvian Chicken Skewers. The skewers are super juicy and flavorful so leave the sauce-making to meal 2. Wash and tear up the kale and store it in the crisper to have at the ready. Toss a bit in with your serving of the farro salad and add a little extra salt and pepper to season. Set for the week!
Peruvian Chicken Skewers (recipe here)
Farro Salad with Cucumber and Red Pepper (recipe below)
Kale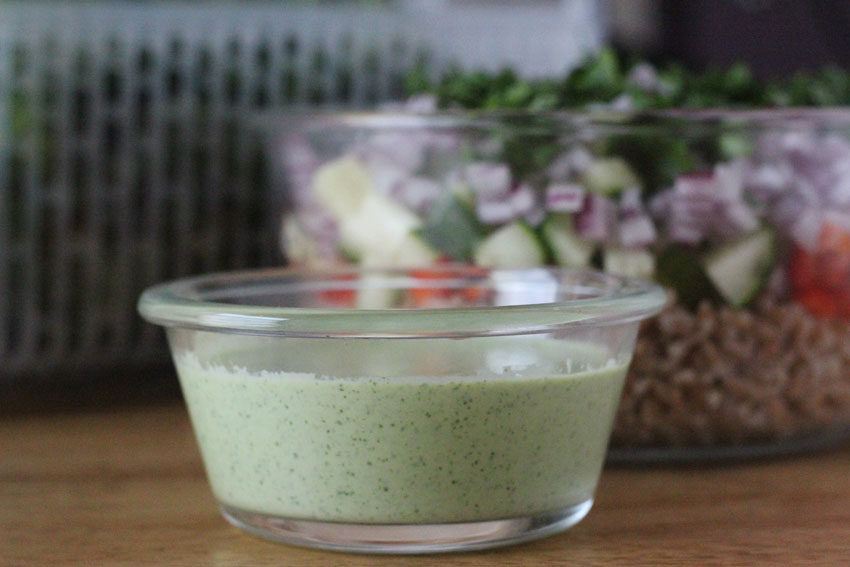 Meal 2: True leftovers – but add the sauce!
Time to spice it up even more. Blend up the quick green sauce that accompanies the recipe for the Peruvian Chicken but go a touch milder with the flavor by leaving out the vinegar. This will help it to balance well with the meal plans in later days. Microwave the chicken, freshen up the salad with a bit of salt and pepper if needed, and enjoy meal 2 to the fullest.
Modified Healthier Green Sauce (recipe here)
Peruvian Chicken Skewers
Farro Salad with Cucumber and Red Pepper
Kale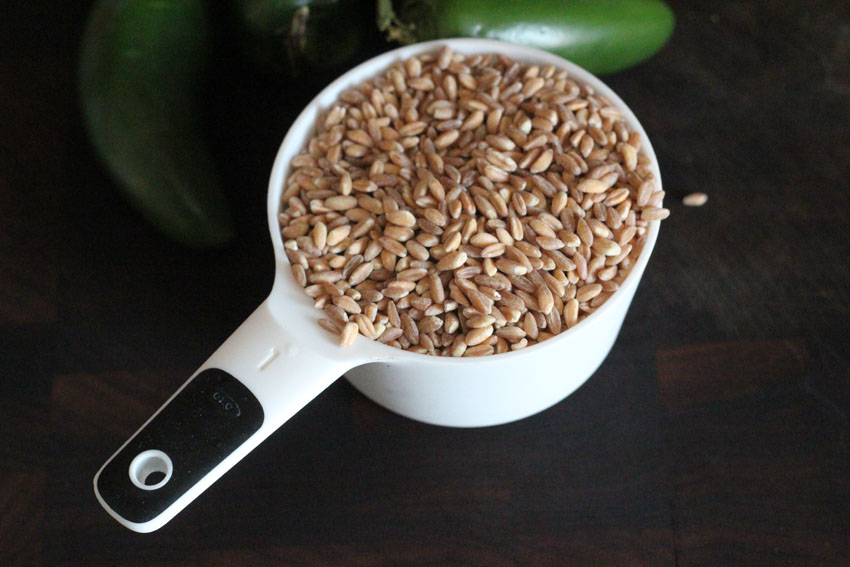 Meal 3: Go Meatless
Make it a meatless Monday even on a Wednesday. Farro doesn't get as much attention as quinoa, but a serving will give you 7 grams of protein and no fat. You have plenty of room to add some yummy avocado plant fats! Chop it all up and use the green sauce as a dressing for your salad. You're doing good for the world and great for your body.
Farro Salad with Cucumber and Red Pepper
Modified Healthier Green Sauce
Kale
Avocado
Grape Tomatoes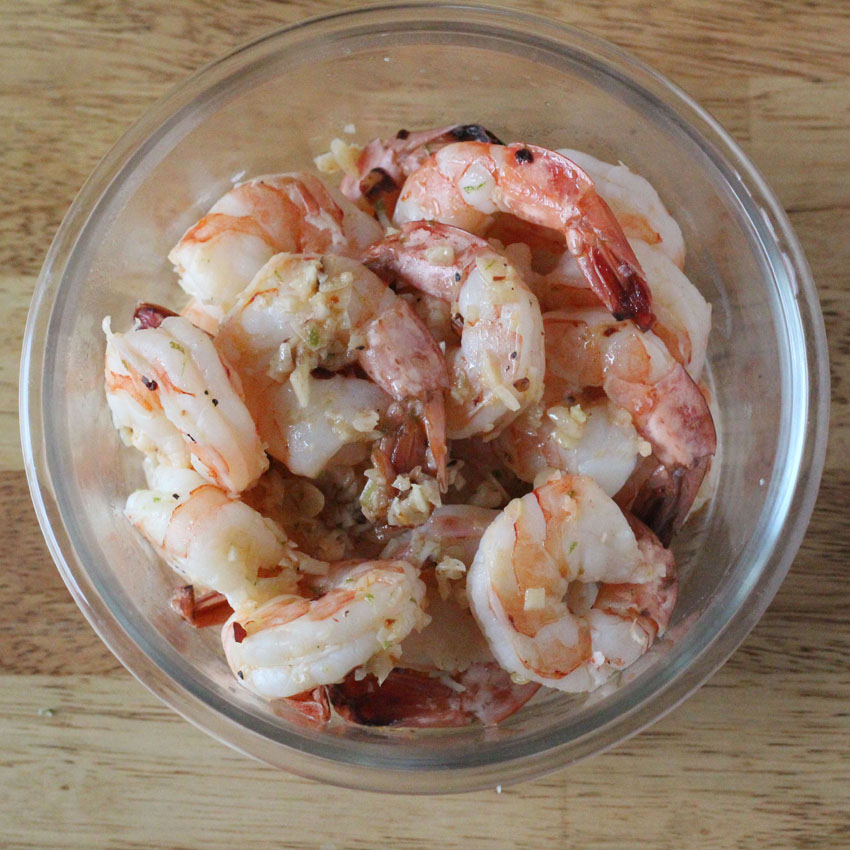 Meal 4: Penultimate – Treat yo' self!
Bring on the shrimp! It's been a long week and you're getting tired. Shrimp is fast and easy to cook. It's also a true reward for all of your focus to the meal plan. Give the meal another spin by microwaving the farro salad with the kale for a warm side with a softened bite. A cool drink, a little music, and a meal that takes less than 15 minutes to whip up. Like I said, lifelong happiness.
Garlic-lime Shrimp (recipe below)
Farro Salad with Cucumber and Red Pepper
Kale
Grape Tomatoes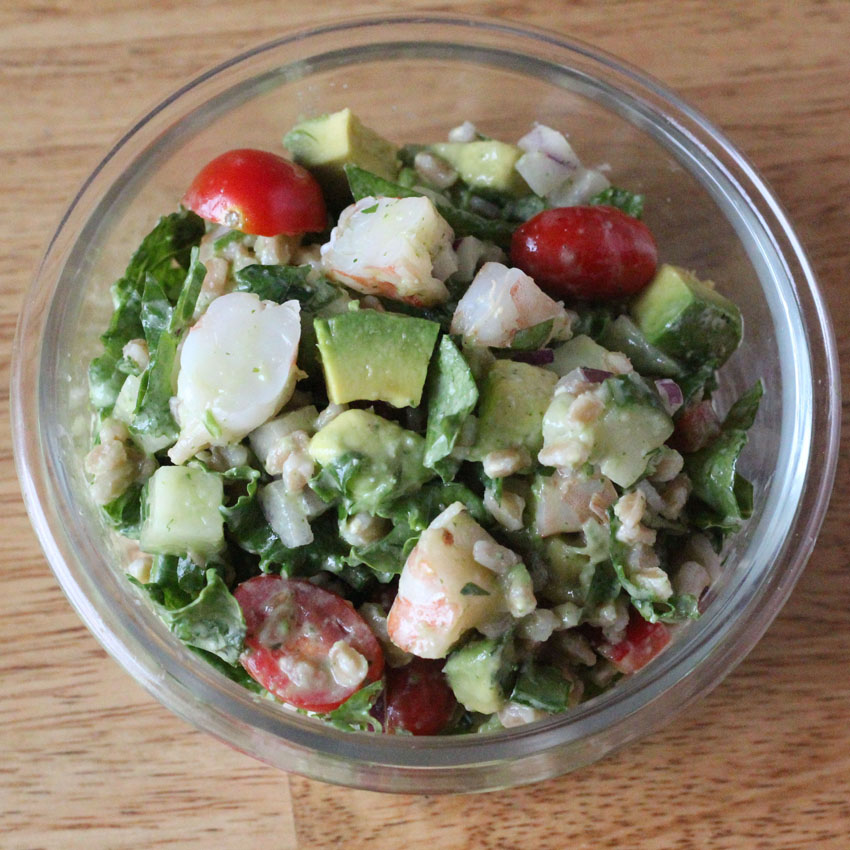 Meal 5: The Ultimate!
Time to literally toss all those ideas together. Chop the shrimp, chop everything, and make a big chopped salad. The juicy shrimp, the creamy avocado, the crisp cucumber and red pepper, the toothsome farro – all of the textures of heaven are right on your plate.
Garlic-lime Shrimp
Farro Salad with Cucumber and Red Pepper
Modified Healthier Green Sauce
Kale
Avocado
Grape Tomatoes
All of that sounds delicious, right? Totally doable? Absolutely. A lot of kale? Well, yes I did just encourage you to eat kale all week. I also got you eating and loving farro all week. And lime, cucumber, red pepper, garlic, parsley. There is continuity but there are a variety of tastes, textures, and proteins to keep you coming back for more with each meal. Pack it all up – in awesome containers like these from OXO – and it will be happy, fresh and delicious for you.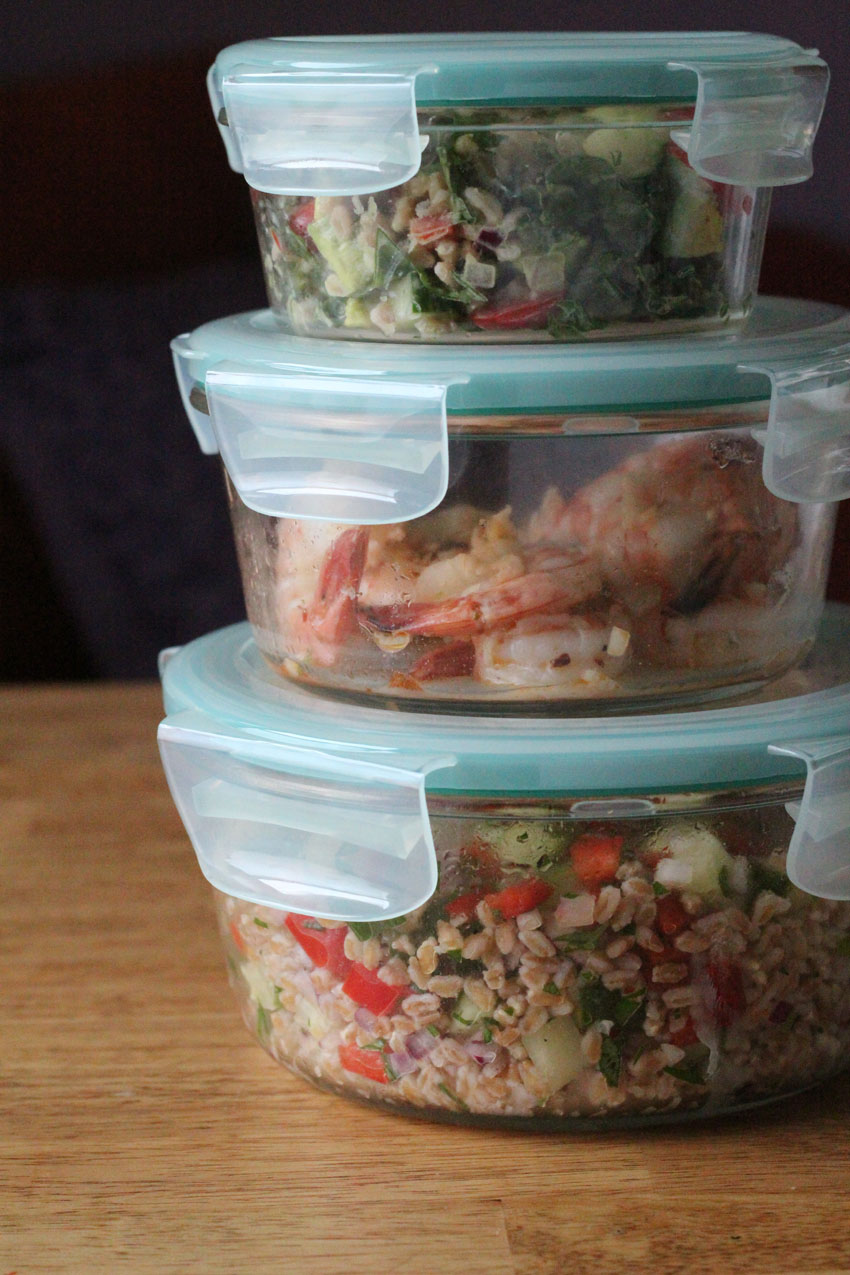 Farro Salad with Cucumber and Red Pepper
Prep time:
Cook time:
Total time:
Ingredients
1 cup Italian Pearled Farro
2 cloves garlic, thinkly sliced
1 medium red onion, diced
1 red bell pepper, diced
1 seedless cucumber, diced
¼ cup parsley, finely chopped
1 lime, juiced
2 tablespoons olive oil
Instructions
In a large pot, add farro, garlic, a generous pinch of salt and cover with at least 3 cups of water. Cover with a tight-fitting lid and cook at a low boil for 15 minutes. Strain into a colander and rinse with cold water to stop the cooking.
In a large bowl, toss farro with remaining ingredients. Season to taste with salt and pepper. To store, seal tightly and refrigerate for a few days.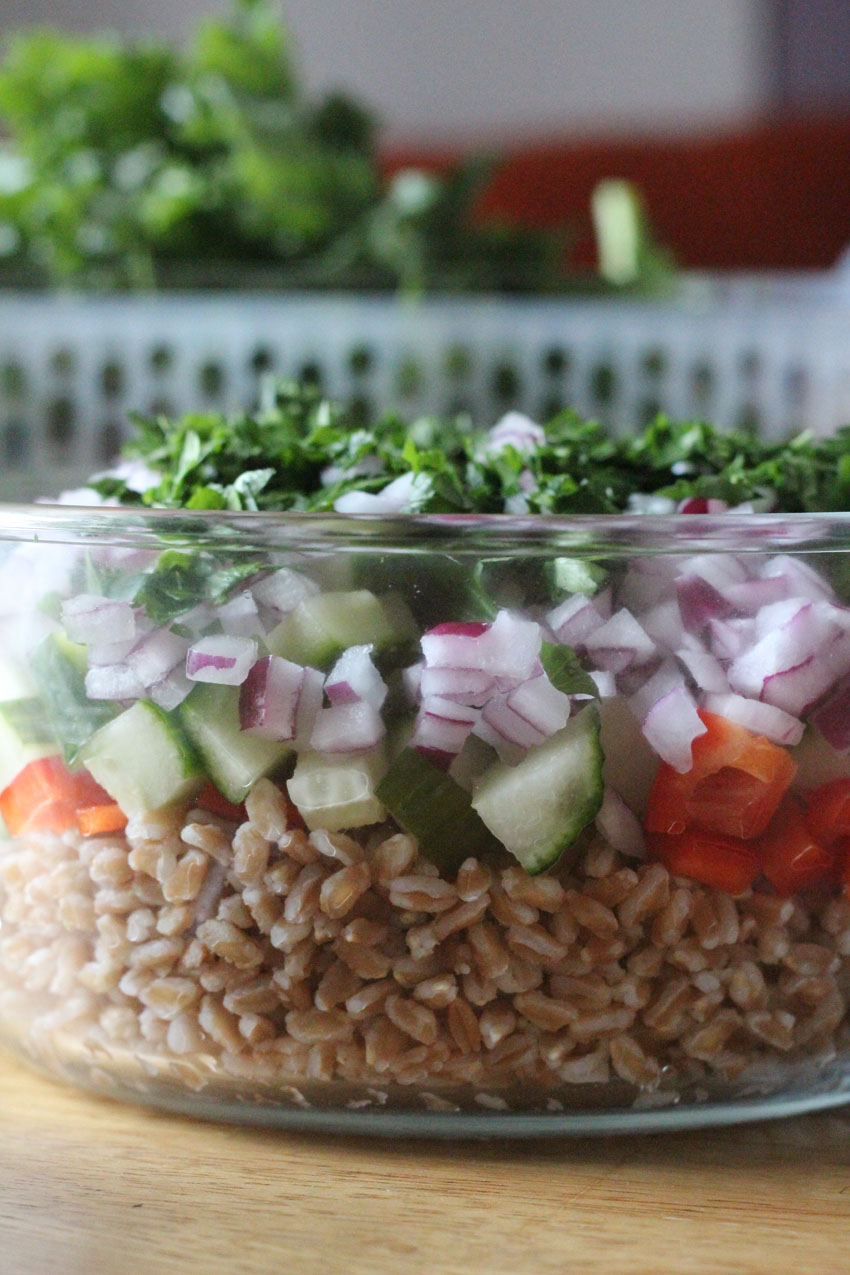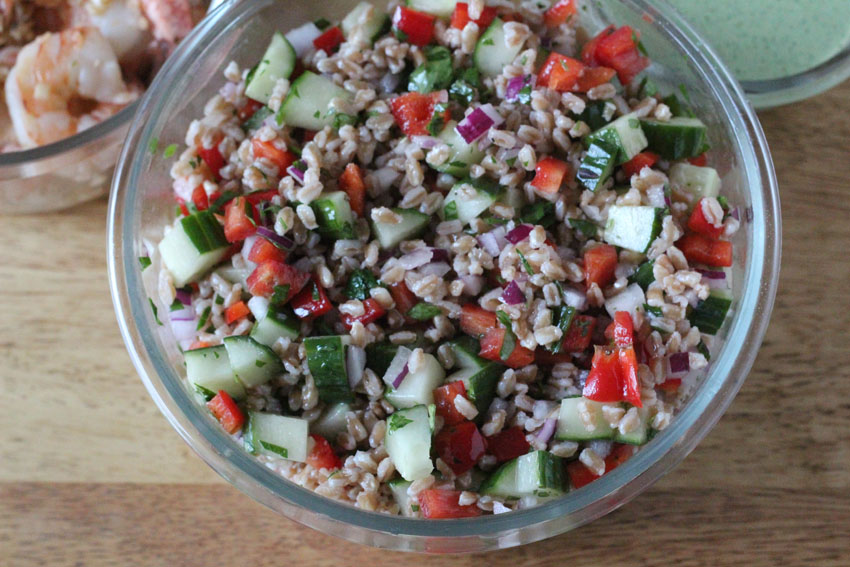 Garlic-lime Shrimp
Prep time:
Cook time:
Total time:
Ingredients
1 pound shrimp, peeled and deveined
2 cloves garlic, finely chopped
½ lime, zest and juice
2 tablespoons olive oil
pinch crushed red pepper
Instructions
Mix together shrimp, garlic, lime zest and juice along with salt and pepper. Heat oil and crushed red pepper in a large skillet over medium-high heat. Add shrimp and cook, turning, for about 5 minutes until pink replaces grey but shrimp remains tender and not fully curled. Remove from pan immediately. Serve hot or cold.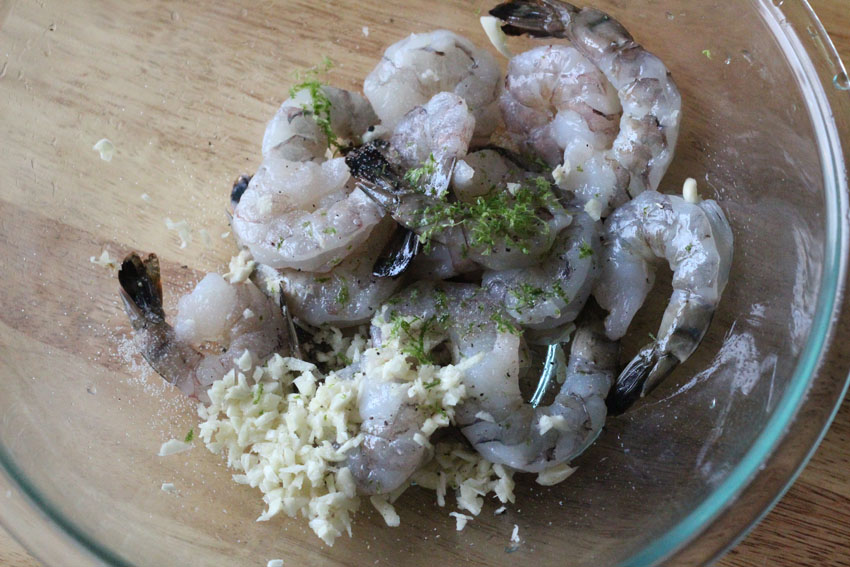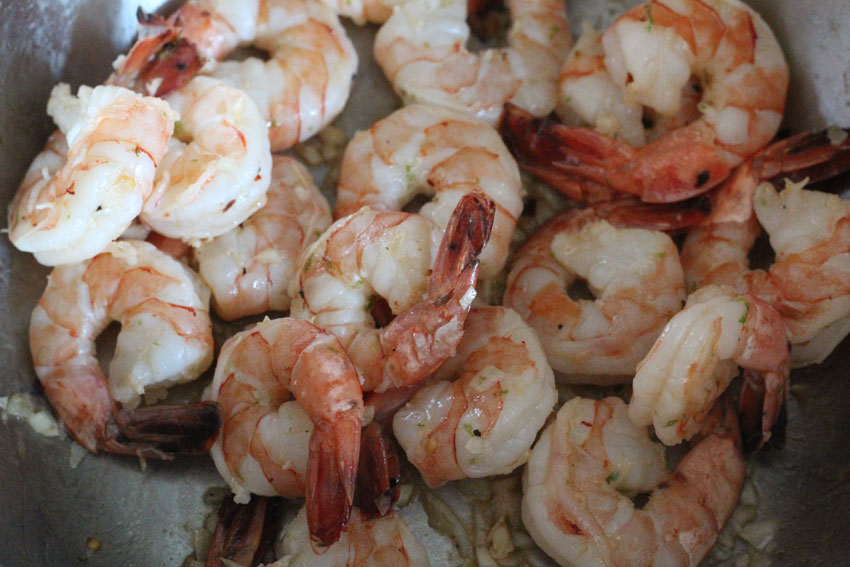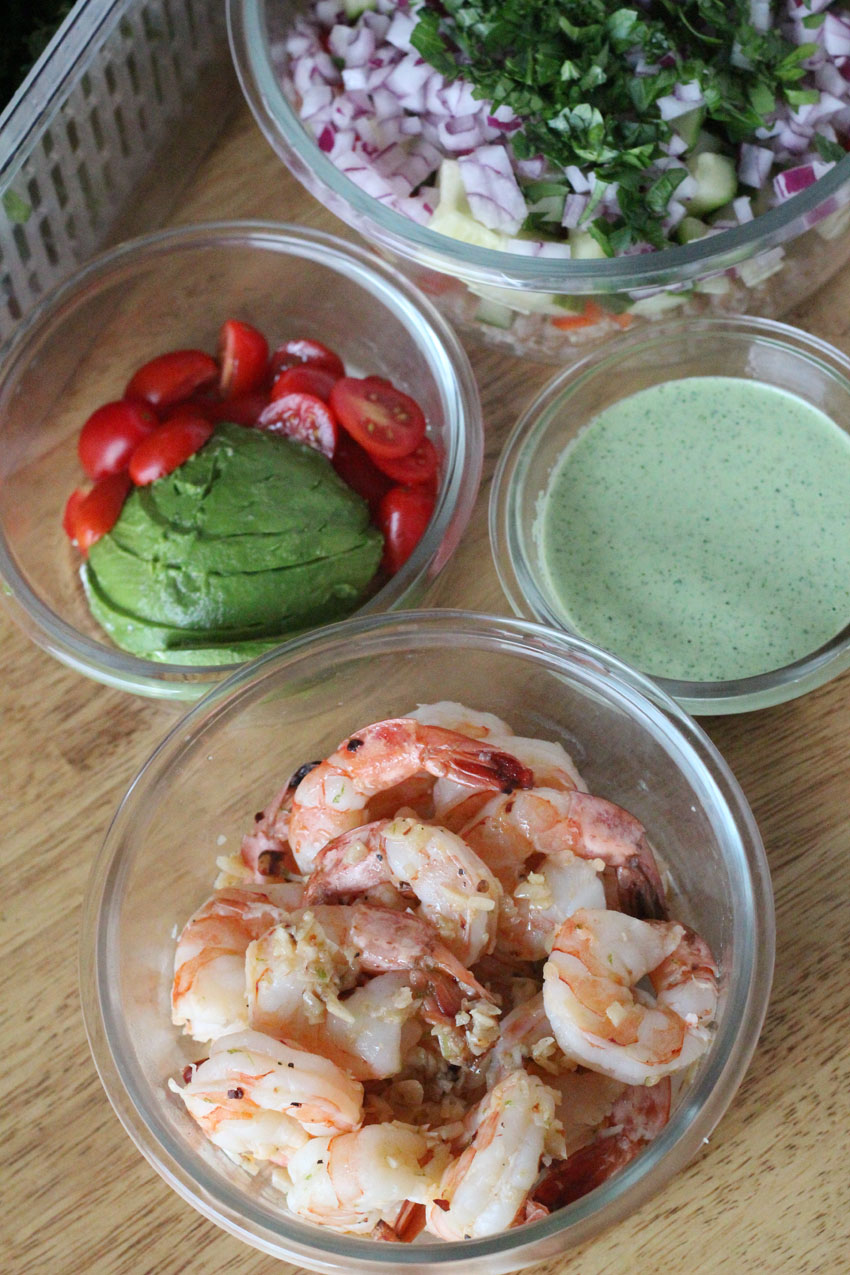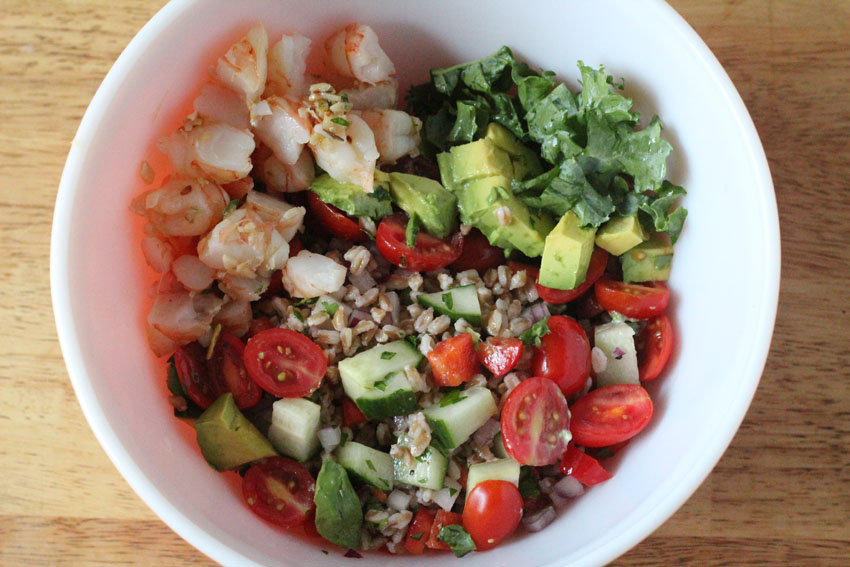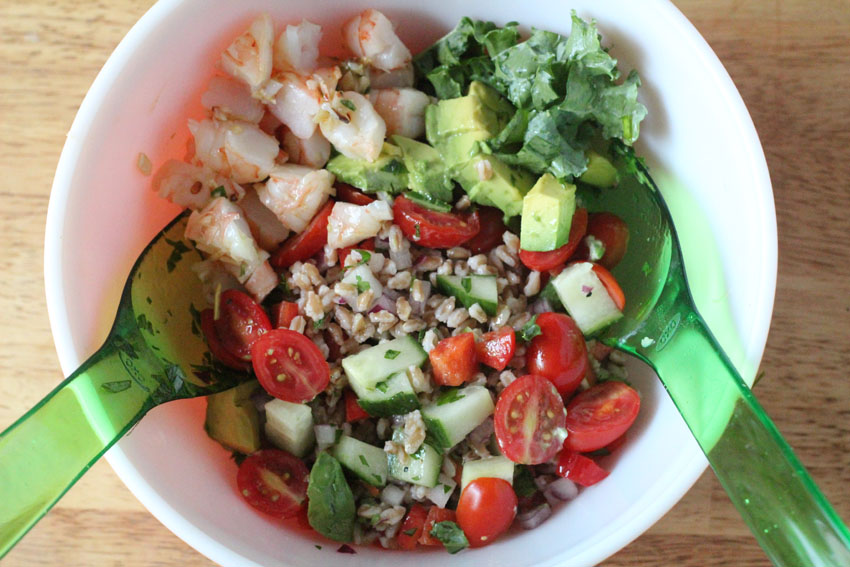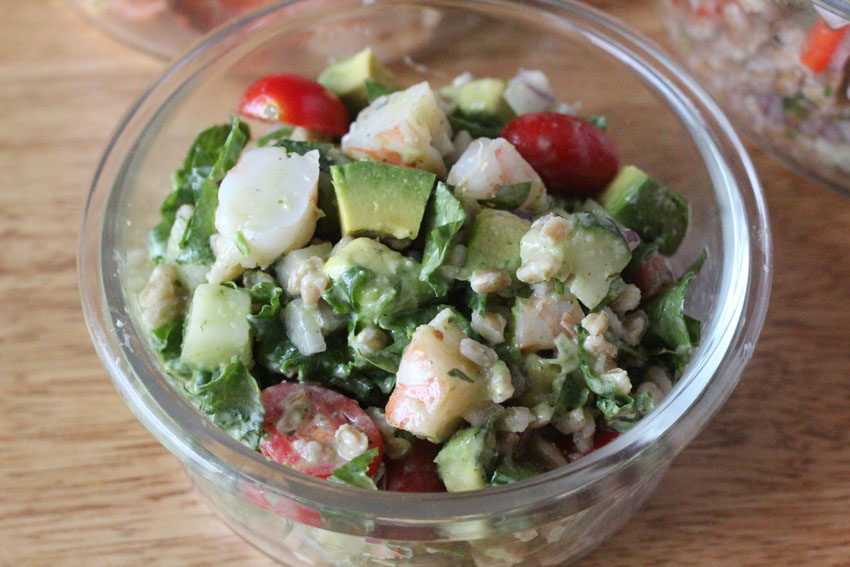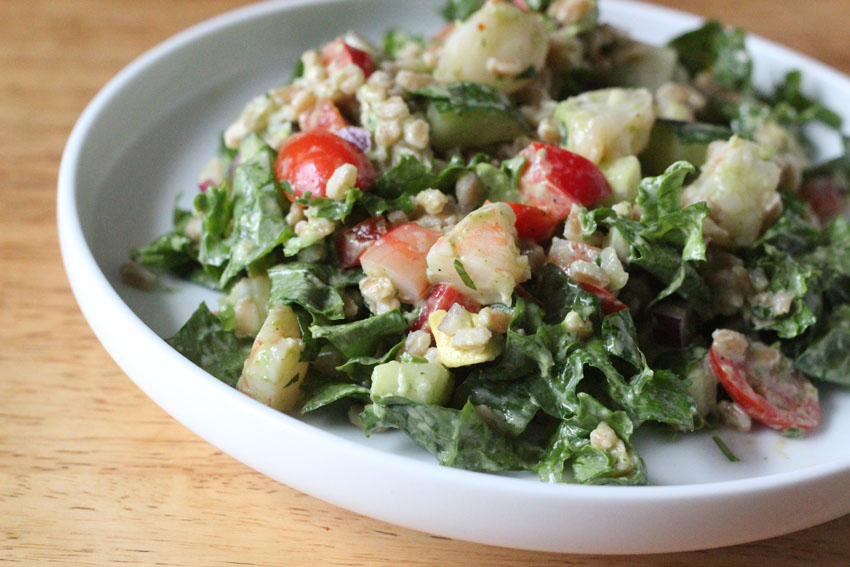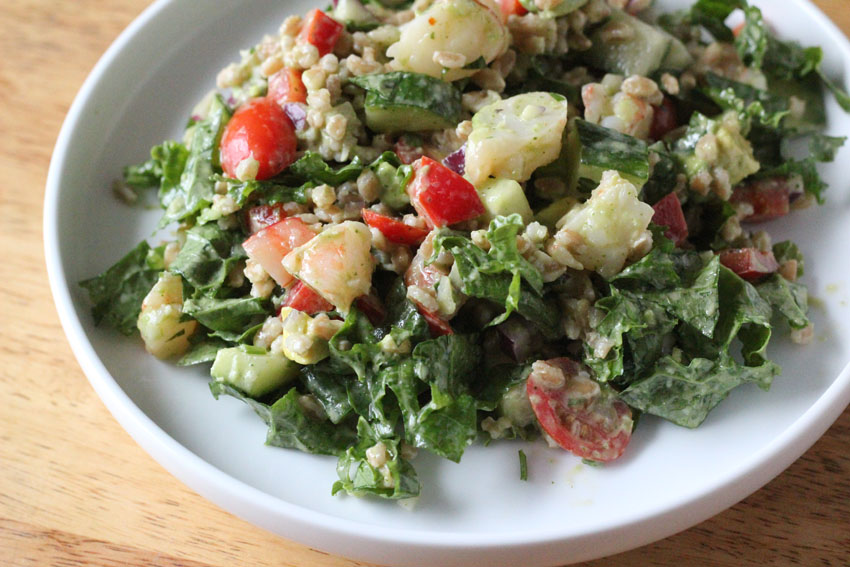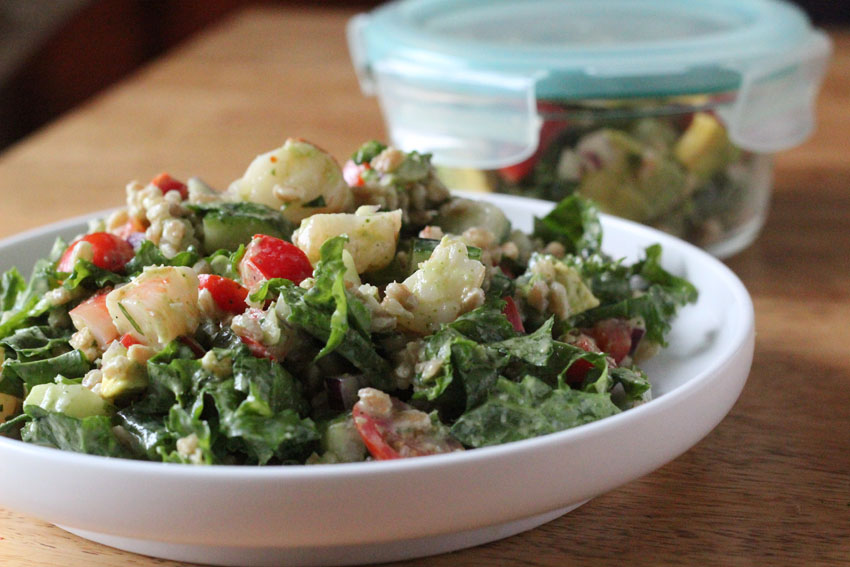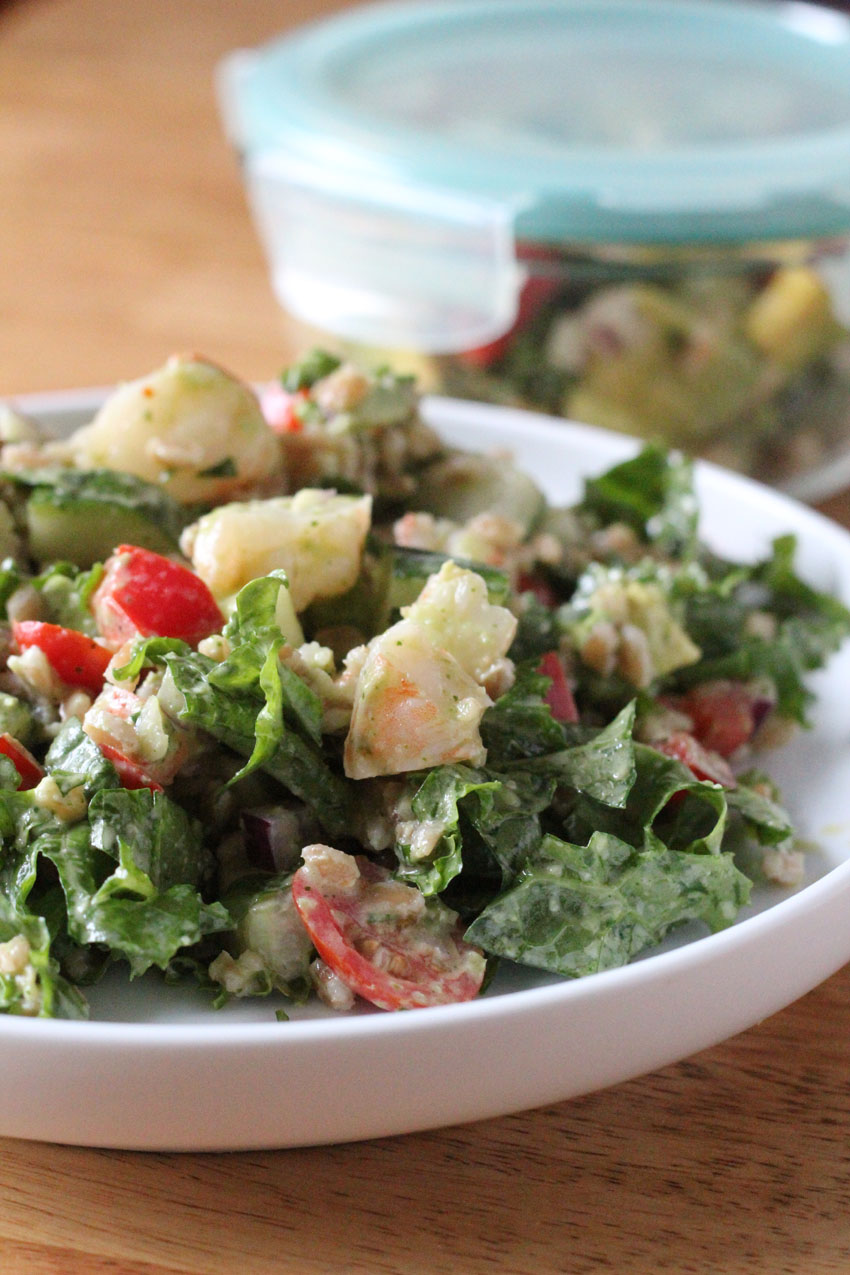 I believe the right tools can make cooking easier and more enjoyable so I've linked to some of my favorite products. If you buy via my link, I may earn an affiliate commission. Thank you for your support!