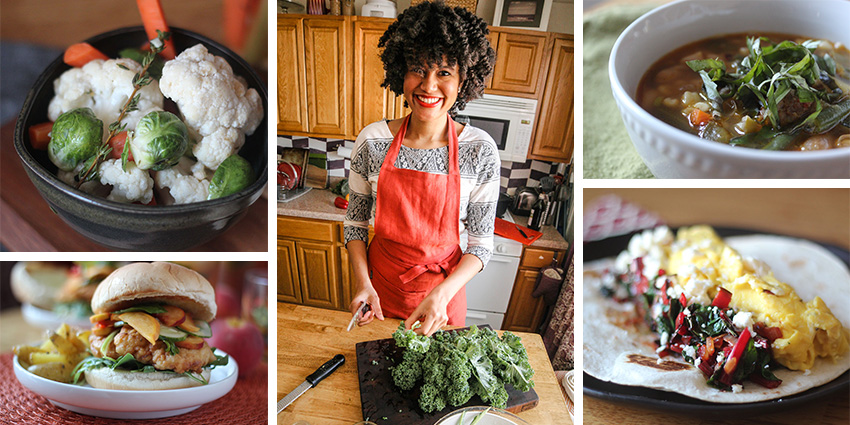 Take control of your diet in 2016 by learning to cook from scratch! Learn how easy it is to plan, shop for and prepare nourishing food at home. And celebrate the 7th anniversary of Runaway Apricot!
On January 19, 2009 I founded Runaway Apricot to pursue my passion of teaching people how to cook from scratch. I believe that the skill to cook real food – not diet crazes or hard-to-access ingredients – is vital to our bodies and the environment. In 2015 I was named a Yahoo Food Blogger of the Week and shared simple recipes and thoughtful essays about foodways and food behaviors with more than 1 million visitors to RunawayApricot.com. Now in 2016, I am extending that passion for local, seasonal and healthy food with live cooking classes to help my community take control of our diets. Join me on the 7th Anniversary of Runaway Apricot for a live cooking class in Harlem, NYC!
Tuesday, January 19, 2016 from 7:00 PM to 9:00 PM (EST)
Spring Moves Inc. – 124 East 124th Street New York, NY 10035
This class will teach you how to read recipes, select the freshest ingredients, handle a sharp knife and searing hot pan, and cook affordable, nutritious and delicious meals from scratch – how to cook, save and thrive!
Here's What's Included:
A step-by-step interactive cooking demonstration focused on the fundamentals of healthy cooking
Cooking tips, techniques, and answers to your burning food questions from a food-obsessed home cook, recipe developer and private chef
Ample samples of the meal made during class plus many recipes from RunawayApricot.com
Information about all ingredients used
Cocktails featuring Catoctin Creek Organic Roundstone Rye®
Giveaways!
Space is limited. Purchase your ticket now!
Event Flow:
7:00 – 7:15pm: Arrivals and mingling
7:15 – 7:30pm: Review of Runaway Apricot and fundamentals of healthful cooking
7:30 – 8:15pm: Interactive cooking demo
8:15 – 9:00pm: Eat, drink and more mingling to celebrate Runaway Apricot's 7th Anniversary!
Please use the hashtags: #cooksavethrive #runawayapricot
For questions and press inquiries, please reach out to Robyn at robyn@runawayapricot.com.
With thanks to Spring Moves and Catoctin Creek® Distilling Company.
I believe the right tools can make cooking easier and more enjoyable so I've linked to some of my favorite products. If you buy via my link, I may earn an affiliate commission. Thank you for your support!