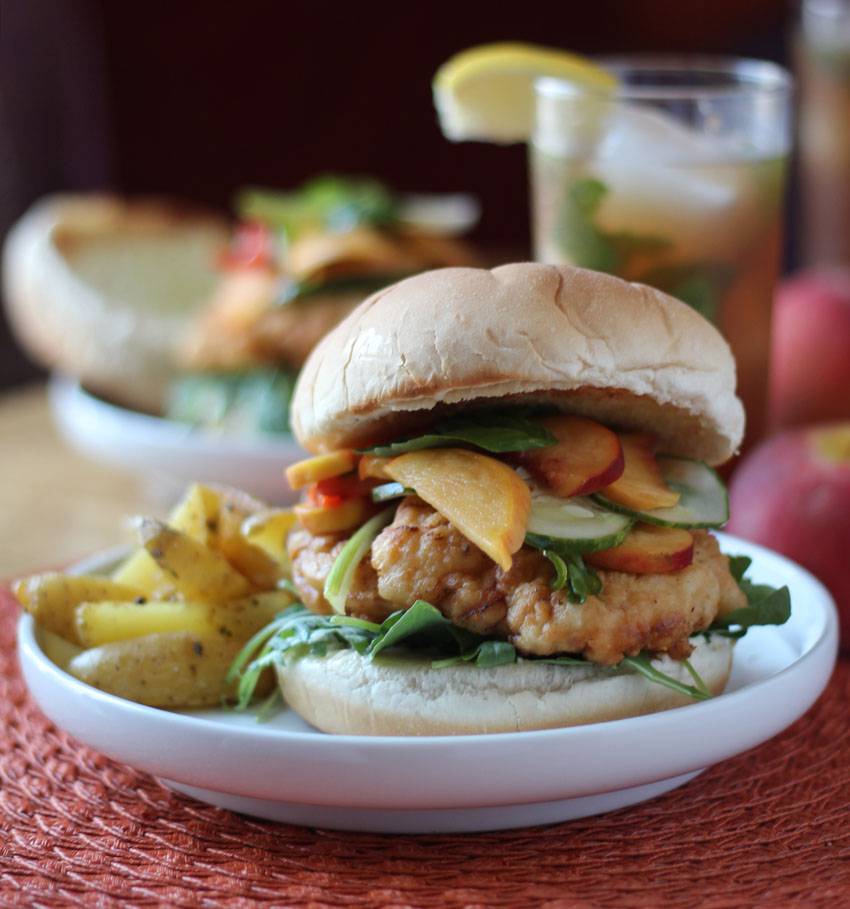 Peaches are the epitome of summer. Pickles are the epitome of summer. Fried chicken…well, that's prime summer picnic food but good any time of the year.
Within my growing collection of cookbooks are a few new volumes that really get seasonal cooking. Breaking from the standard mold of organizing recipes by the course or type of dish, I have two which are arranged by season. The first, Vibrant Food by The Year in Food author Kimberley Hasselbrink, subdivides each season into the staple ingredients resulting in a road map to preparing what's fresh. And each recipe has incredible photography to illustrate your goals for each dish and emphasize the colors of each season.
The second volume, The New Greenmarket Cookbook, takes that ingredient-motivated concept a step further with a direct link to the farmers at Union Square Greenmarket in New York City. As a resident of Manhattan, the book introduces me to the farmers and vendors at my favorite market. And it's filled with restaurant-quality recipes with unexpected takes on produce. Since each recipe is not accompanied by a photo, it takes a bit of familiarity with the ingredients to understand what you'll be making. But without the photos, you also have a bit more flexibility to get creative and switch things up. Last year I made the book's Roasted Bluefish with Pickled Peaches, Sweet Corn, and Opal Basil and used the leftover pickle to make this sandwich.
Adapting this recipe the next time the seasons brought us ripe peaches, I have cut out the corn to make the pickle stay on the sandwich better and greatly reduced the sugar to allow the spicy and sour flavors to take the main stage. The chicken breast is double battered to maximize the crispiness and marinated with cayenne to send the flavor throughout. Plus a bed of peppery arugula, this sandwich screams for a drool-worthy summer meal. I hope you enjoy!
Spicy Fried Chicken Sandwich with Pickled Peaches
Prep time:
Cook time:
Total time:
Ingredients
1½ pounds boneless, skinless chicken breast
1 cup milk
2 teaspoons white distilled vinegar
½ teaspoon cayenne pepper
½ teaspoon garlic powder
½ teaspoon salt


2 peaches, sliced thinly
1 kirby cucumber, sliced thinly
½ red pepper, sliced into thin strips
4 spring onions, split and cut into 2" pieces
1 jalapeño pepper, sliced thinly
1 cup apple cider vinegar
⅓ cup sugar
½ tablespoon salt
¼ cup fresh basil leaves


1 cup all-purpose flour
¼ teaspoon cayenne pepper
¼ teaspoon salt
½ teaspoon freshly ground black pepper


4 Potato or Deli Rolls
Olive Oil
Arugula
Mayonnaise
Sriracha (optional)
Instructions
Slice each chicken breast crosswise into rounds. Cover with plastic wrap and pound flat to ¼" thick. In a shallow dish, combine milk, vinegar, cayenne, garlic powder and salt. Add chicken, cover and chill for 30 minutes to an hour.
Combine peaches, cucumber, red pepper, onions, and jalapeño pepper in a large non-reactive bowl. Add apple cider vinegar, sugar and salt and stir well. Reserve basil leaves to stir in just before serving.
Heat oil in a deep, heavy pot or dutch oven over medium-high heat to about 250° F. Whisk together flour, cayenne pepper, salt and pepper in a shallow dish. Shake excess liquid from a piece of chicken, dredge in flour mixture, then move to a plate. Continue with all remaining chicken then coat again with milk mixture and dredge for a second coat. Fry in batches for 5-7 minutes until golden brown.
Toast rolls with olive oil under a broiler, if desired. Spread mayonnaise and sriracha on the bottom half of each roll then add a pile of arugula. Top each with 1-2 pieces of fried chicken, a generous mound of pickled vegetables and bun. Enjoy immediately.
I believe the right tools can make cooking easier and more enjoyable so I've linked to some of my favorite products. If you buy via my link, I may earn an affiliate commission. Thank you for your support!