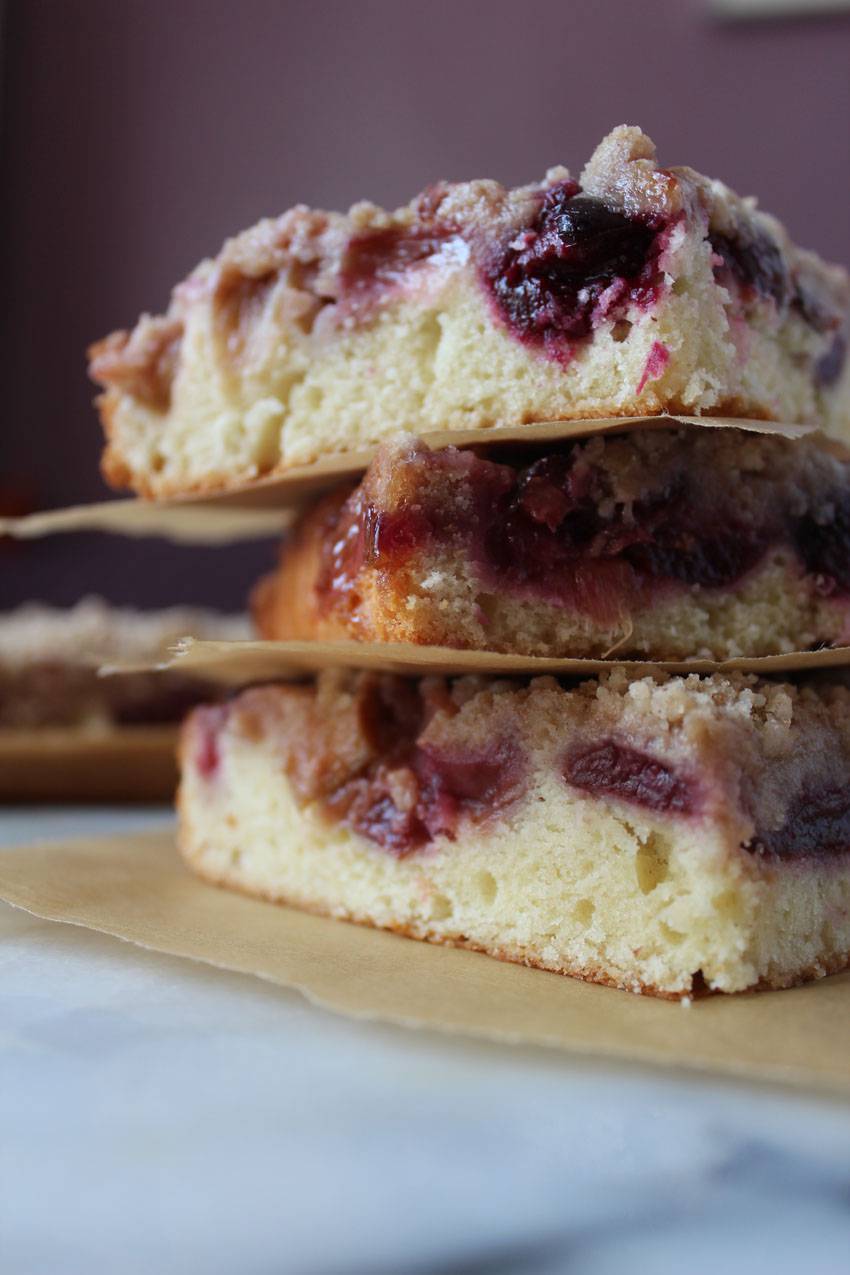 There's an eruption of cherries at the start of summer. At the greenmarket, and even my nearby grocery store, whole tables are dedicated to the fruit from local farms. My friends all get excited and collectively bring a bushel to our annual Independence Day trip. But despite that seasonal significance, fresh cherries have no place in most foods which advertise the cherry flavor. For years I thought cherries really tasted like cherry pie filling, hard candy, cherry soda, and cough syrup. Consequently, but mostly because of that cough syrup, I avoided fresh cherries for years. When I finely gave Bing cherries another chance and discovered how delicious they are, I ran off and bought a cherry pitter and began making this cake.
The beauty of most fruit desserts is that you can swap out the featured ingredient for what's available in the season. Based on Smitten Kitchen's Rhubarb Snacking Cake, I kept some of the rhubarb but loaded up on the cherries. You can do the same thing and mix and match summer stone fruit such as peaches and plums to make up the 1 1/4 pounds needed for this cake.
Just in time for picnic season, this cake is perfectly transportable for your next potluck. The thin but sturdy cake base holds everything together well so it won't break up when you cut it in advance and pack it into a box. And yes, the key is to plan portable foods that maintain their form and beauty when packed tightly (so as to prevent movement) in lightweight containers. Play into Deb Perlman's genius tip for baking it on a sling of parchment paper – a step which makes lifting it out of the pan effortless – and stack the cake on squares of parchment paper. You'll have 12-18 generous servings that can be eaten while sitting in the grass or standing around the patio with no plates or utensils needed.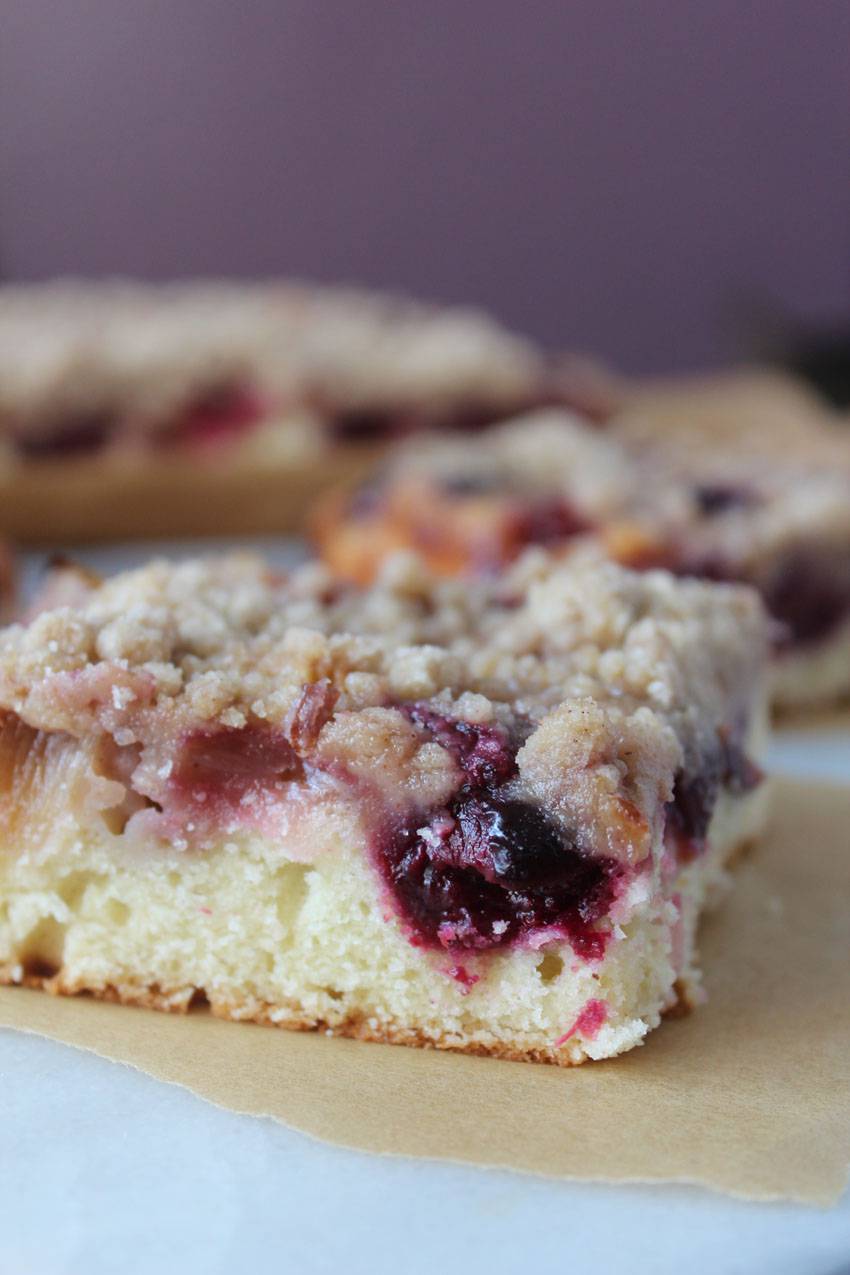 Alright, so I know you're going to make this cake now! When you do, be sure to tag your photos on Instagram, Twitter, or Facebook with #RunawayApricot so we can all see how it turned out!
Cherry Rhubarb Crumb Cake
Prep time:
Cook time:
Total time:
Ingredients
Fruit
1 pound Bing cherries, pitted and cut in half
¼ pound rhubarb, cut into ½-inch lengths
1 tablespoon lemon juice (zest first for the cake)
½ cup sugar
Cake

½ cup unsalted butter, softened
⅔ cup sugar
½ teaspoon finely grated lemon zest
2 large eggs
1⅓ cups all-purpose flour
1 teaspoon baking powder
¾ teaspoon salt
¼ teaspoon ground ginger
⅓ cup sour cream

Crumb
1 cup all-purpose flour
¼ cup light brown sugar
¼ teaspoon ground cinnamon
⅛ teaspoon salt
4 tablespoons unsalted butter, melted
Instructions
Preheat the oven to 350 degrees F. Butter or spray a 13x9" baking pan then line with a sling of parchment paper covering the bottom and two sides and extending upward from the pan (to give you handles.)
In a large bowl, combine the cherries, rhubarb, lemon juice and sugar. Set aside.
In the bowl of your mixer, beat together softened butter and sugar until fluffy. Beat in grated lemon zest. Add eggs one at a time until well incorporated. In a separate bowl, whisk together flour, baking powder, salt and ground ginger. Add flour mixture alternatingly with sour cream. Turn out onto parchment-lined baking pan and spread evenly to the corners with an offset or silicone spatula. Cover evenly with the fruit mixture.
In a small bowl, whisk together flour, brown sugar, cinnamon and salt then whisk in butter until a loose crumb forms. Sprinkle evenly over fruit and cake. Bake for 50 to 60 minutes until a toothpick inserted in the center comes out dry. Cool for 20 minutes before lifting the cake out by the sling and cooling completely on a wire rack.
Cut into squares and place each on a square of parchment to store or serve. It keeps, tightly covered, at room temperature for a few days or stored in the refrigerator.
I believe the right tools can make cooking easier and more enjoyable so I've linked to some of my favorite products. If you buy via my link, I may earn an affiliate commission. Thank you for your support!