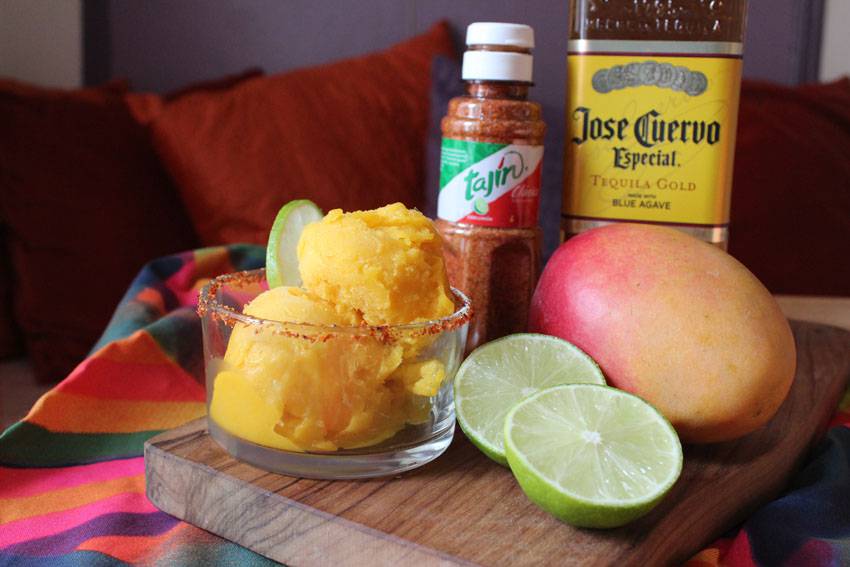 When I brought home my ice cream maker last year I could barely wait for the bowl to freeze before getting started with my first churn. I sprung for organic milk and cream, picked up a fresh bag of pecans and set about making the most delicious bourbon butter pecan soft serve. As I continued to devour it day by day one small detail I'd overlooked kept punishing me – I'm lactose intolerant. I started to give up the hope that my fun new tool would earn its keep in my kitchen just as I was presented with the challenge of preparing a vegan dessert for my first private chef gig. Sorbet, or frozen fruit juice churned to a spoon-ready consistency, is the perfect answer for vegans, the lactose intolerant, or anyone looking for a low-calorie, naturally sweetened summer treat.
To make this sugar-optional sorbet the best it can be, start by using very ripe mangoes. While the best mangoes ripen on the tree, those of us who live far from the tropics should plan a few days in advance to enjoy mangoes ripened on the counter. According to Harold McGee in On Food and Cooking, you can speed up the ripening process by storing the mangoes in a brown paper bag (not plastic) with a ripe fruit. Doing so will naturally expose the fruit to ethylene gas which triggers the fruit to produce its own ethylene, respire, and convert accumulated starches into sugars. That's when mangoes will change color, soften and sweeten from the large seed outward. Avoid cutting too close to that seed or you will bring the fibrous hairs from the seed into your sorbet. But don't worry if your mango is overripe and sporting a bruise, simply cut the decaying part and use only the even-toned flesh in this recipe.
After you've pureed the sweet mango flesh, accentuate and balance the sweetness with lime and salt, making the flavor hit more than a single note. Have some more fun by serving with Tajín, a Mexican seasoning of chili powder, lime and salt you might have noticed being served by street vendors with their mango and melon slices. Line the rim with tajín in place of salt after finishing the "margarita" sorbet with a splash of tequila to keep it from freezing too hard. While the tequila in this recipe of 6+ servings won't make the dish too alcoholic for all ages, IMHO, you can also shake the finished sorbet with a full dose of tequila per serving to have an instant frozen mango margarita!
Mango Margarita Sorbet
Ingredients
4 large very ripe Haden mangoes or 6 Champagne mangoes
1 lime, rolled and juiced
Pinch of salt
White sugar, if needed
2 tablespoons tequila (or rum)
Instructions
Use a paring knife to peel away mango skins. Cut away flesh but avoid cutting too deep near the fibrous seeds. Using a blender or immersion blender, puree until smooth. Season to taste with with lime, salt and sugar, if needed. Pour into a container, seal and refrigerate until very cold.
Follow the directions of your ice cream maker to churn sorbet. Two minutes before the finish, pour in tequila and continue to churn. Serve immediately in Tajín-rimmed glasses or freeze in an air-tight container to serve later. Makes about 1.5 quarts.
I believe the right tools can make cooking easier and more enjoyable so I've linked to some of my favorite products. If you buy via my link, I may earn an affiliate commission. Thank you for your support!