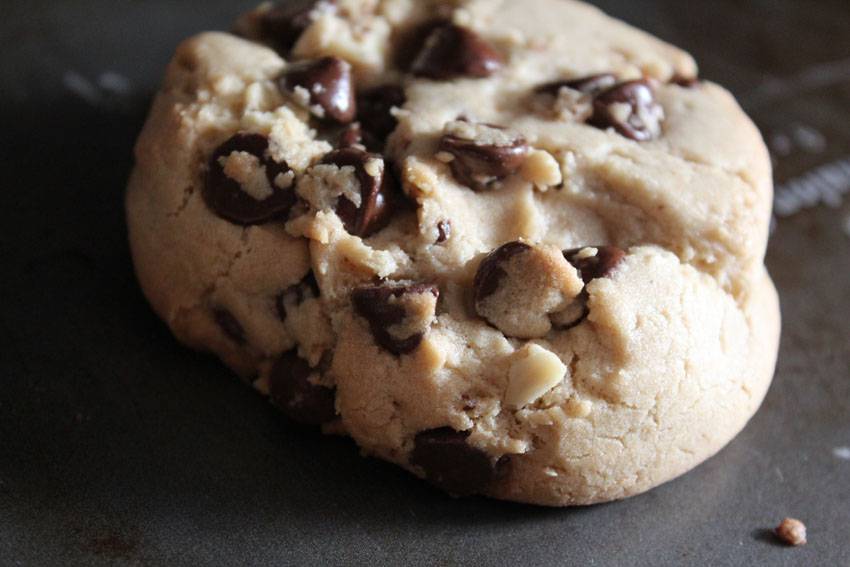 Here it is friends: a recipe I once told myself I would never share. One of those secret recipes that were the backbone of my high school baking operation, touted as highly addictive by my friends and classmates and just damn good. This is a jumbo, super chewy, fat, melty, indulgently delicious chocolate chip cookie. But this isn't a once-you-pop-you-just-can't-stop kind of cookie. With one-third cup of dough each, just one cookie can be a filling snack time. So here's a method to hit pause mid-process and finish baking up a hot and ready cookie when cravings (or guests) arrive…without making your kitchen messy each time.
First, here are a few tips to really set the cookie dough apart from store bought alternatives. Your butter should be softened to room temperature – not too melted and not too cold. The perfect temperature will help the cookies to spread only modestly in the oven and remain thick and gooey. I also like to cream the butter with the sugars for a minute or two and again after the eggs are added to give the cookies a bit of the airy lightness of a cake. Sifting the dry ingredients helps with lightness as well. That, plus the flavor from a full tablespoon of vanilla extract, makes the cookie crumble as much the star as the chocolate morsels. I suggest you use imitation vanilla extract for this large dose – it's much less expensive and the taste difference is negligible in baked goods.
Once the dough is prepped, send the cookies straight to the oven or freeze individual disks of dough to have at the ready. Here's a step-by-step of that freezer method which will give you a warm cookie in only 20 minutes with one pan:
1. Find a cookie sheet, aluminum pan or cutting board that will fit into your freezer and line it with wax paper (cheaper and ok in the freezer but not the oven) or parchment paper.
2. Pack dough into a shallow 1/3 cup measuring scoop by pushing against the side of the mixing bowl. Hold it over the lined pan and give it a good downward whack to get the dough out.
3. Continue to scoop dough onto the paper, tightly arranging but not overlapping the cookies.
4. Freeze cookies for 2-4 hours until solid then lift the wax paper and use it to funnel the cookies into a plastic freezer bag. Date it and label it. Cookies should keep without collecting freezer burn for 6-8 weeks or longer, depending on your freezer.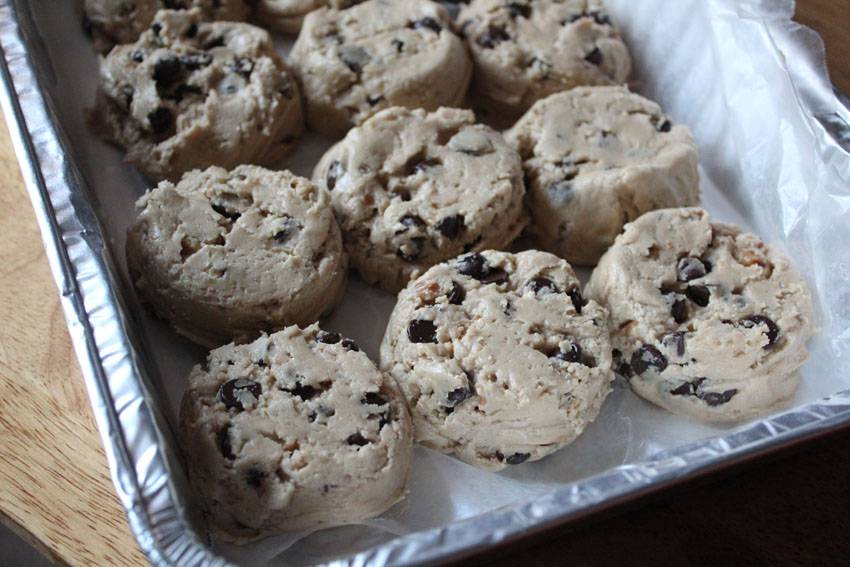 5. When it's time to bake up your cookie(s), remove from the freezer as you preheat the oven and place on an un-greased cookie sheet at least 2 1/2 inches apart. Add 3-5 minutes to the baking time to turn the cookies golden brown.
Can you imagine warming your apartment for surprise guests with the smell of just-baked cookies? Yes, that will win you 'super impressive' points with any living human. The incredible taste will seal the deal.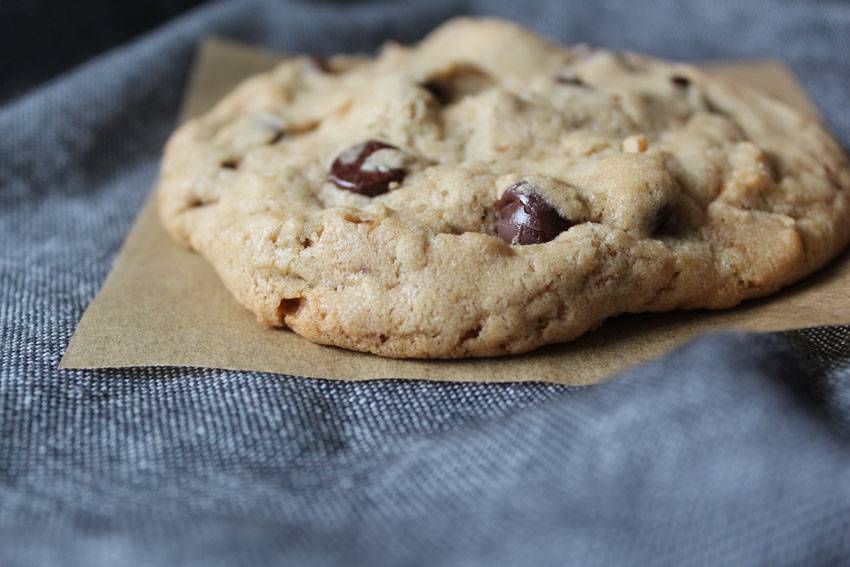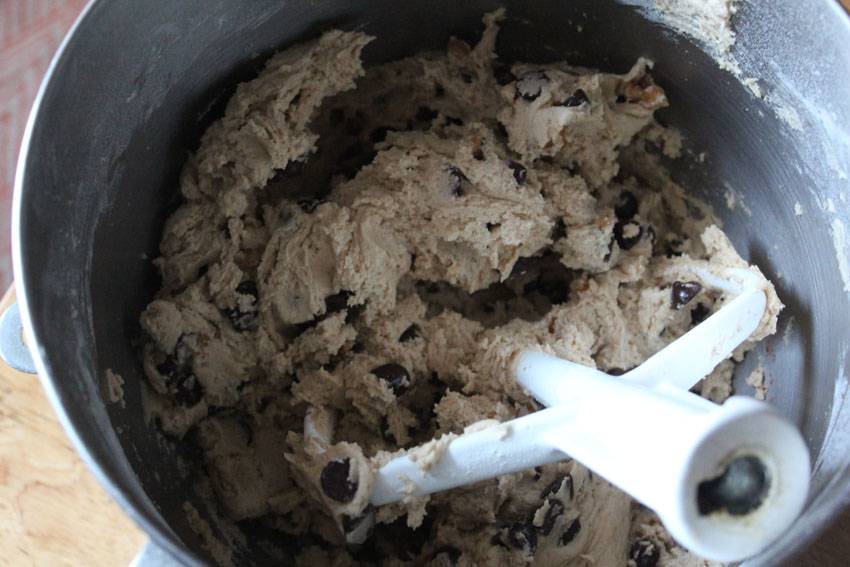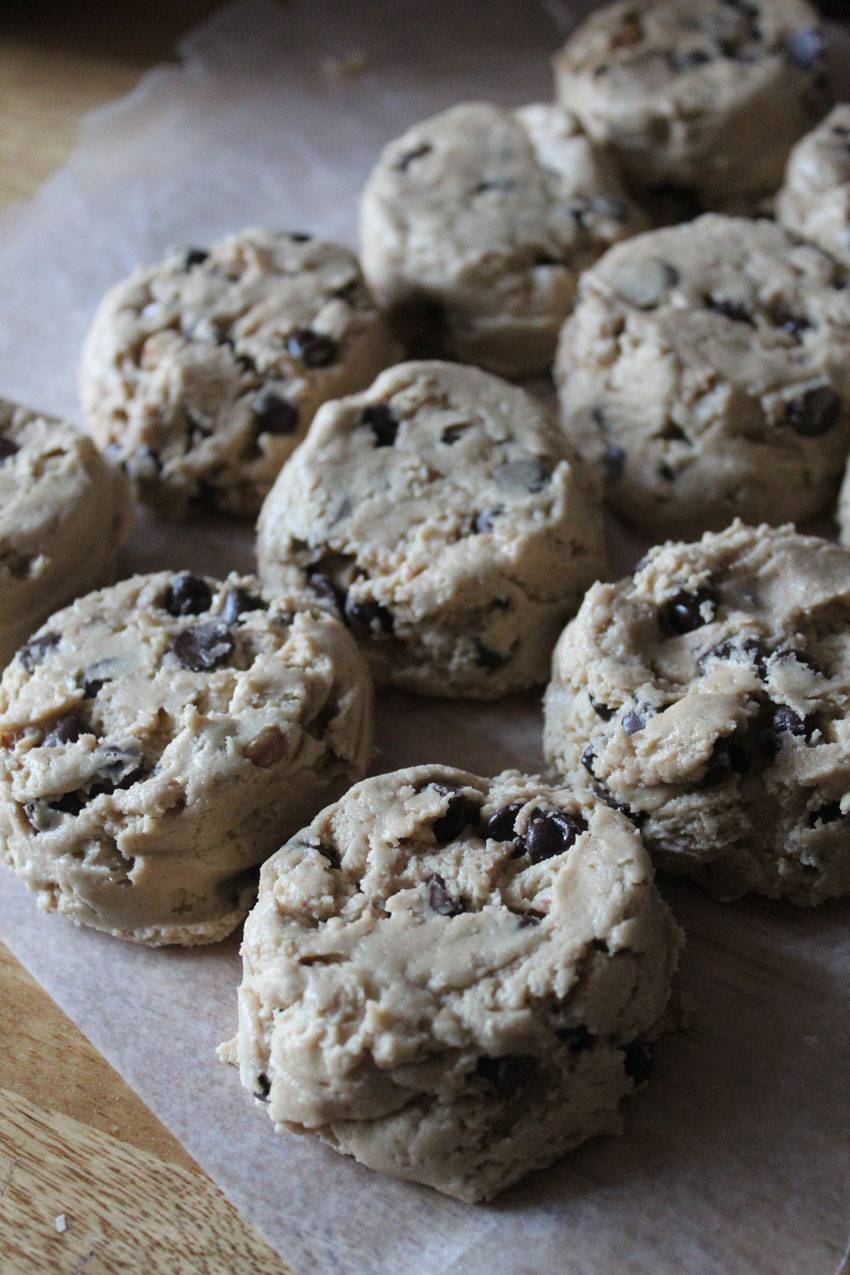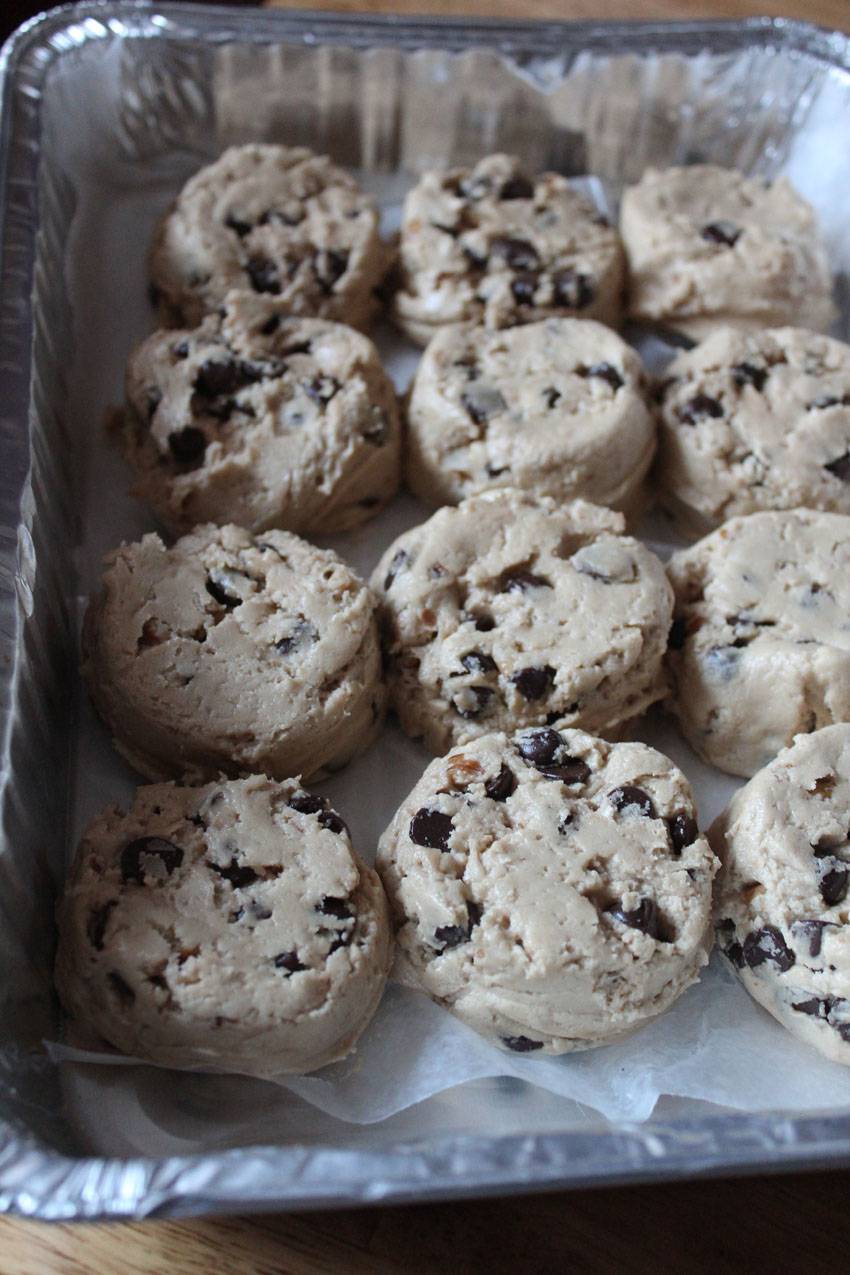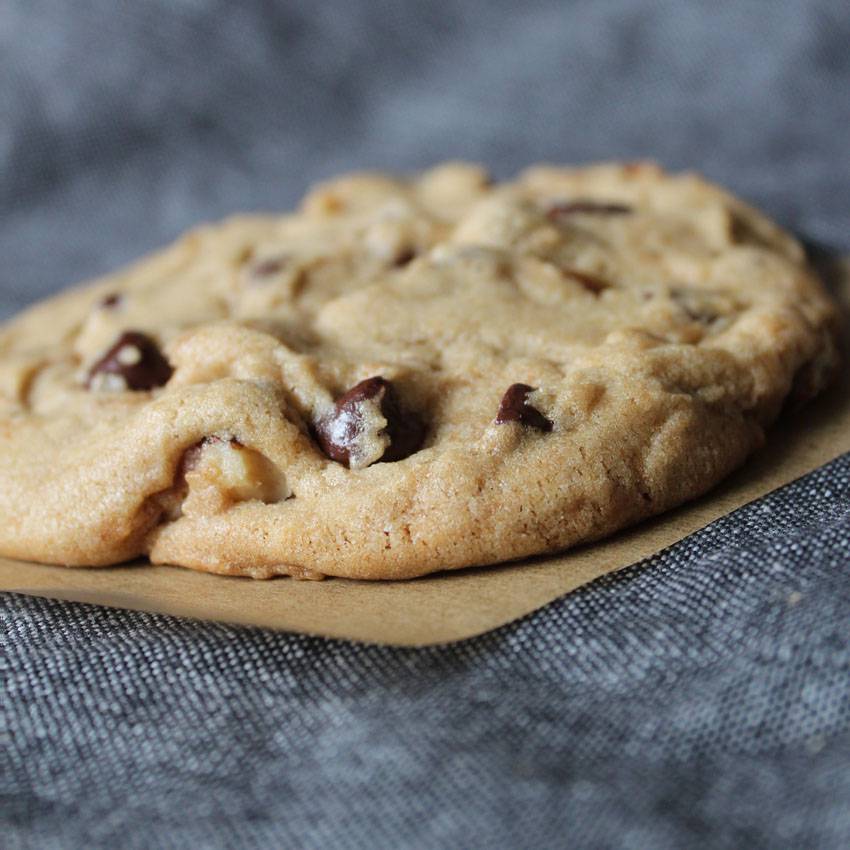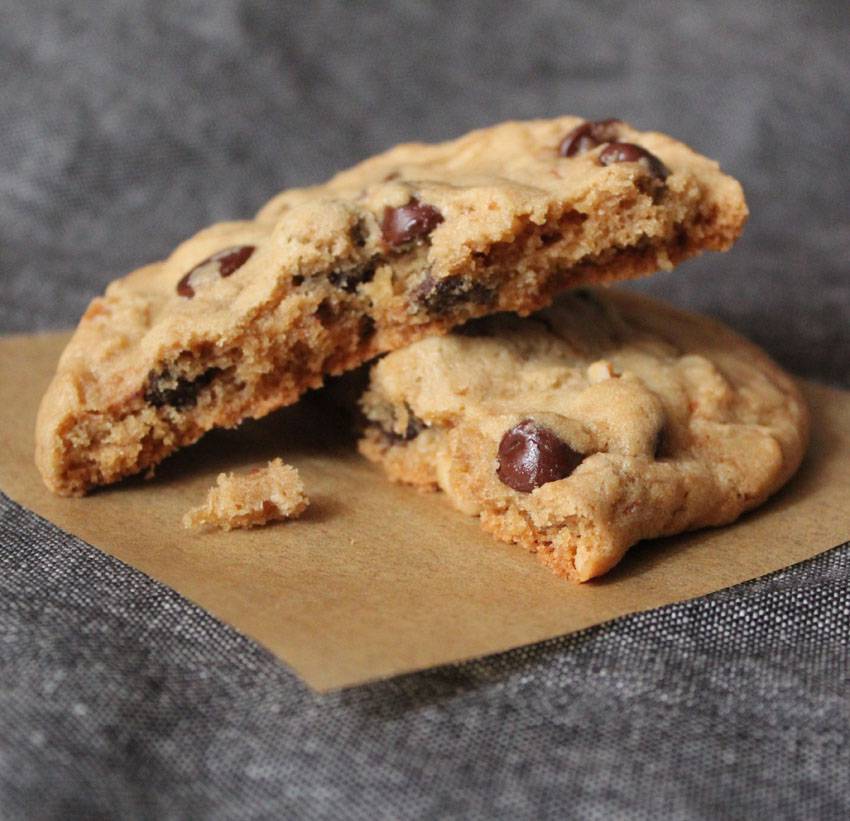 Jumbo Chocolate Chip Cookies
Prep time:
Cook time:
Total time:
Ingredients
¾ cup butter, softened
1 cup packed light brown sugar
½ cup sugar
1 egg
1 egg yolk
2 cups all-purpose flour
½ teaspoon baking soda
½ teaspoon salt
1 tablespoon (imitation) vanilla extract
1½ cups semi-sweet chocolate chips
½ cup chopped walnuts (optional, add ½ cup chocolate chips if not using)
Instructions
In the bowl of your mixer, cream together butter and sugars for 1-2 minutes until lightened and fluffy. Scrape down the sides of your bowl with a rubber spatula before beating in eggs for 1-2 minutes.
In a separate bowl, sift together flour, baking soda and salt. Pour into butter mixture and mix until fully incorporated. Add the vanilla extract and mix until fully incorporated. Stir in the chocolate chips and walnuts until combined and even.
If baking immediately: Preheat oven to 325° F. Using a shallow ⅓ cup measure, pack cookie dough by pressing against the sides of the mixing bowl. Give it a downward whack to turn out onto a parchment-lined cookie sheet. Place cookies at least 2½ inches apart. Bake for 15-17 minutes at 325°, until set in the center and golden brown on the edges. Rest for a few minutes in the pan before using a spatula to place on a wired cooling rack. Cool until firm and cool enough to handle.
If freezing: Follow the instructions above to freeze the individual cookies. When baking, preheat oven to 325° F and place cookies on an un-greased cookie sheet at least 2½ inches apart. Bake for 18-22 minutes until golden brown on the edges. Rest for a few minutes in the pan before using a spatula to place on a wired cooling rack. Cool until firm and cool enough to handle.
Recipe makes 15-18 jumbo cookies