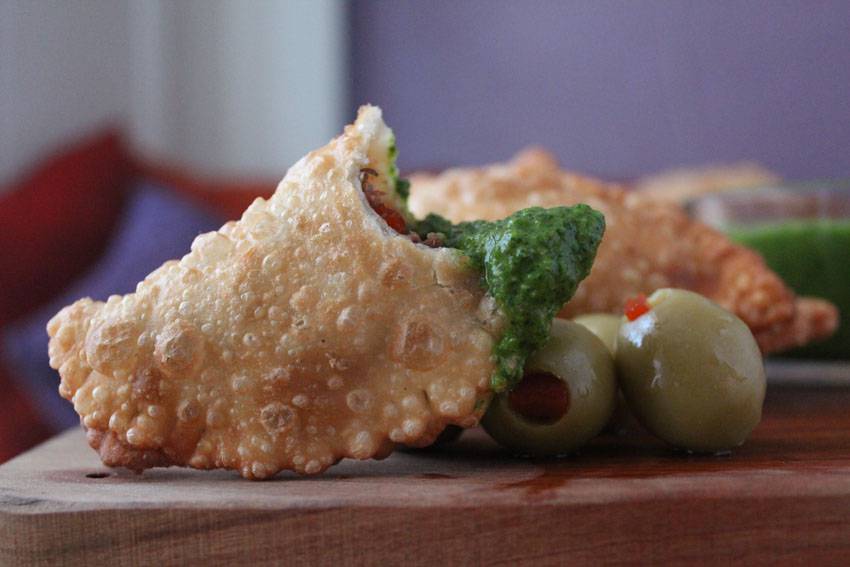 Last Saturday was the most epic Pi Day of our lifetime – 3.141592653. On that date, the first 10 digits of the mathematical constant could be expressed through the month, day, year, hour, minute and second. Now, I may not be a mathematician, but I am a complete nerd for numbers and the occasion demanded a house party to celebrate. Twenty-six of my friends agreed and packed my studio apartment for all things pie. It was the greatest congregation of nerds and blerds ever.
If you've been a follower of Runaway Apricot for a while, you will have noticed that Pi Day happens to be my most consistently celebrated holiday. Each year I've posted a new recipe to celebrate flaky crusts and fillings sweet or savory. The party's menu was made easy with those and more takes on pie from my recipe archive:
Vegetable Quiche
Kale Salad with Tart Apple and Golden RaisinsPizza with Garlic-Herb Crust and Shaved Brussels Sprouts
Fried Beef Empanadas with Watercress Salsa Verde
Shrimp and Scallop Pot Pie
Sweet Potato Pie
Salted Caramel Apple Hand Pies
Homemade Vanilla-Walnut Ice Cream with Salted Caramel
The star of that spread was these Fried Beef Empanadas, churned from the kitchen throughout the party with help from a few party attendees. They're meaty and spicy and sweet and just a bit briny from the olives. I've made them again and again since the recipe was first added to the blog four years ago and with each batch I've gotten a little faster at the prep by refining the steps of the recipe. So even though the ingredients have not changed, I'm re-posting these empanadas for the new method.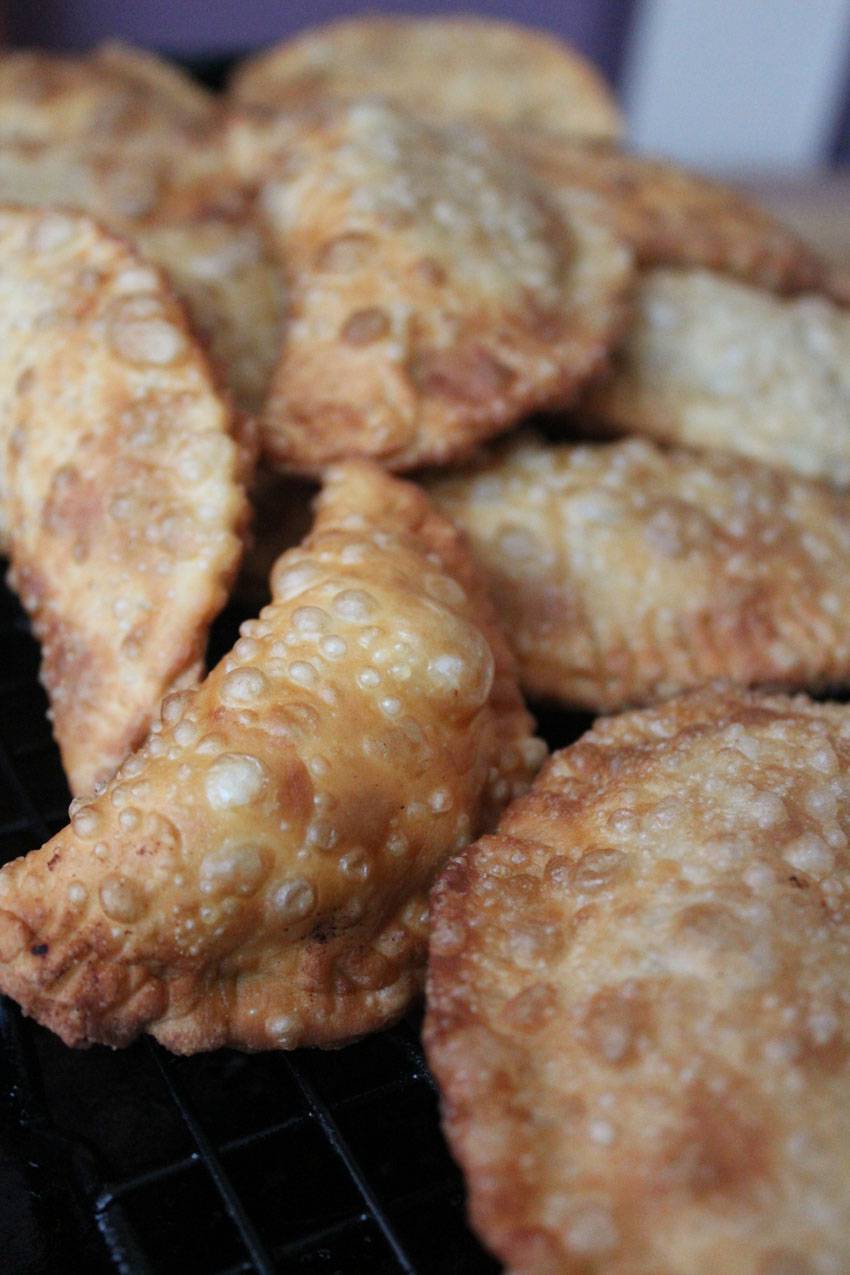 My second reason for re-posting this recipe is the opportunity to finally add photos. Over the years I've tried countless times to photograph these empanadas, never able to capture their essence and show just how good they are. Making a monochromatic food with a filling look interesting and appetizing is not easy! But slowly I've gotten better at lighting and styling each dish to show you exactly how it looks before my eyes in my kitchen. And I want it to look just as good in your kitchen. I never Photoshop or use product photography magic like glue and spray bottles so you can recreate the dish exactly as it looks – no frills or Pinterest fails. I'm definitely still learning, but I'm pretty proud of how these have turned out!
So give these empanadas a try. They're absolutely delicious, reheat easily in the oven, and leftover filling is perfect with scrambled eggs. If it takes you a bit of time to make them the first time, just know that it will be a little easier with each batch of practice.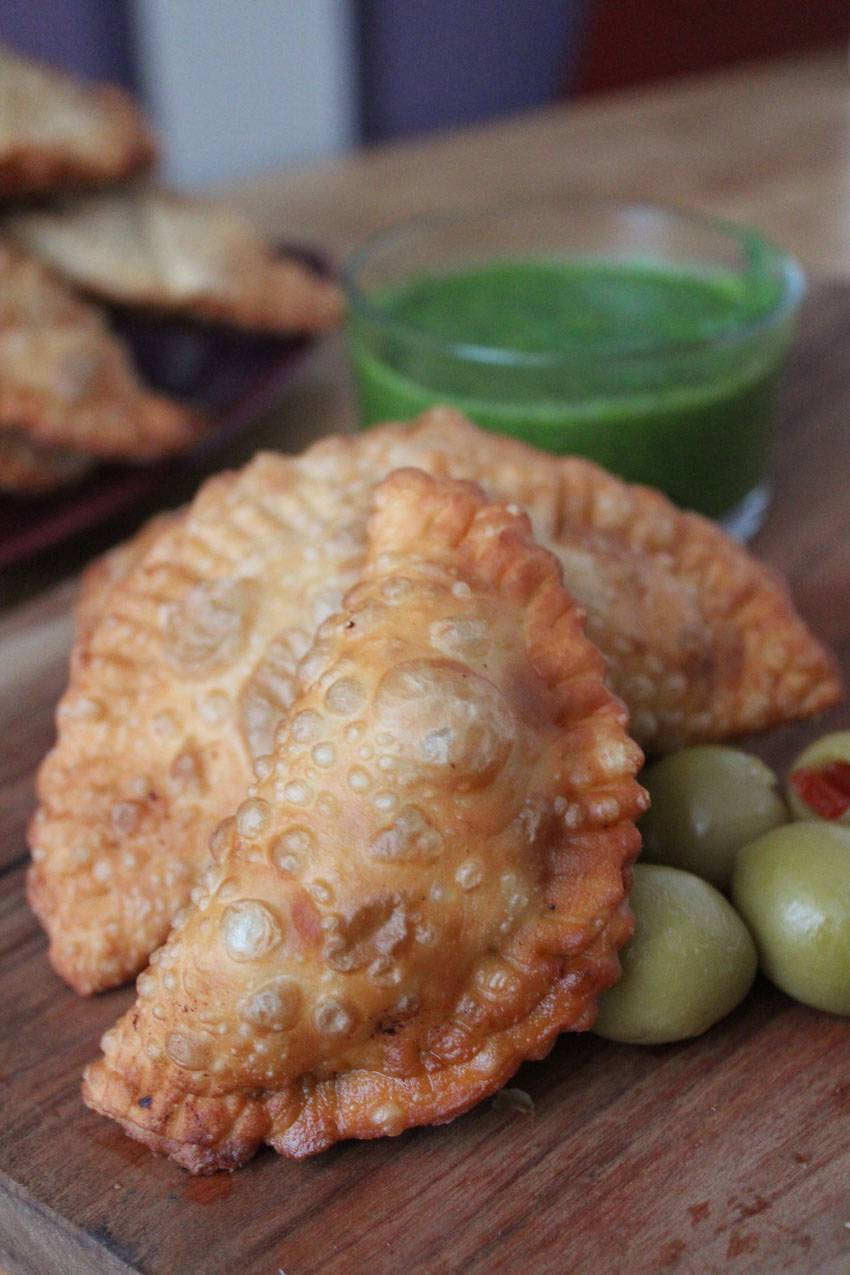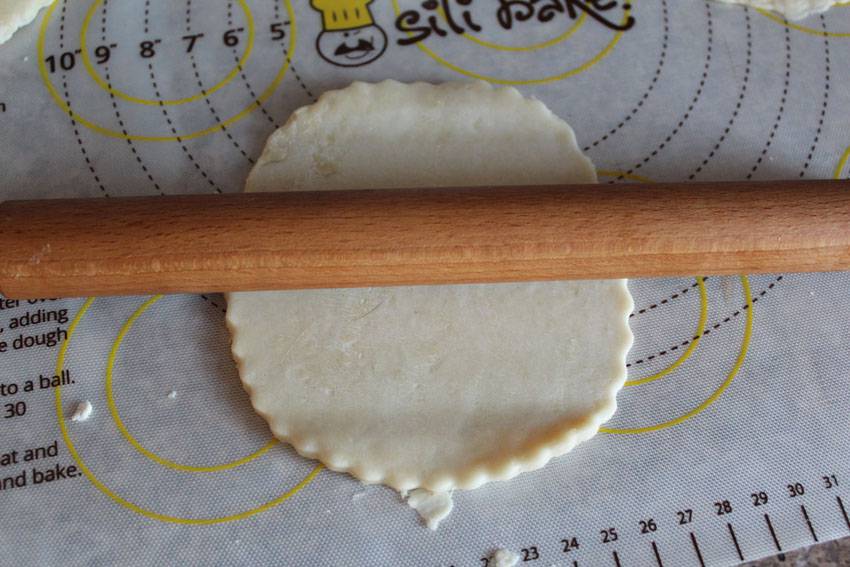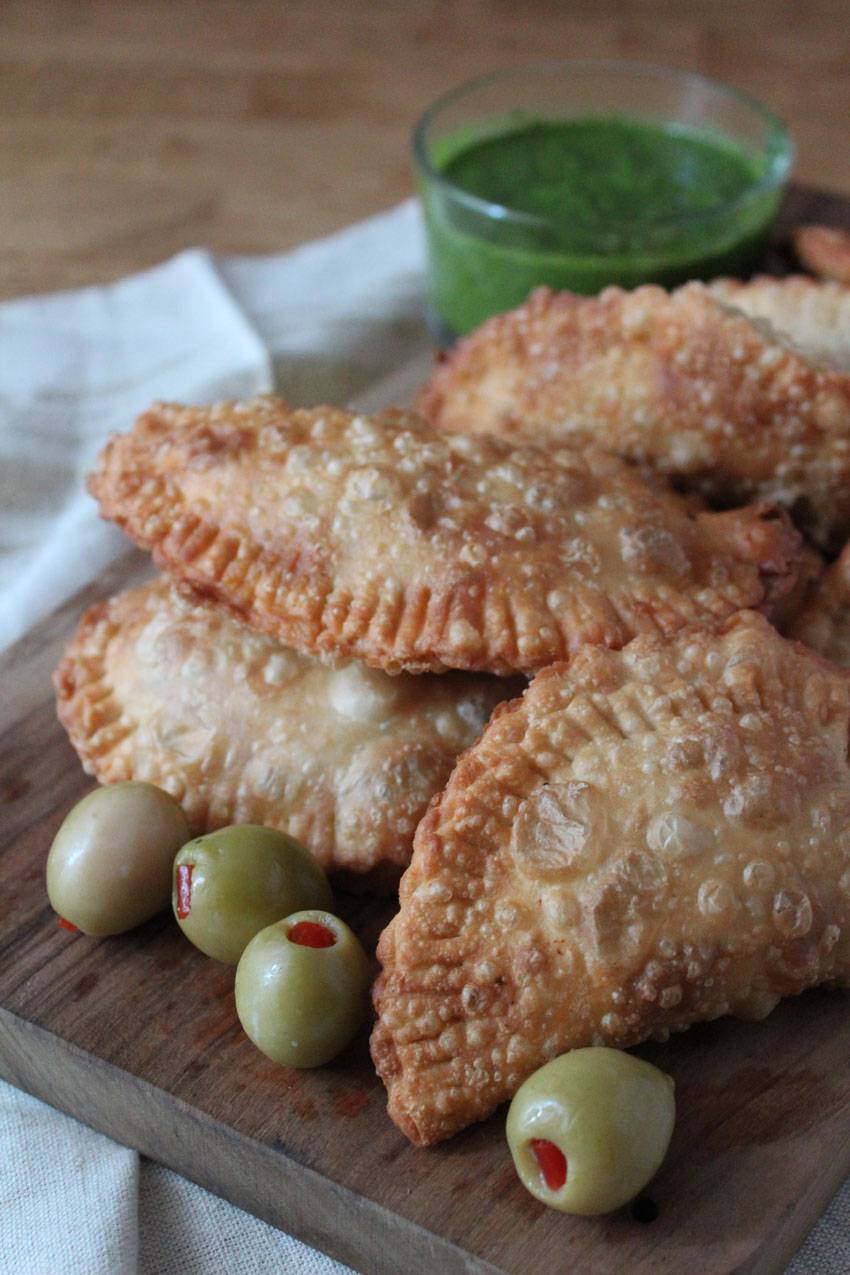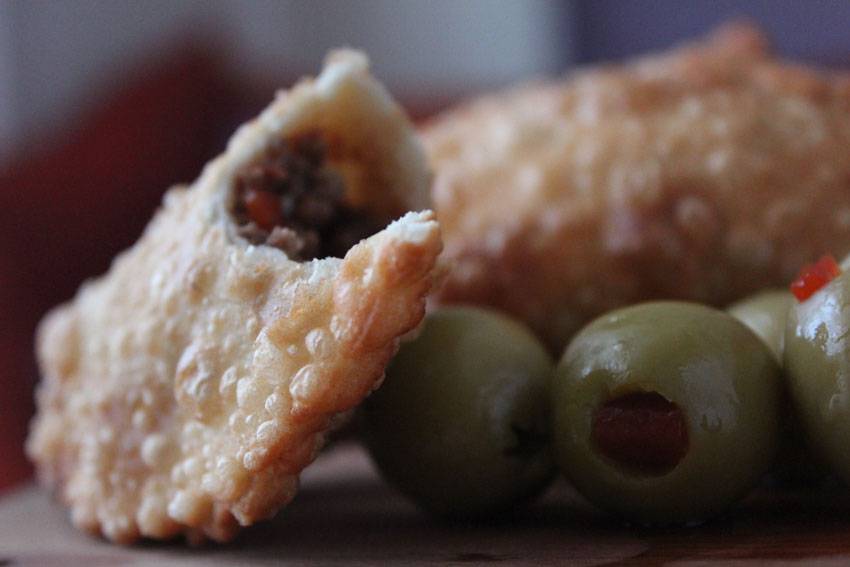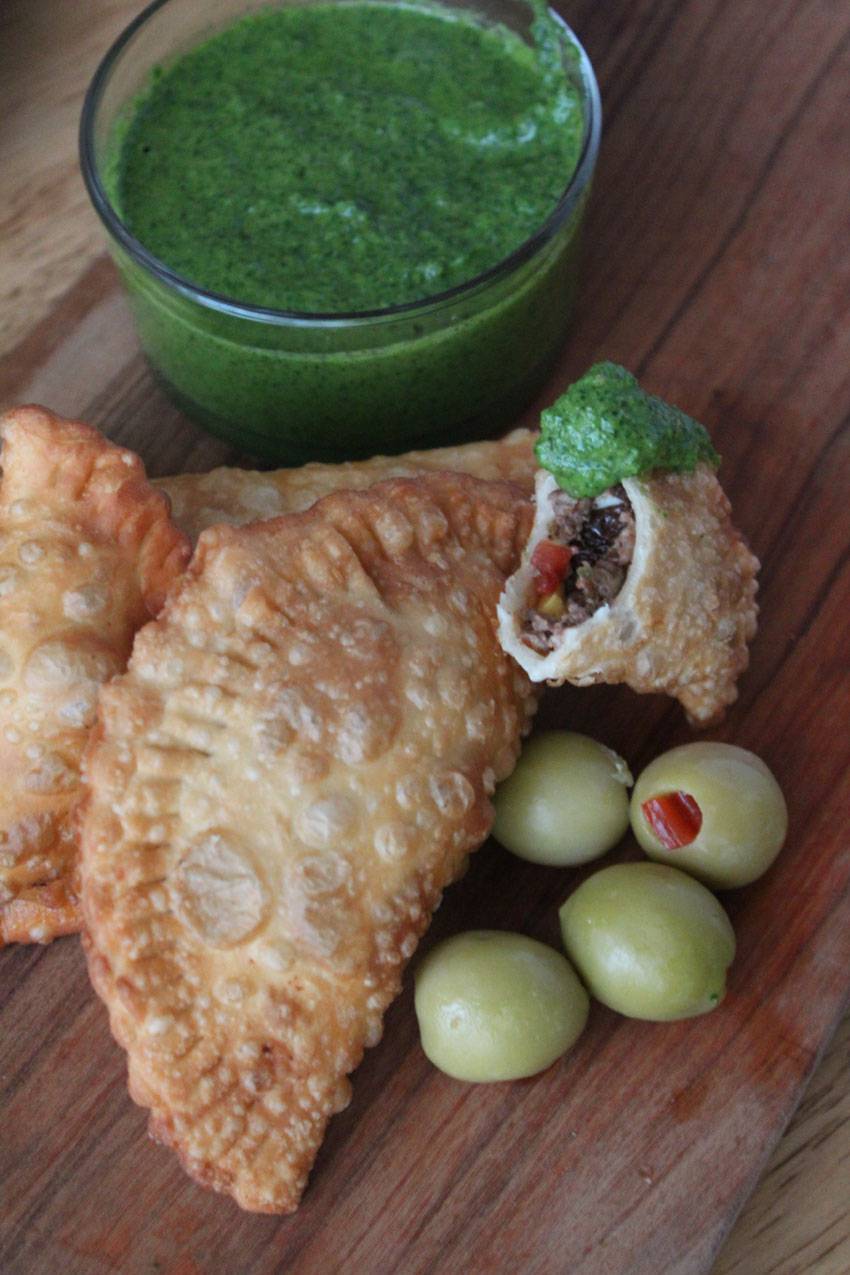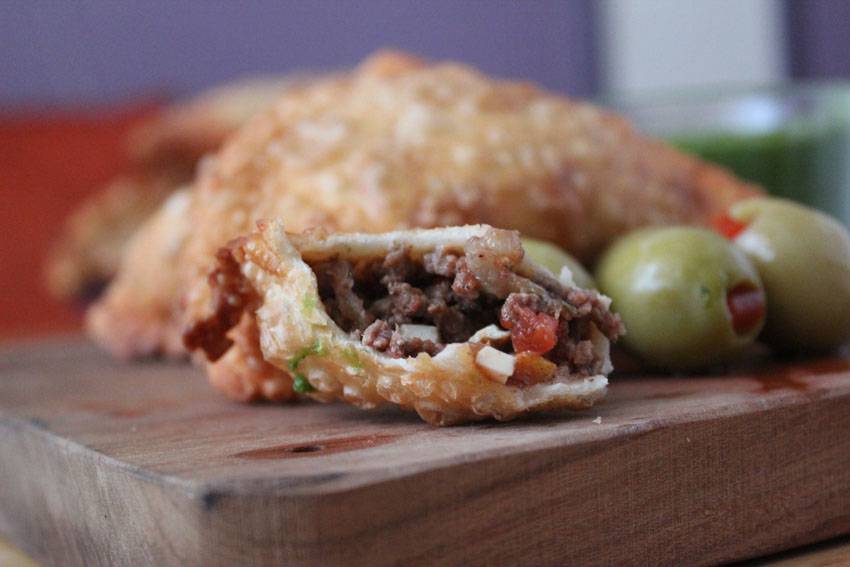 Fried Beef Empanadas
Ingredients
2-1/4 cups all-purpose flour
¾ teaspoon salt
¼ cup shortening
½ cup water, plus 2 tablespoons
--
1 tablespoon olive oil
1 small onion, finely chopped
1 garlic clove, finely chopped
1 teaspoon ground cumin
1 teaspoon dried oregano
¾ pound ground beef chuck
2 tablespoons raisins
1½ tablespoons chopped pimiento-stuffed olives
1-1/2 teaspoons red wine vinegar
1 14-ounce can diced tomatoes in juice, drained, reserving 2 tablespoons juice
1 hard-boiled large egg, chopped
Instructions
In a medium bowl, combine flour, salt and shortening with a pastry blender or your fingers until the mixture resembles loose crumbs. Mix in the water, a few tablespoons at a time, until the the mixture comes together in a ball. Shape into a solid ball and flatten slightly. Wrap with plastic and refrigerate for one hour or more.
Heat olive oil in a large skillet over medium heat. Cook onion, stirring frequently, until tender. Stir in garlic, cumin and oregano and cook 1 minute. Add ground beef, breaking with spoon into a small crumble, until brown – about 4 minutes. Add raisins, olives, vinegar, tomatoes and reserved liquid. Season with salt, pepper and cayenne pepper, to taste. Cook for about 5 minutes until the liquid is reduced. Remove from heat and stir in chopped egg. Spread on a plate to cool.
Roll out dough to ⅛". Cut into circles with a 4" cookie or pastry cutter, fitting as many as possible on sheet of dough. Remove excess dough to re-roll later. Roll out each circle a little thinner into an oval. Spoon 1½ tablespoons of filling, being careful to keep it centered. Use your finger to swipe one half of the dough with water along the rim. Fold over and push tightly to seal. Use a fork to further press each empanada shut.
Heat oil in a large, deep pot or skillet over medium heat to 360°F. Work in batches to fry each empanada for 4-6 minutes, turning once. Drain empanadas on a wire rack. Keep warm in a 200°F oven or later reheat in a 350°F oven. Serve with Watercress Salsa Verde.
I believe the right tools can make cooking easier and more enjoyable so I've linked to some of my favorite products. If you buy via my link, I may earn an affiliate commission. Thank you for your support!