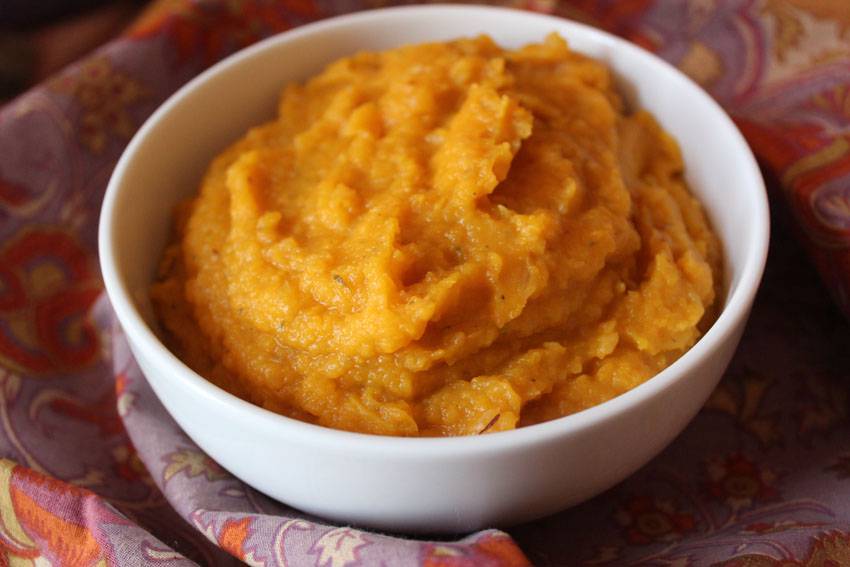 Smooth as butter and sweet as a nut, butternut squash tastes great with a lot of different treatments. In the past I've shared recipes for a super simple Butternut Squash "Lasagnette with Sage and Parmesan, Butternut Squash "lasagna" with Sausage and Spinach, and seriously good Butternut Squash and Creamed Spinach Empanadas. Instead of digging deeper to think of something new, I went back to the fundamentals. Did you realize that squash is in fact a fruit? Of course it is – the seeds are inside! With that revelation I decided to take a sweet turn.
This Roasted Butternut Squash and Apple Puree is classic; like something you might expect from Fannie Farmer, Joy of Cooking or Martha Stewart. It's only 5 ingredients, incidentally vegan and super healthy. The natural fructose takes the place of processed sugars while the onion rounds out the flavor and makes it savory enough to go perfectly with pork or poultry. Paired with poultry or pork, caramelized yams or marshmallow-dotted sweet potatoes can't hold a candle to it.
Today is the one-year anniversary of my now famous #mealprep post that brought so many of you to this site. And while I haven't yet given you more neatly packaged meal plans, I hope that you have enjoyed recipes like these which compose great meals. There are so many more unpredictable, affordable, healthy and delectable recipes to come! #cooksavethrive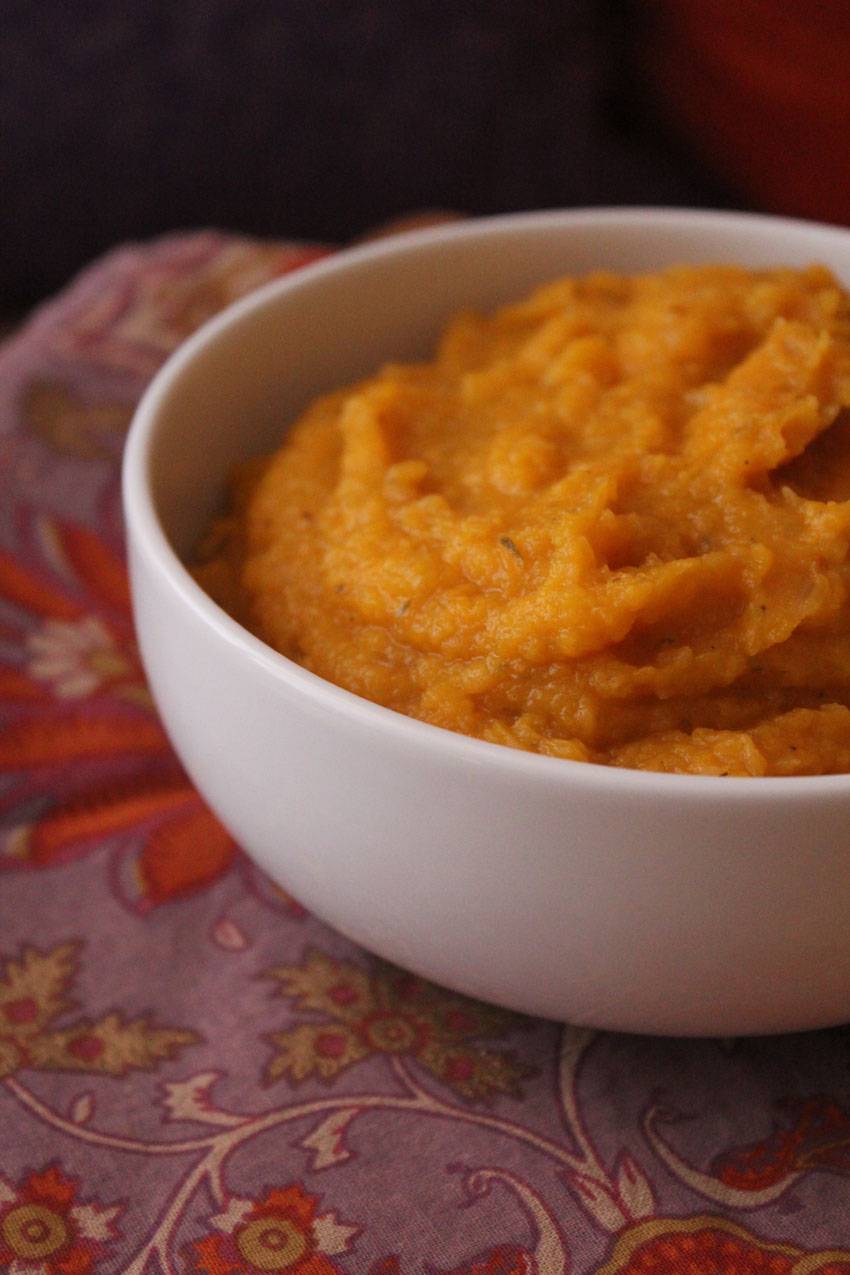 Roasted Butternut Squash and Apple Puree
Prep time:
Cook time:
Total time:
Ingredients
1 2-3 pound butternut squash
1 sweet apple, such as Braeburn
1 small onion
1 teaspoon thyme
3 Tablespoons olive oil
Instructions
Preheat oven to 425°. Peel butternut squash, scoop out seeds, and cut into 1" cubes. Core the apple and chop into about 8 large chunks. Cut onion into similarly large chunks. Put everything on a large baking sheet or roasting pan and sprinkle with salt, pepper, and thyme. Toss with olive oil. Roast for about 25 minutes, until tender, stirring and flipping halfway through.
Allow fruit to cool for a few minutes. Puree with a food processor, blender or immersion blender and season to taste with salt and pepper. Serve warm or cover and reheat in the microwave when ready to eat.
I believe the right tools can make cooking easier and more enjoyable so I've linked to some of my favorite products. If you buy via my link, I may earn an affiliate commission. Thank you for your support!