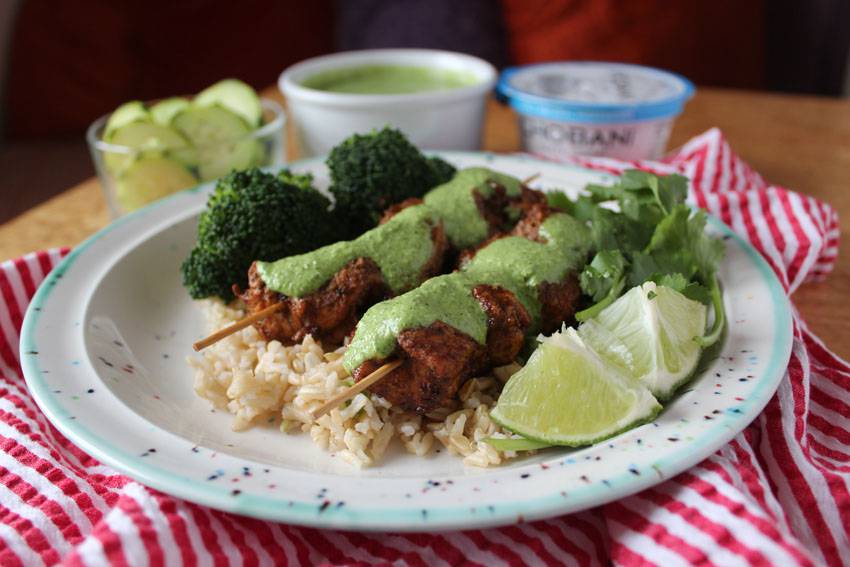 Sunday afternoon my sister sent me a worried text, "R u ready for this storm?" I racked my brain for a second and replied, "My fridge is full so I guess so." In truth, that was the first news I'd heard of Winter Storm Juno, a blizzard that would have NYC Mayor de Blasio silence the moral debate over ordering food delivery in a storm by issuing a travel ban on all non-essential vehicles. I'm glad I was not leaning on Seamless. I'm especially happy that my fridge was stocked with this delicious meal.
I have a good friend who is always reaching out for clean-eating recipe suggestions or requesting blog posts after trying a dish that I've shared. Two of those dishes are the very popular Kale Summer Salad with Tomatoes, Corn and Feta and another picnic recipe for Dilled Potato Salad with Tuna and Peas. Like the potato salad, I've made this recipe healthier by swapping Chobani greek yogurt for mayonnaise and sour cream. A simple Google of "Yogurt vs. Mayonnaise" shows how the nonfat greek yogurt has less than 10% of the calories and cholesterol of mayonnaise while adding more than 10 times the protein. Even though I do not keep myself on a strict diet of "low-fat" foods, anything that calls for 3/4 cup yogurt and/or sour cream demands this swap. And if you've ever been to Pio Pio in New York or eaten Peruvian chicken, you know why you'll want to be able to douse your entire plate in this green sauce guilt free.
Another way I've adapted this (already amazing) recipe from Serious Eats to make it better for #mealprep is by using boneless skinless chicken breast in place of whole chicken. The skewers have little fat on them but use even-sized cuts of chicken so they cook quickly and evenly and remain tender. Without bones it's also much easier to reheat and enjoy from a container all week long. The spices are bold enough to carry a plate of plain brown rice and steamed broccoli, making a whole meal super simple to prepare in under an hour.
You'll find this dish so impressive you'll want to show it off at Super Bowl parties, awards show parties, cookouts…really any occasion. Try baking or grilling even smaller skewers on toothpicks for entertaining. And when you're friends gush over the dish and ask for the recipe, send them here.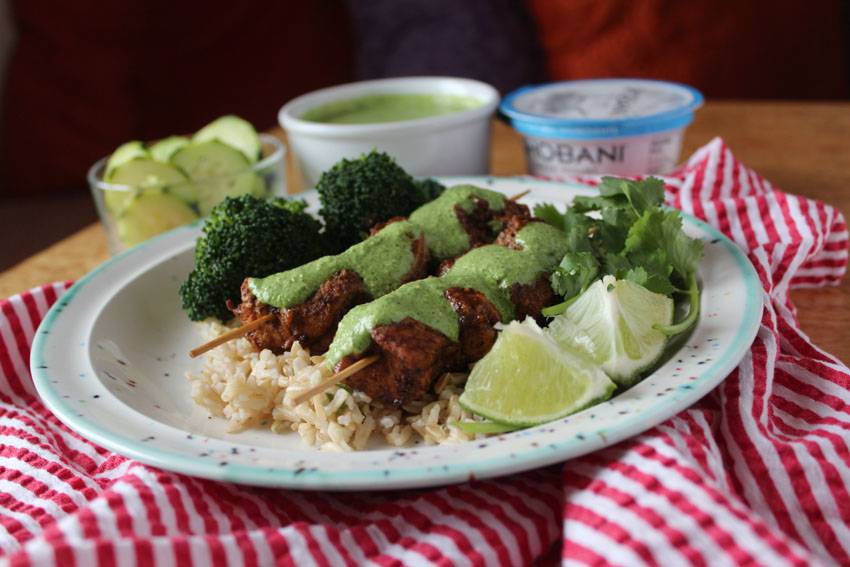 Healthier Peruvian Chicken Skewers with Green Sauce
Prep time:
Cook time:
Total time:
Ingredients
3⅓ pounds boneless skiness chicken breast
4 teaspoons kosher salt
2 tablespoons ground cumin
2 tablespoons paprika
1 teaspoon freshly ground black pepper
3 cloves garlic, minced (about 1 tablespoon)
2 tablespoons distilled white vinegar
2 tablespoons olive oil
--
1 cup fresh cilantro leaves
2-3 whole jalapeño chilies, roughly chopped
2 medium cloves garlic
scant ¾ cup plain greek yogurt, 1-serving cup Chobani recommended
½ juiced lime, roughtly 2 teaspoons
1 teaspoon distilled white vinegar
2 tablespoons extra virgin olive oil
Instructions
For Chicken: Preheat oven to 375° and line a large baking sheet with a non-stick mat or foil. Soak skewers in water to prevent burning when cooked.
Cut chicken breast into 1-inch cubes. Rub chicken with salt, cumin, paprika, pepper, garlic, vinegar and oil. Allow to stand for 20-30 minutes.
Skewer 4 pieces of chicken breast per stick. Fold any thin pieces over onto the skewer to make sure meat is tight and even throughout. Arrange on baking sheet and bake for 15 minutes. Flip skewers and raise oven temperature to 425° to cook for 10 more minutes. Remove from oven.
For sauce: While chicken is baking, combine cilantro, jalapeños, garlic, greek yogurt, lime juice, and vinegar in a blender, food processor, or cup with immersion blender. Blend on high speed until smooth. With motor running, blend in olive oil. Season to taste with salt and pepper. Makes about 1¼ cups.
Serve warm skewers with sauce. Great for a crowd or throughout the week as meal prep.
I believe the right tools can make cooking easier and more enjoyable so I've linked to some of my favorite products. If you buy via my link, I may earn an affiliate commission. Thank you for your support!