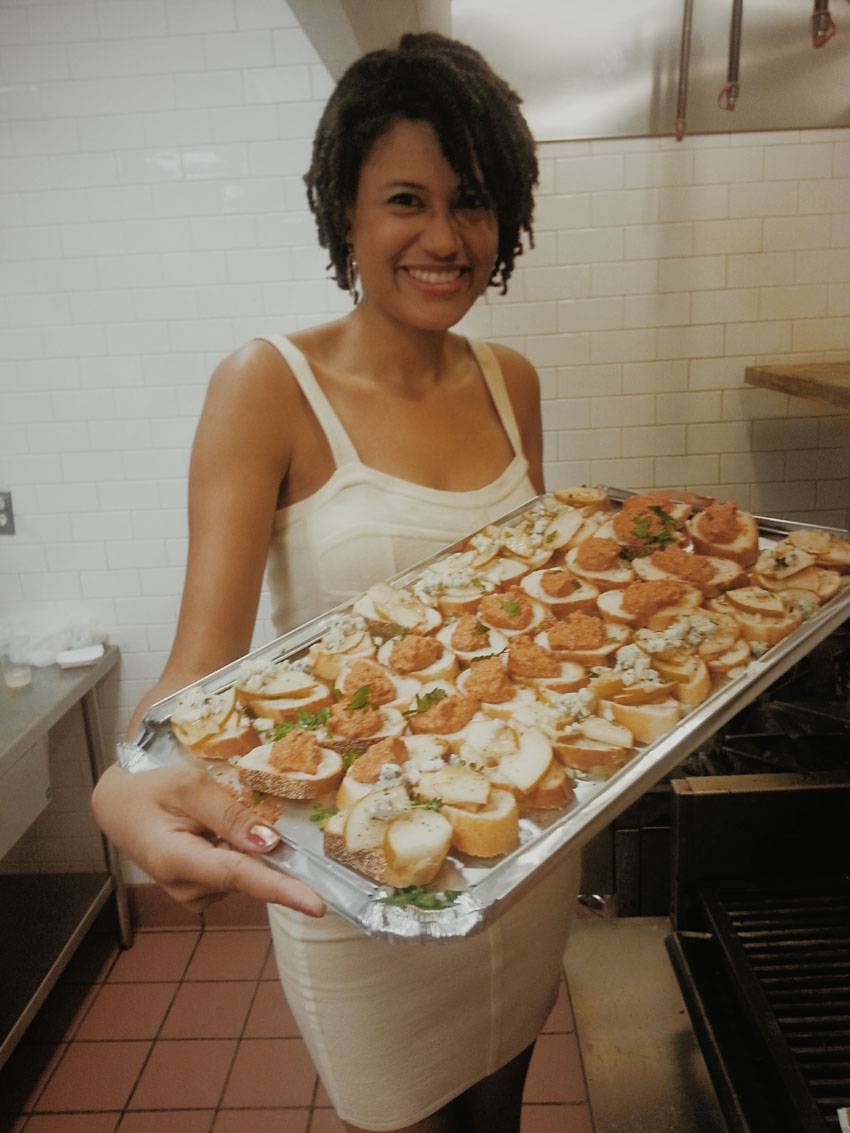 I went to the prom this weekend! Not as a chaperone for overly anxious teeny boppers, but as a caterer for a crowd of non-profit leaders. Like last year, I was providing food for Prime Produce's Prom, a fundraiser and friend-raiser for many 501(c)(3) organizations. With a tight budget and a crowd of 250 guests, each year it's a great workout for my private chef skill set.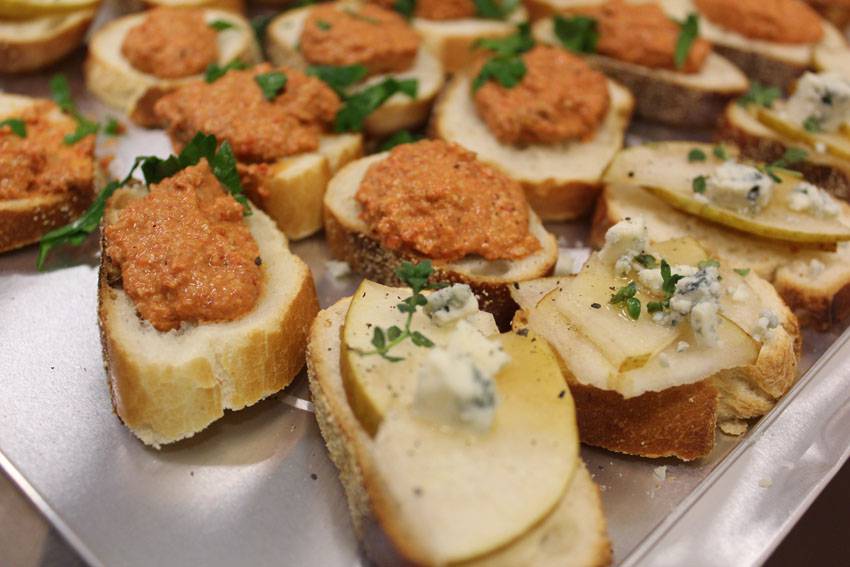 Because the venue for this year's party only allowed catering from their list of preferred vendors, we brought in foods that are considered "cold food prep." I couldn't blanch collard greens or bake a bean dip like I had last year, so I scrubbed Pinterest and my memory bank for ideas. To stretch $100 more than 250 ways, I stuck to three rules:
1. Limit the number of dishes. Many people approach a buffet with interest in trying a little bit of everything so if you want people to take fewer bites (and waste less) you have to narrow the options.
2. Go meatless. Meat is just expensive — and it should be. So to limit costs think of other proteins like beans or cheese and nuts which can provide flavor in much smaller doses.
3. Put it on bread. The cheapest way to stretch high-quality ingredients like the roasted red pepper, walnuts and gorgonzola in the recipes below is to balance with filler ingredients. But "filler" isn't a bad word here. Good bread anchors the flavors and also helps to soak up some of the alcohol in the revelers stomachs.
Here are the two easy appetizers I made for the crowd. The Roasted Red Pepper and Walnut Dip is a take on the classic Turkish/Syrian muhammara but I've left out the bread in the traditional recipe. If you keep your pantry stocked with jarred peppers and walnuts, you can enjoy it with toasted bread, pita or crisp veggies at any time. It also makes a seriously delicious sandwich spread. The Crostini with Pears, Gorgozola, Honey and Thyme is, well, just that. Just a few slices, a drizzle and some crumbles make an elegant appetizer in minutes.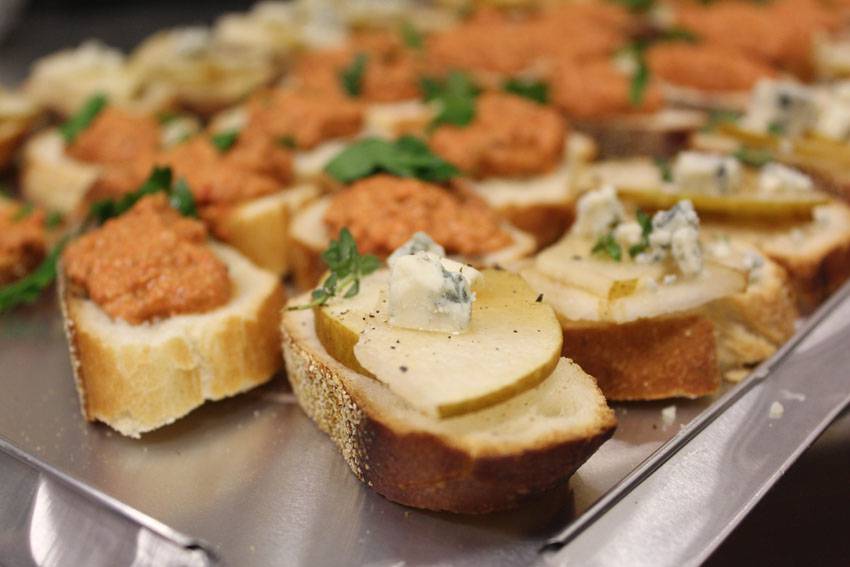 Roasted Red Pepper and Walnut Dip
Makes about 2 cups
1 16-ounce jar roasted red peppers, rinsed and drained
1 cup walnuts, toasted
1 tablespoon red-wine vinegar
1/2 teaspoon cumin
1/8 teaspoon cayenne
1/4 cup extra-virgin olive oil
Fresh parsley, for garnish
Puree red peppers, walnuts, vinegar, cumin and cayenne in food processor until almost smooth. With motor running, drizzle in olive oil and puree until even. Season to taste with salt and garnish with parsley. Serve over bread or with crisp veggies.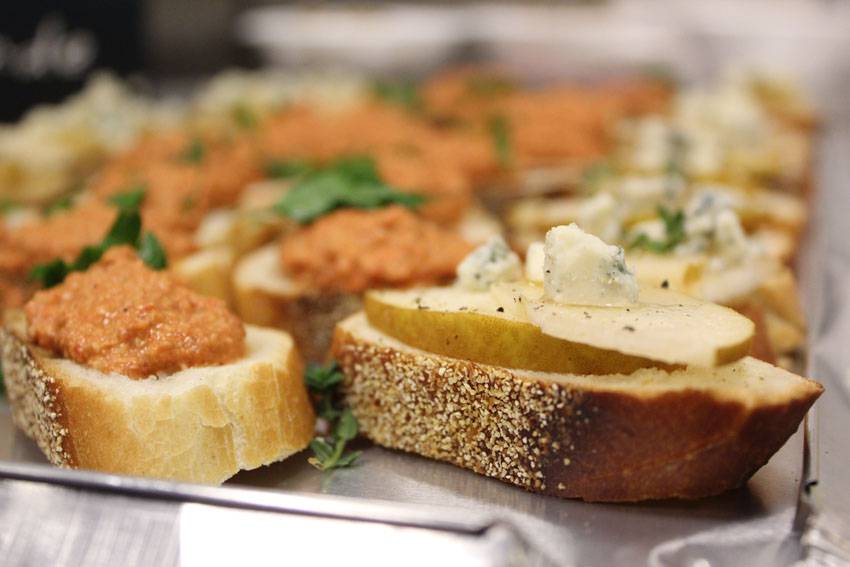 Crostini with Pears, Gorgozola, Honey and Thyme
Makes about 24 crostini
1 baguette, sliced every 1/2″
1 large d'Anjou pear, cored and thinly sliced
About 4 tablespoons honey (don't bother to measure)
4 ounces Gorgonzola cheese, crumbled
Fresh thyme, for garnish
Top each slice of bread with a few slices of pear. Drizzle with honey then add crumble of Gorgonzola cheese – honey will help the cheese to adhere. Garnish with fresh thyme and add freshly ground pepper.
I believe the right tools can make cooking easier and more enjoyable so I've linked to some of my favorite products. If you buy via my link, I may earn an affiliate commission. Thank you for your support!