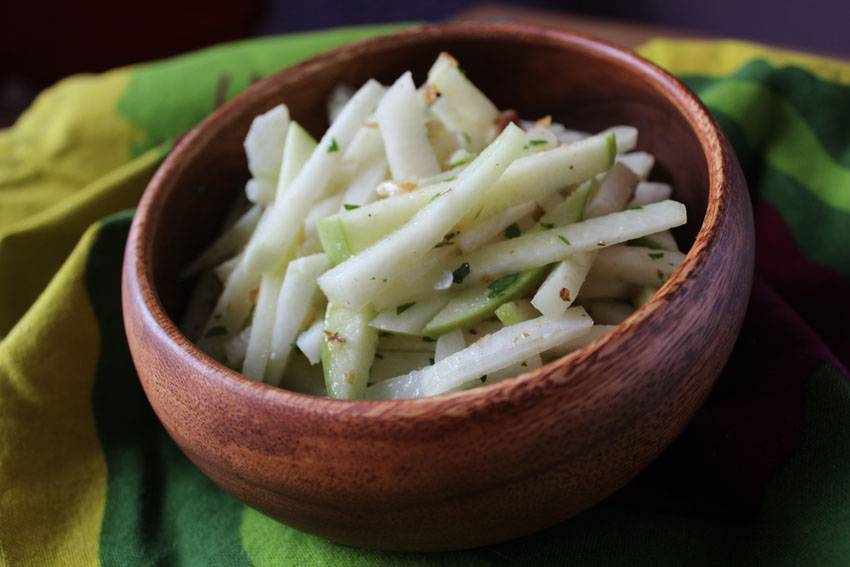 Kohlrabi is a funny looking vegetable. A big, pale green bulb with erect dark green leaves from all over, an online drawing with the mean face of a monster sticks in my head. After seeing it for a few years at the greenmarket and being afraid to give it a try, I finally had a taste and it's far less intimindating than its German name. Nutritious and edible raw or cooked, it's very similar to its close relative the broccoli stem. I encourage you to give it a try with this recipe!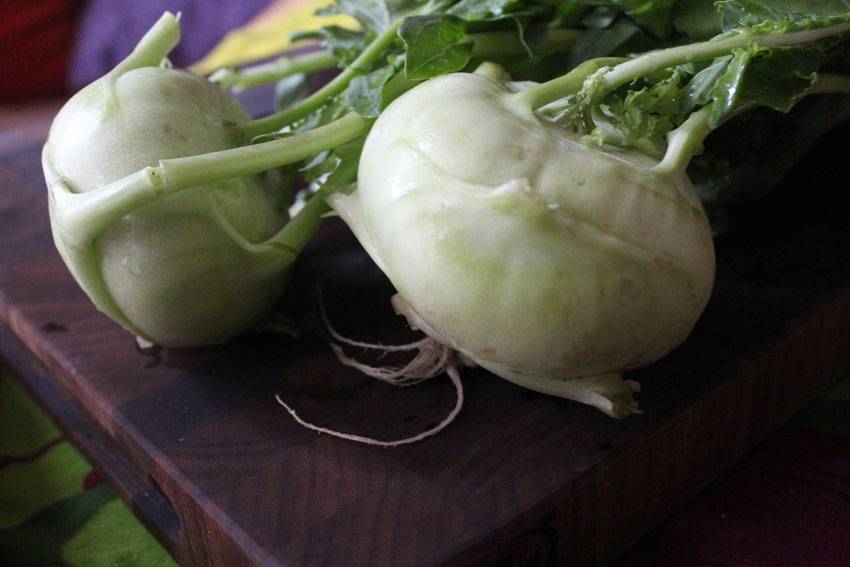 As with many new ingredient discoveries, I bought a head of kohlrabi on a whim before researching what to create. I found several different recipes on Pinterest pairing the raw vegetable with apples and nuts. And then I remembered a fantastic autumnal salad from my time at Jose Andres's Jaleo DC: ensalada de manzanas con manchego. The crisp white flesh of the kohlrabi is a great complement to the similar, though softer, apple flesh. It also helps to balance the intense sweet and tart of the Granny Smith apple. Nutty Manchego cheese, a sheeps milk variety from Spain, and walnuts help to round out the flavors. The resulting salad is great by itself or paired with chicken or pork.
October 24 is Food Day, "a day to resolve to make changes in our own diets and to take action to solve food-related problems in our communities at the local, state, and national level." Here in NYC, greenmarkets are participating in the annual Big Apple Crunch and giving out free apples to get New Yorkers thinking about healthier, seasonal eating here in the largest apple-producing state in the US. Crunch down at a greenmarket, pick up a few ingredients for this salad, and enjoy some healthy eating.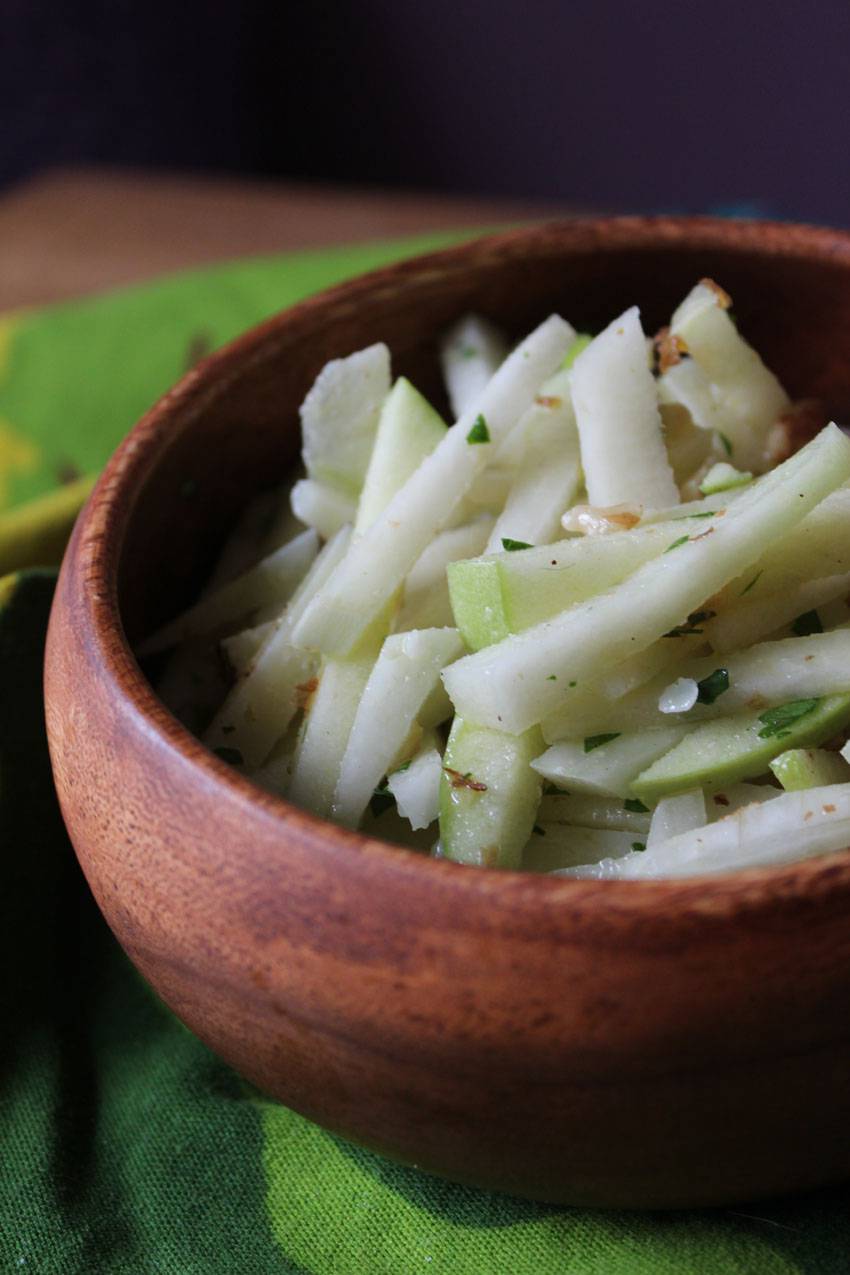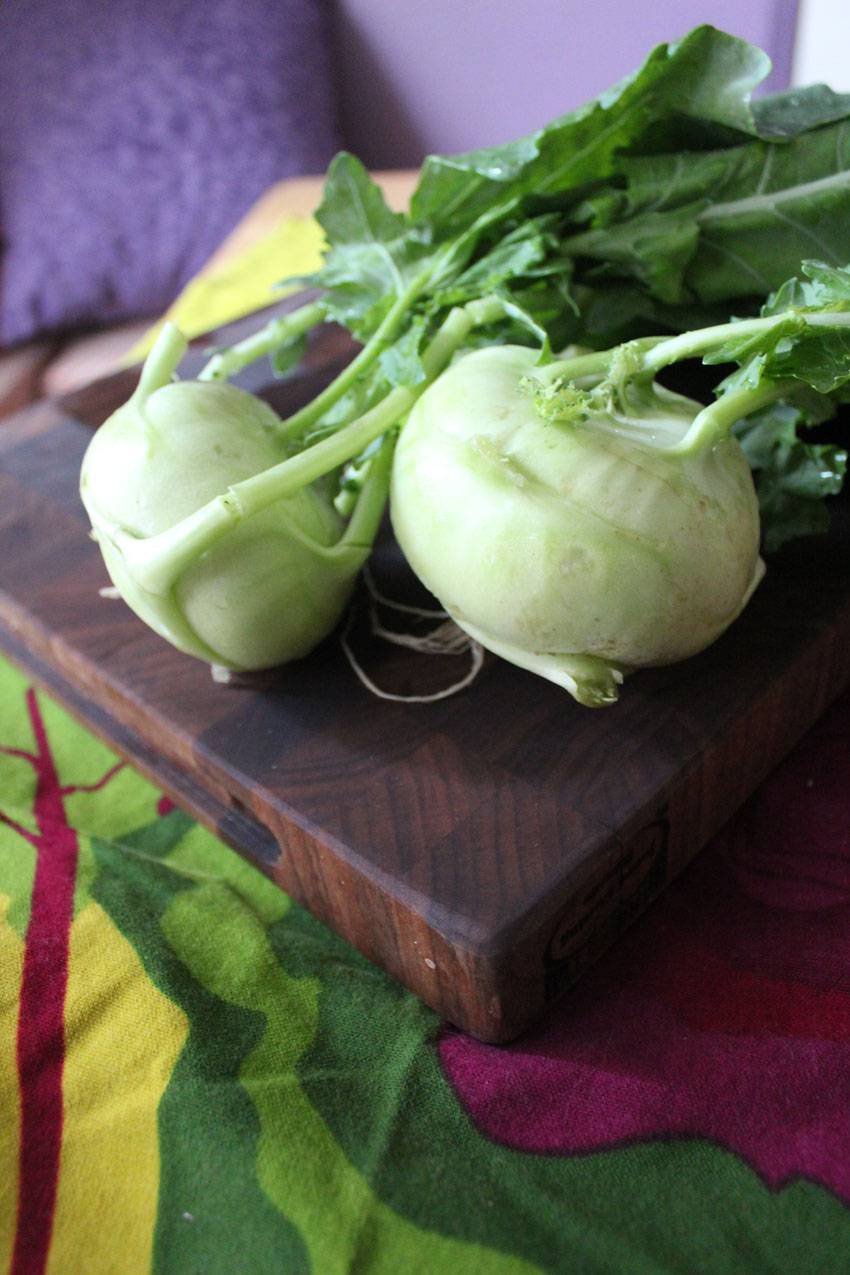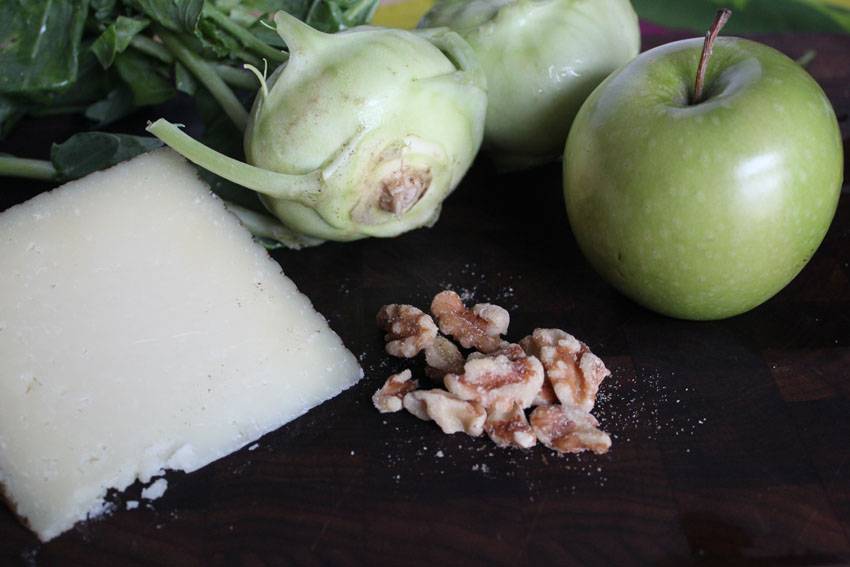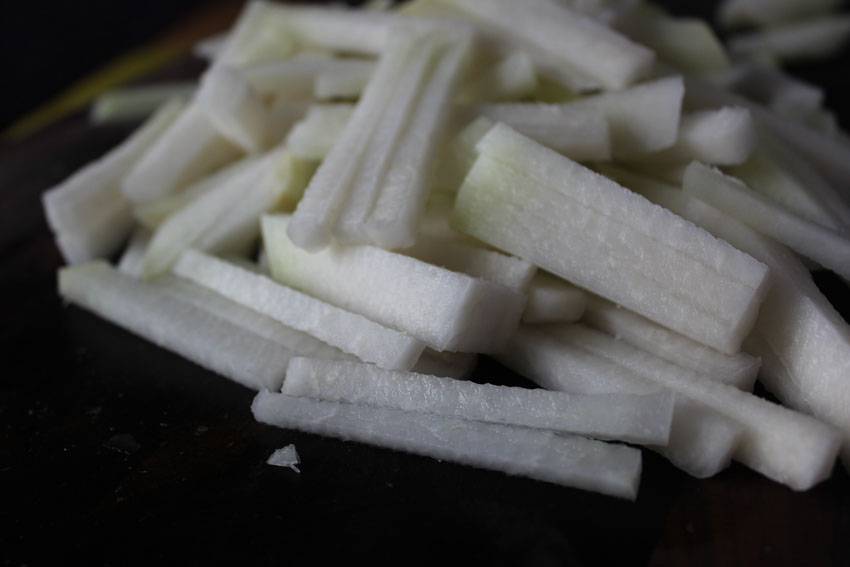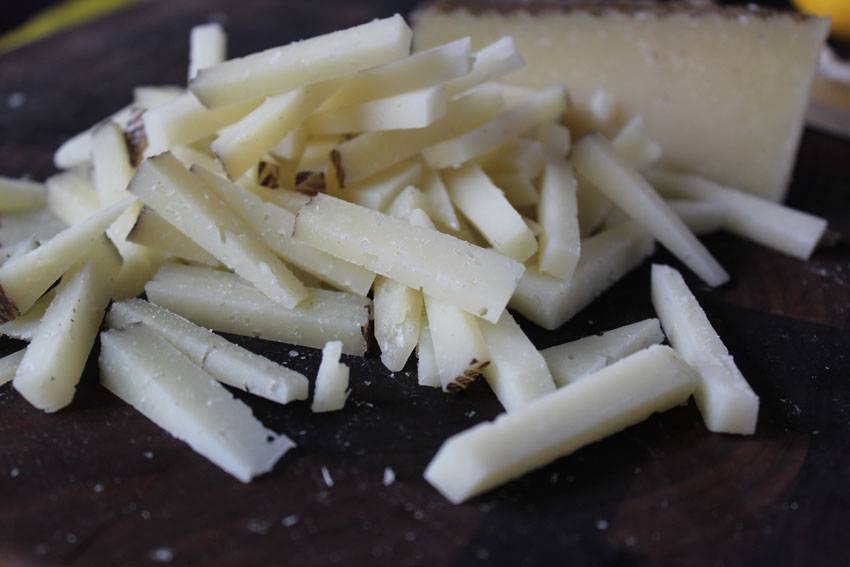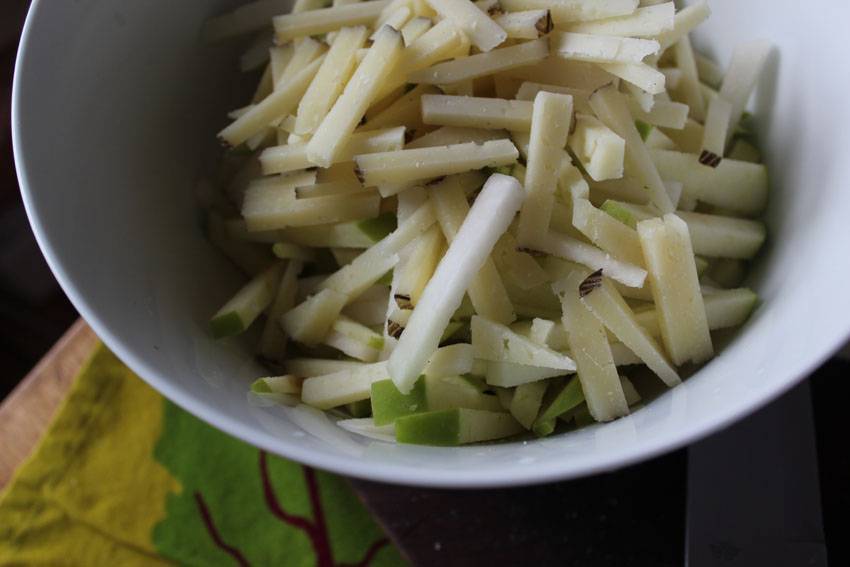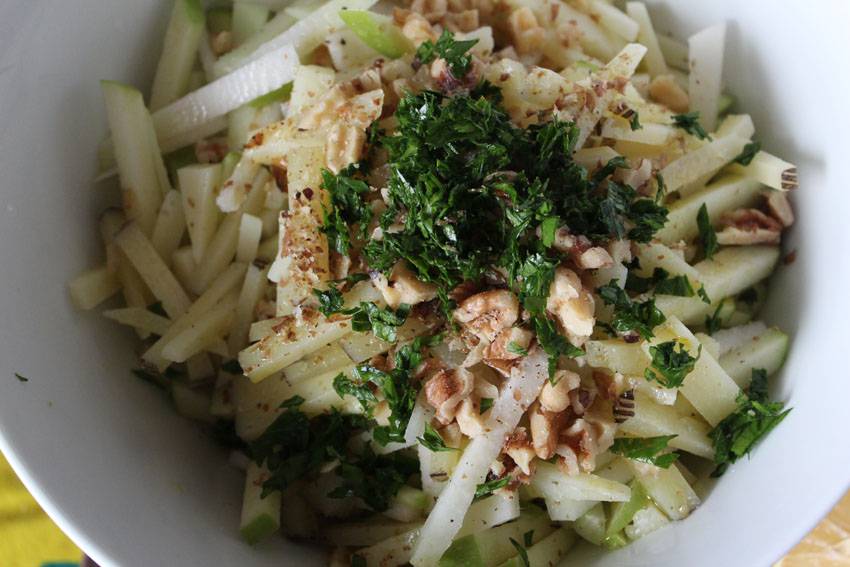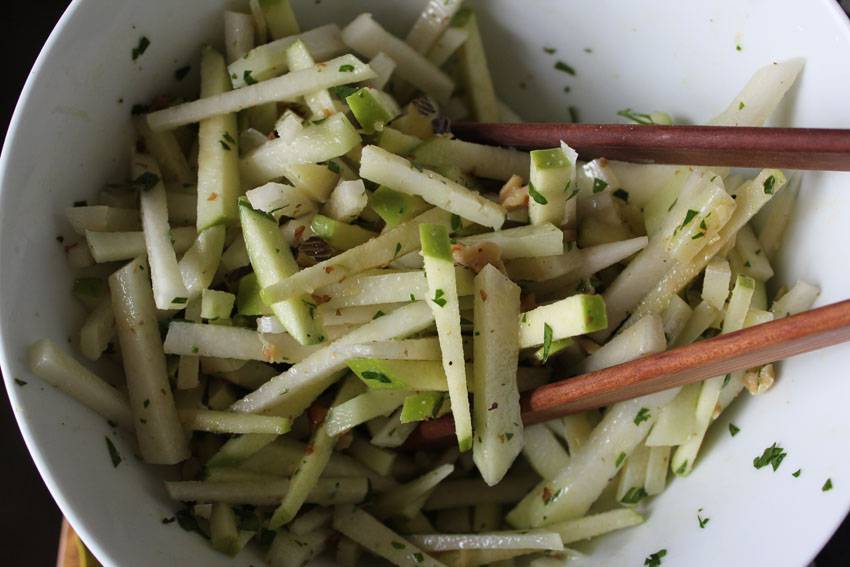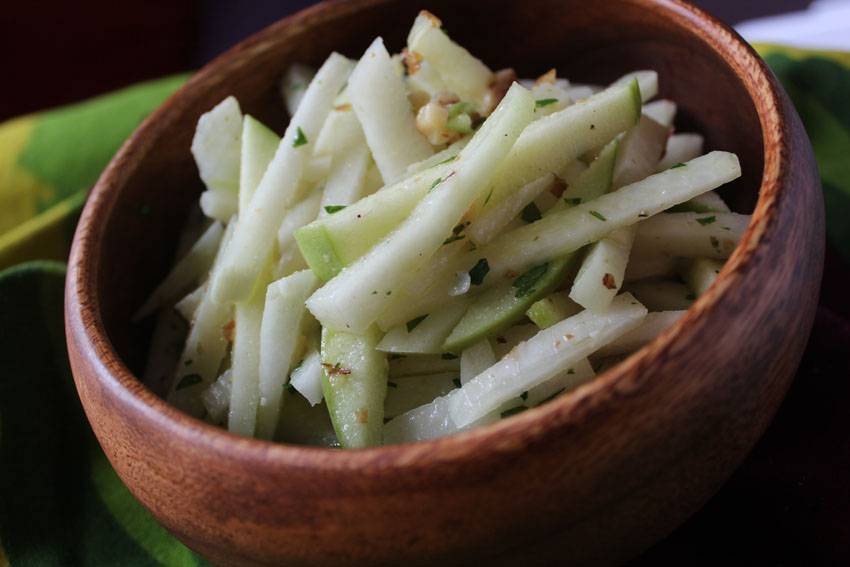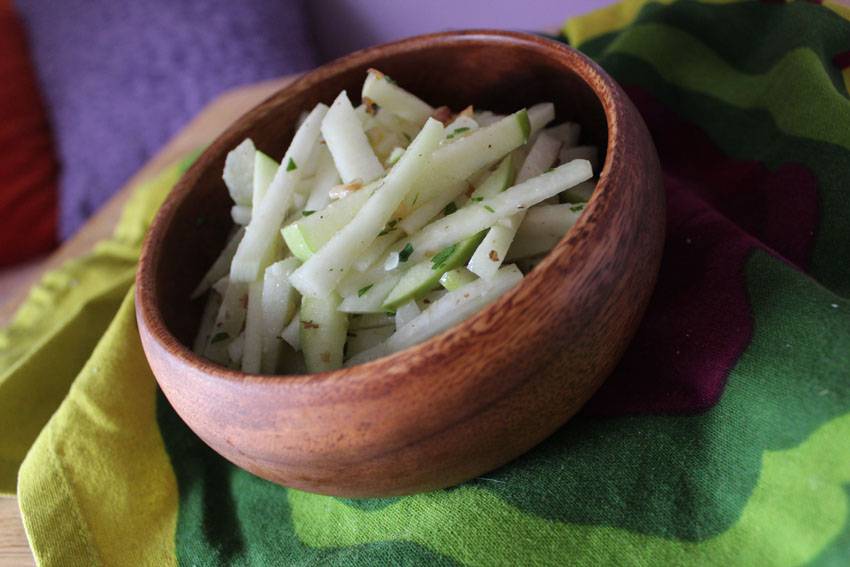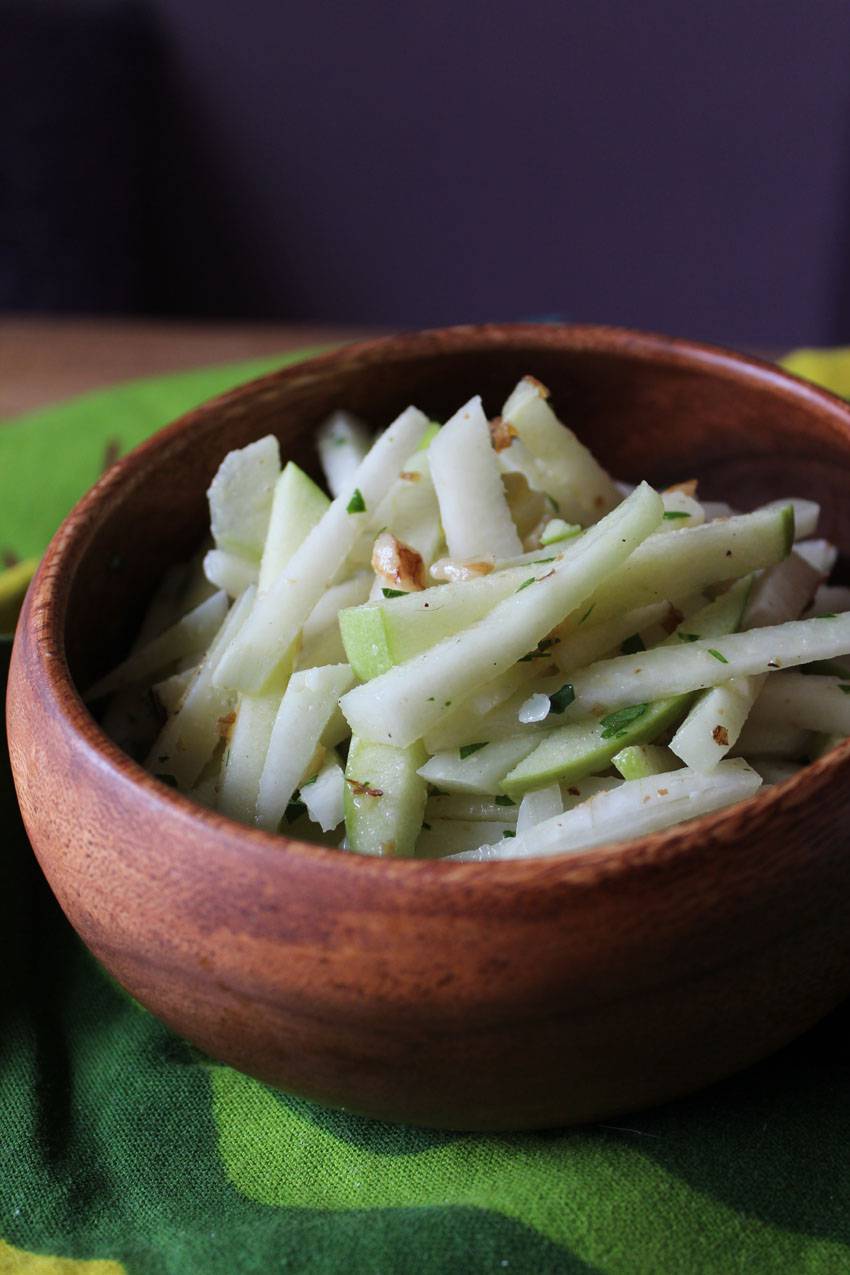 Kohlrabi and Apple Salad with Manchego and Walnuts
Ingredients
1 bulb kohlrabi, about 1 pound
1 Granny Smith apple
3 ounces Manchego cheese
1 teaspoon fresh lemon juice, or apple cider vinegar
¼ cup chopped walnuts
3 Tablespoons olive oil
2 Tablespoons flat-leaf parsley, finely chopped
Instructions
Cut the tough top and bottom from kohlrabi. Using a peeler, or carefully with a paring knife, remove the tough outer layers from the bulb until only white flesh remains. Cut into thin matchsticks, about 2 inches long and ⅛" thick. Cut apple and Manchego into matchsticks of the same size. In a large bowl, toss with lemon juice to prevent apple from browning.
In a dry skillet over medium heat, toast walnuts for about 4 minutes while stirring. Remove from heat and add to salad. Toss with olive oil and parsley and season with salt and pepper to taste.
I believe the right tools can make cooking easier and more enjoyable so I've linked to some of my favorite products. If you buy via my link, I may earn an affiliate commission. Thank you for your support!