A few weeks ago I received a text from my Aunt/Godmother/Namesake Robyn:
Do you want to do the Jimmy Fund Walk with me this year? I have been dying to do it ever since I first got diagnosed with my cancer and have never been able to because I've either been too sick, or had surgery, etc.
Although her cancer journey has wound through many years, diagnoses, prognoses, hospitals, treatments, and side effects, she has never lost her ferocity of spirit. A former dancer for Alvin Ailey and current lawyer, she has always been the life of the party, down to learn all of the latest music or suggest the hot venues to visit. That's why it came as no shock when asked what distance she was aiming for on this Boston Marathon walk, she replied, "I want to go for the 26.2 mi, but I don't even think I've walked a mile yet." I need to get on her level of courage and ambition.

With my Aunt Robyn and friend Haywood on the Vineyard Ferry last year
My Aunt Robyn and I will be walking the 5-mile course on September 8th to raise money for the Dana-Farber Cancer Institute. I am raising money to honor her strength and respect the journey of every person affected by this disease. Listen as my aunt shares her incredible spirit and her cancer journey on Boston radio.
I think about my own diet and exercise not in terms of my health today, but that of my older life. I want to live strong and give myself every opportunity to thrive when I'm no longer a twentysomething. That means doing my part to protect against diabetes, kidney failure, heart disease, and cancers. I hope and pray to avoid every ailment that is preventable and will keep up with regular check-ups to stay in the know about my health.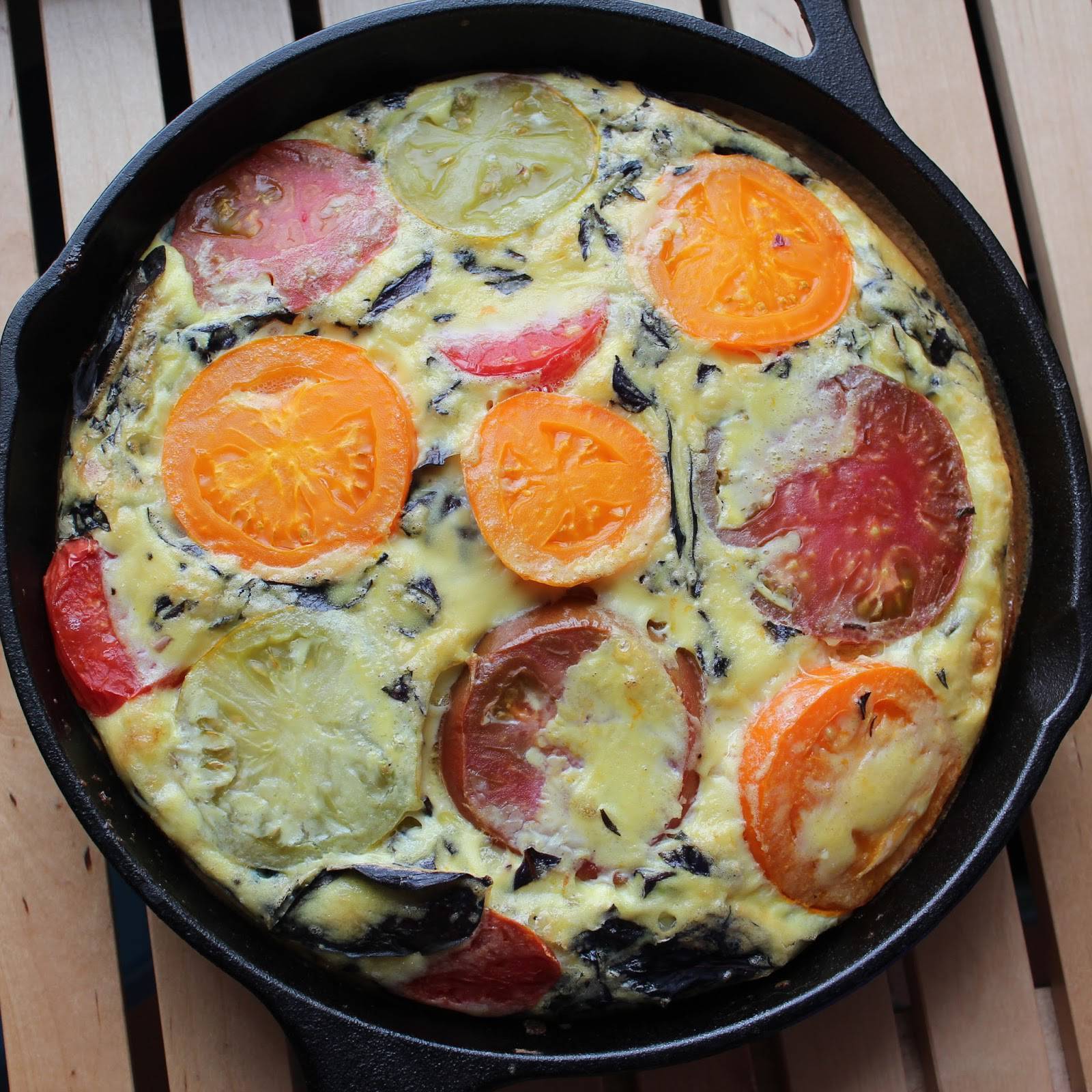 But it also means acknowledging my genetic predisposition to breast cancer and donating my small part to research. Major improvements to treatment and care over the next 20-35 years are not an unrealistic hope. We can make a difference with our time and our resources.
I asked attendees of my brunch last Sunday to donate to the cause instead of bringing a dish to share. Donate today to help support the Dana-Farber Cancer Institute!

=

There's one more way this post fights cancer. Research has shown that a diet rich in tomatoes can lead to a reduced risk of certain types of cancer because of lycopene the antioxident compound that lends the fruit its yellow, red, and orange color. This is a delicious way to enjoy summer fresh tomatoes. With luck, the frittata will emerge from the oven puffed like a souffle. But this dish will hold its appeal much later at room temperature. The recipe below serves 4-6, but it is easily scalable up or down if you keep it to about 2 eggs per serving.

Heirloom Tomato Frittata
Prep time:
Cook time:
Total time:
Ingredients
8 large eggs
½ cup heavy cream
2 tablespoons chopped basil
¼ cup Gruyère cheese, shredded
Salt and freshly ground black pepper
2 tablespoons olive oil
1 small red onion
1 garlic clove
Fresh basil leaves
1½ pounds ripe heirloom tomatoes, in varied colors and sizes
Instructions
Preheat oven to 350°.
Whisk together eggs and cream in a large bowl for about 45 seconds. Stir in basil and cheese and season with salt and pepper.
Heat oil in an ovenproof skillet over medium heat. Finely chop onion and mince garlic and then cook, stirring, for about 3 minutes.
Slice tomatoes crosswise into ¼ inch thick slices.
Pour egg into hot pan and immediately pull egg from the sides into the middle a bit. Arrange tomato slices, staggering colors, and the basil leaves. Add to the oven and bake for 15-20 minutes, or until the egg is set in the middle. Serve at any temperature.
I believe the right tools can make cooking easier and more enjoyable so I've linked to some of my favorite products. If you buy via my link, I may earn an affiliate commission. Thank you for your support!